[dropcap]H[/dropcap]ave a look at some of the amazing online file transfer services that you can use to send some larger files right from your android as they are not possible on other files sharing portals. so have a look at the complete guide discussed below to proceed.
Today in this digital world we all are using lots of websites, apps and portals to communicate with each other and also sharing lots of stuff with each other by just sitting in one place, You can now easily share any of your favorite images, videos and music etc through these apps and websites and can download them whenever you needed. The only issue that user generally face nowadays is the sending the larger files as small media files can easily be shared using WhatsApp, messenger etc but Larger files are not allowed on these networks because of the security reasons as hackers can set DOS attacks on the server using these huge files. But sometime you may need some network to share some big files like in GBs then you must have to look for the solution so that is the reason I'm writing this guide so that you can get to know about the services that are available in the market that you can use to send larger files very easily. Well, there are lots of websites that have this option but I filtered out the best that you can use right on your android. So have a look at complete guide discussed below to proceed.
Also Read: How to Use an Android device as Second Monitor for your PC or MAC
How To Send Large Files From Android
Well, there is one short story behind this guide, let me tell you. Actually, I needed one movie that was there in my friend's android but he was away. So I told him to send me either link or the complete movie as I really needed that. So we both looked over the internet to get the download link but that movie was not available to download anywhere. So I told him to send it to me over the internet and we looked for some portals that he can use on his android to send me that movie that was around 2.5 GB.
Finally, we got some amazing services that were great to use and he uploaded at one end, shared the public URL with me and I was able to download that at my end. It was just the matter of minutes as depending on the upload and download speed and everything was sorted. I got that movie and that is the reason behind writing this guide. So have a look at the services that we used.
Also Read: 25+ Best Paid Apps 2019 You Must Have On Your Android Device
This was the network that I used at the very first go and it worked perfectly. The one of the popular file transfer network that has different plans which you can select according to your wish and at free. It provides you the 4GB of free transfer space. So open the site and start sharing large files. So must give a try to this.
Another well-known service that allows you to send large files online. SugarSync makes it easy to access all your folders across any of your devices, making it easy to get things done while giving you the peace of mind that your important files are always protected.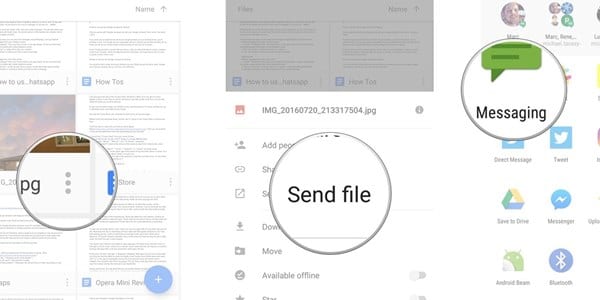 The well-known service Google drive is an amazing alternative to all these file-sharing services, Its very simple to send files through it. You just need to upload your file, get the link to access it and share it with the person you can to and that's it he can easily access your profile. You can easily share the files in GBs.
This was the service that my friend discovered. I also used this also. The UI is very friendly and working method is similar to Google drive, simply upload file get the download link and share it with the person you want to. So must try this amazing portal and you will surely like this.
This is another good app but with some limitations. With FilestoFriends, you can transfer files up to 1Gb for free. However, this also offers a Plus package which lets you send up to 5GB of files and also provides some other premium services. Well, if you are looking for a handy way to share big files then this will be very useful.
Also Read: 20 Best Android Spy Apps That Will Make You Feel Like A Detective
SuperBeam is a very useful app for local sharing. If you are looking for a file sharing app for local sharing, then SuperBeam might be the perfect pick for you. The app uses WiFi direct to share files and the file sharing speed is also quite high. Since is a local file sharing app, both the recipient and the sender needs to have SuperBeam app installed on their device. The app is completely free to use, but it shows some ads.
SHAREit is another best Android file sharing app which is available on almost all major platform including Android, Linux, Mac, Windows, etc. The great thing about SHAREit is that it's a free app which relies on WiFi to share files. There's no file size limit and you can share unlimited photos, videos, apps, etc through SHAREit. So, SHAREit is another best Android app which you can use to share large files online.
AirDroid is another great Android app on the list which can be used to share large files. The great thing about AirDroid is that it can be accessed through a computer web browser. Apart from that, AirDroid is available on almost all major platform including Mac, Linux, Android, Windows, etc. So, the app can be used to transfer files on these platforms. So, AirDroid is another great app which you can use to share large files on Android.
So the above guide was all about, how you can easily send some larger files using your Android and that all for free using these simple tools that will allow you to send them. Hope that you might be liking the information given in this article if it is so then please try to share it with others too. Also, share your suggestions and opinions regarding this content by using the comments section below. Your indulgence in our work is really grateful to us, keep supporting us and we would be always coming up with all new amazing information. At last but nevertheless, thanks for reading this post! And if you have any topic in the mind that you want us to write then please share with us so that we can work on it for you and you can explore the things better with us.