Let's admit it, we all have been through such situations where we spend hours creating a document, video, or image, only to see that the file is too large to be sent as an email attachment.
Even if you don't plan to send files in email attachments, the file sharing utilities for Android have some sort of limits for file size. To eliminate such things, you need to use apps that allow you to send large files from your Android.
Best Apps to Send Large Files From Android
Hence, if you are interested in such a category of apps, you have landed on the right page. Below, we have shared a few best Android apps that let you send large files from your Android smartphone. Let's check out.
SugarSync is not exactly a file-sharing app; it's a backup app that lets you back up your important files, photos, music, and more on any device.
You can use this application to sync your important files to the cloud, backup photos were taken on your Android, and sync multiple folders at once. You even have the option to wipe your data in case of phone theft or data loss.
Files by Google is a full-fledged file manager app for Android that provides many file management features. You can use this to clean up your phone's storage, find files faster, share files offline with others, and more.
If you talk about file sharing, Files by Google allows you to share pictures, videos, documents, or apps with other nearby devices. The file-sharing speed is pretty fast, and there's no restriction on the file size.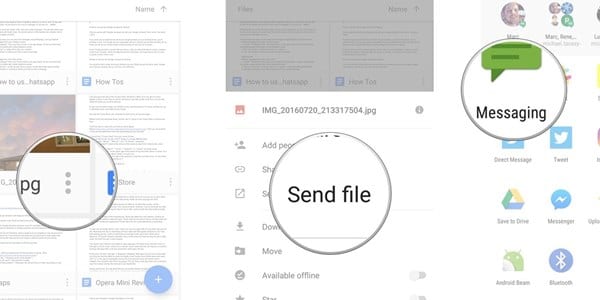 The well-known service Google drive is a fantastic alternative to all these file-sharing services; it's straightforward to send files through it.
You need to upload your file, get the link to access it, and share it with the person you can, and that's it. The other users can easily access your profile.
Send Anywhere is one of the great Android apps on the list that lets you transfer files of any size quickly. It's a bit different from all other file transfer apps, as it uses WiFi direct to transfer files.
You can also use Send Anywhere to transfer files between Android and PC. Alternatively, Send Anywhere also has a cloud storage service that you can purchase to save your important files.
This is another good app but with some limitations. With FilestoFriends, you can transfer files up to 1Gb for free. However, this also offers a Plus package that lets you send up to 5GB of files and provides some other premium services. This will be very useful if you are looking for a handy way to share big files.
SuperBeam is a handy app for local sharing. If you are looking for a file-sharing app for local sharing, then SuperBeam might be the perfect pick for you. The app uses WiFi direct to share files, and the file sharing speed is also quite high.
Since it is a local file-sharing app, both the recipient and the sender must have the SuperBeam app installed on their device. The app is entirely free to use, but it shows some ads.
AirDroid is another excellent Android app on the list which can be used to share large files. The great thing about AirDroid is that it can be accessed through a computer web browser.
Besides that, AirDroid is available on almost all major platforms, including Mac, Linux, Android, Windows, etc. So, the app can be used to transfer files on these platforms.
So, these are some of the best Android apps that lets you send large files from Android. If you know of any other such files to send large files, let us know in the comments below.