[dropcap]L[/dropcap]earn How to Set Bing Wallpapers as Desktop Wallpaper on Windows 10: Give an amazing look to your PC desktop with the all-new bing wallpapers right on your desktop screen by following the guidelines discussed right below.
Have you ever thought that how your desktop could have looked without the colorful wallpapers and how could it feel if you might not have the permission or the control to change it? Yeah, that's the thing that you are feeling right now i.e it might feel very dull to look at the screen on your desktop without amazing wallpapers. Bing Images application which is default with Windows 10, it is also integrated within the software and it shows up some awesome images. Most of the people would like to save it to your hardware or would like to set these images as Desktop wallpaper too. But for that, there is no such option in windows by which you can easily set the images of your choice as Desktop wallpapers. Here in this article, you will read about how you can easily set the high-quality Bing images as your Desktop in order to give a newer and fresher look to your PC. Go through the article and follow the method below to do that procedure.
Also Read: How To Remove Computer Viruses Using CMD
How to Set Bing Wallpapers as Desktop Wallpaper on Windows 10
Below are the steps by which you can successfully set up the Bing images as your desktop wallpapers. So follow the steps and get the cool wallpaper for your Windows 10.
Also Read: List of All 100+ CMD Commands for Windows
Steps To Set Bing Images as Desktop Wallpaper on Windows 10:
1. In the very first step you will have to download the application for your Windows that is "Bing Desktop". You can get it on the Windows Store also. After downloading this application setup, start up the installation process and then during installation uncheck the unnecessary options from the dialogue box that will appear. You have to keep in mind that you will have to select only one option from there and that is "Make Bing home page image your desktop background". Finish up the installation after that.
2. After installation open the application and from there go to the settings and then in the settings you can change the categories for the images that could be set as your desktop wallpaper. Set up multiple settings from there according to your wish and then return to the home screen of the application.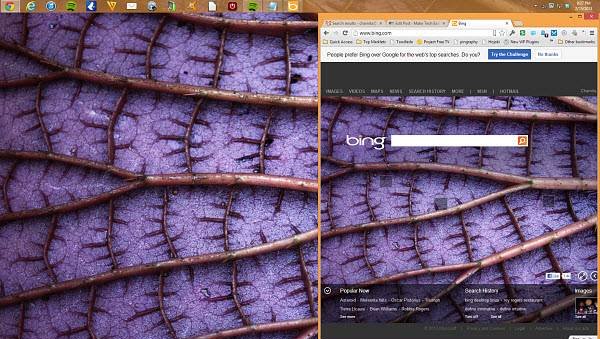 3. After doing all these steps, now this application will automatically change or set the Bing images as your Desktop wallpaper. Every time you will now log on, you will see the different images that will be set from the bing images.
4. For setting up the Bing image as your desktop wallpaper manually you have to open the images through the "Bing Desktop" and then from the options there you can set the desired image as the wallpaper.
Also Read: How To Remotely Control Another Computer Without Any Tool In Windows 10
So this is all about Set Bing Images as Desktop Wallpaper on Windows 10. There are some others software too that can do the same things that the "Bing desktop" can also do but because of its performance and easy handling, I would recommend you to use this application only. Using this application you can set up the Bing images as the Desktop wallpapers very easily and in two modes either automatically or manually for the desired image. At last, I would say that using this software you could give your desktop a new look every time you log in to your computer.