Microsoft is probably the biggest content of Google in terms of search engines. Even though Bing is not as famous as Google, it still has some great features for Windows users. If you are using Windows 10, you can set those lovely Bing wallpapers on your desktop screen.
Bing's background images were usually very high quality, including landscape, nature, wildlife photographs, and fine architecture. These high-quality wallpapers can make your Windows 10 desktop more visually appealing.
Even Microsoft has its official Bing Wallpaper app available for Windows users. You can download and use the app to apply new Bing wallpapers on your Windows desktop daily. The tool is originally designed for Windows 10, but it works on all versions of Windows, including Windows 11.
Steps to Set Bing Wallpapers as Desktop Wallpaper on Windows 10
So, if you want to set daily bing wallpaper as your Windows desktop background, you have landed on the right page. Below, we have shared a step-by-step guide on how to set daily bing wallpaper as your Windows desktop background. Let's get started.
1. First, open this Bing Wallpaper page on Microsoft's official website.
2. On the main page, click on the Install now button.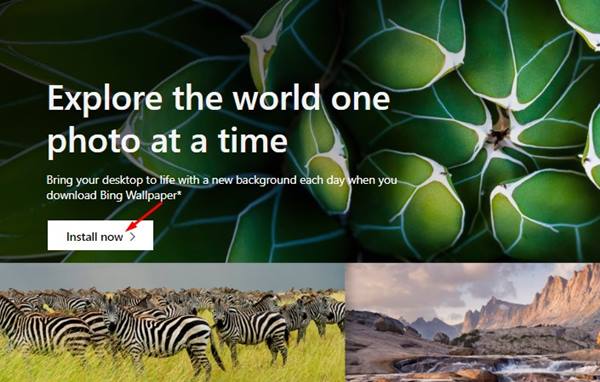 3. Once downloaded, run the BingWallpaper.exe file on your computer.
4. On the setup wizard, you will find two options – Set MSN as my Homepage and Set Microsoft Bing as my default search provider.
5. If you want, you can deselect both options. Next, click on the Install Now button to install the app.
6. Once installed, the software automatically adds Bing's background photo to your desktop.
7. To change the wallpaper, right-click on Bing Wallpaper's system tray icon and tap on the arrows beside Change wallpaper to switch your current wallpaper.
8. For an automatic daily refresh, enable the toggle for 'Enable daily refresh'
That's it! This is how you can set daily bing wallpaper as your Windows desktop background.
So, this guide is about setting bing wallpapers as desktop wallpaper on Windows 10. If you need more help changing the desktop wallpaper on Windows 10, let us know in the comment box below.