Time to Set Low Battery Notification Ringtone on Android with which you can easily get alerted when your battery level gets much low and you can take the appropriate actions at that time. Follow the guide to proceed.
A
ndroid provides a great flexibility and control of its functions like it could be changing the wallpaper of the device, changing the icons, changing the home screen layout etc. Like all that features, Android also provides the control to make changes with the notification sounds of the device and let you set up a different notification tone for any task. You get to hear up the low battery notification and most probably it is the only aspect of notification sounds that you might not have changed till now! Have you ever changed it or you haven't found up anyway to do so on Android? Yeah, this happens with almost every user as there is no such direct option available in the Android device through which you could do that but there is some method by which it could be done. By using that method, you can easily set up the low battery notification ringtone on Android device. To know about the method, just read up the article given below.
Also Read: How To Hide Files And Folder In Android Without Any App
How to Set Low Battery Notification Ringtone On Android
The method is very simple and easy and you just need to use a simple app that will allow you to set low battery notification ringtone on Android. So follow the below steps to proceed.
Also Read: 10+ Must-Play Strategy Games For Your Android Device
Steps to Set Low Battery Notification Ringtone on Android:
1. First of all download and install the app "Battery Notifier BT Free" on your Android device. You can get this app from the Google Play store easily from where you can easily install it. Check that you confirm up all those permissions that the app asks before downloading and also see that you install this app on the phone memory and not the memory card.
2. After installing the app, open it up through the Icon placed in either your home screen or the apps dock. Now inside the app click on the Settings option which you shall see up easily in the middle of your screen. If that doesn't appear on your screen try to tap on the three dot menu placed on the top corner of the screen.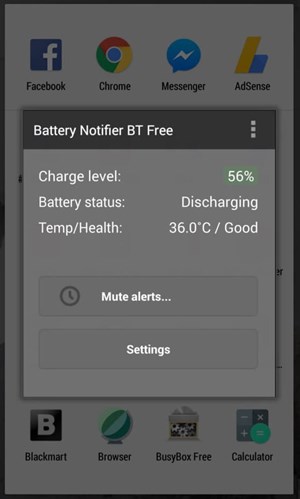 3. You will now see a list of options inside the app, you just have to select up the option "Low battery charge options". From here onwards, you will be able to set the various aspects of your device when the battery comes to certain low level.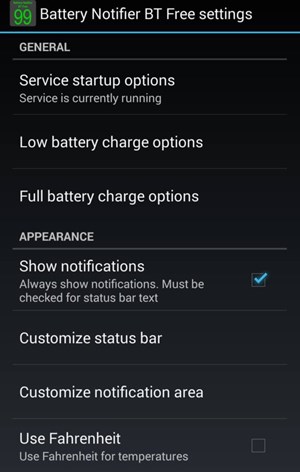 4. Now set up the options Low battery, Repeat interval, Vibration mode, Sound mode and at last the Notification ringtone from there. You can easily do that by the simple options and toggle buttons only. For changing the low battery notification, you can set it up to any of your device's media or the predefined device's ringtones.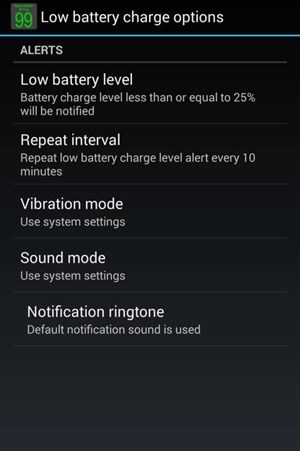 5. After setting the ringtone from the options or the menu, just save it up and then close the app. You will now see that your device shall play the ringtone you have set as the low battery notification whenever it alerts for the purpose. It will hence also notify you loudly and therefore you can easily set up your device for charging!
Also Read: How to Install Sony Stamina Mode On All Android Deivces
After all, Android is such a great platform where the users could easily do anything no matter if it is not provided in it by default. Users can add so many different functions to the Android through using the different apps, tricks and hence they can easily enjoy up their desired functionality on their device too. Low battery notification ringtone can also be set up like that only as it is described in the method written in this article, you just need to follow that method to do so.
AUTHOR