Let's admit, a good night's rest is essential to one's health. If you don't get enough sleep at night, then you might end up feeling lazy and dull the very next day. On the other hand, several studies have shown how proper sleep leads to better overall health.
If you are using an Android smartphone, then you can use your phone to track how much sleep you get every night. This thing is done through sleep trackers apps that are available on the Google Play Store. Some of the sleep tracker apps also record your snoring or teeth grinding.
Also Read: 5 Best Methods To Increase Torrent Download Speed
List of 10 Best Sleep Tracker Apps For Android
So, if you are unsure about whether you are getting enough sleep every night, then it's time to install the sleep tracker apps.
In this article, we will share a list of the best sleep tracker apps available on the Google Play Store. So, let's check out.
Well, it's one of the top-rated Android fitness app available on the Google Play Store. If we talk about the features, Google Fit has a wide range of features like it tracks your steps, activity, calories, etc.
It also has a sleep tracking feature that tracks the sleep cycle. Not only that, but the app also works with Android wear.
This is a sleep tracker apps which claims to improve your sleep quality. To improve your sleep quality, it offers you some useful features like a screen dimmer, sleep statistic, snore detector, sleeps sounds, dream journal, etc. To track your sleep quality, it tracks your movement while you sleep.
If you are searching for the best and most advanced sleep tracker app for Android, you need to give Runtastic Sleep Better a try.
Just like every other sleep tracker apps, Runtastic Sleep Better also tracks your sleep cycle, monitors dreams, and improves your bedtime habit. In addition, the app monitors your sleep cycle (both light and deep sleep).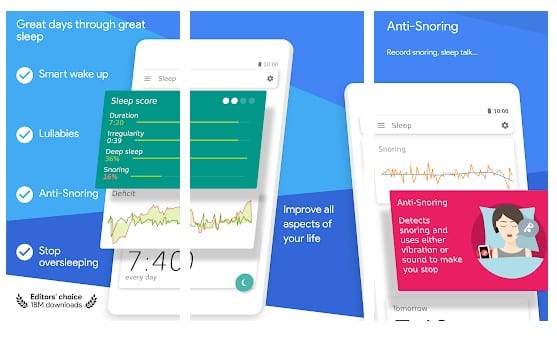 Well, Sleep as Android has been there for a while, and it's probably the best app to track your sleep cycles. The good thing is that Sleep as Android comes with support for Android Wear, Pebble, and Galaxy Gear Devices.
It also can integrate with other fitness apps like Google Fit and Samsung Health. If we talk about the features, it tracks your sleep patterns, cycles, and snore.
Sleep Theory is an all-in-one Android app to sleep better, relax, and meditate. With Sleep Theory, you can track sleep using your smartphone from bedtime to morning.
Apart from tracking your sleep, Sleep Theory also offers you lots of sleep melodies like White Noise, Sleep Stories, and more.
It's a sleep tracker app that finds out if you snore or grind your teeth in your sleep. Do I Snore or Grind is a premium app, but you can use the 5-day free version of the app.
The good thing is that the app includes a few tips to reduce teeth grinding and snoring while sleeping.
Unlike all other apps, Sleep Monitor focuses on recording sleep cycle details to help you understand your sleep status. It also has an intelligent alarm clock to wake you up at the perfect time. Sleep Monitor also can track your sleep patterns.
This is another best Android app on the list, letting you track sleep from bedtime to morning. It also gives you a detailed analysis of your sleep patterns and sleep cycles.
It also has an intelligent alarm clock that wakes you up while you are in light sleep, which is a natural way to start your day.
Well, Sleepzy is relatively new, at least compared to others on the list. However, Sleepzy seems to work pretty well. It tracks your sleep patterns to understand when you get your best quality sleep.
It also got an intelligent alarm clock that wakes you up during the lightest sleep phase of your sleep to feel refreshed.
Calm is probably the best Android app to meditate and sleep. The app is used by millions of people who have anxiety, sleep problems, and more.
Although Calm doesn't have a sleep tracker, you can use it to improve your sleep habits. You can track your progress with daily streaks and time spent on meditating.
So, these are the ten best sleep tracker apps for Android. I hope this article helped you! Please share it with your friends also.