Today we will leason up that how to guide your Windows 10 PC privacy setting to block Microsoft from spying over the security concern. So Lets check it out the Six genuine and the only perfect way to secure yourself. we will explain all the details of that Six types of privacy which you have currently activated in your Windows 10 System.
[dropcap]T[/dropcap]here are right now Six settings through which you will be fully secure from being spy over the Microsoft server to spy on you that, you will be shocked that Microsoft is acquiring the keystrokes which you enter in the keyboard which they say that those were just users experience over using the Windows 10, likewise you will found such more interesting dangerous over the privacy matter.
Also Read: How To Find and Kill All Remote Connecting Malware On Windows 10
How To Stop Windows 10 Being Spying On You
The first recommendation is to make your Local account in Windows 10 in place of using your email address applied ID account, it will disable your PC about 10% of your privacy to share with Microsoft.
Also Read: How To Fix The Windows 10 Slow Boot Issue
Step 1. Type Privacy Setting in your Start Option box, Now See the Privacy Window and from there you can see that other category From General "turn Off" all the options under privacy setting. That's the most important Turn Off all the options from general Tab. From Location "Turn Off" and others too, such as Calendar, Messaging, Radios. Likewise, Disable all the options as "Off", If any Question regarding this asks anything, you can comment below in the comment box.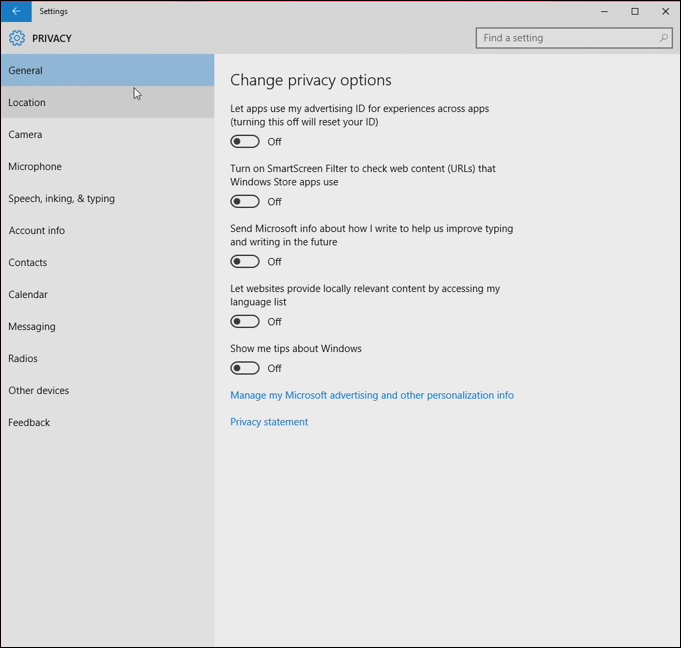 Step 2. Now Type On start box "Project Spartan" After opening go to the "More Actions", then "Settings", and then "View Advanced Settings" on that setting just disable all the options mainly "Services" Below "Cookies Options".
Step 3. Now next press "Win+R" as windows Key and type "gpedit" and Hit ENTER it will take you to the directory of OS, which is a system configuration.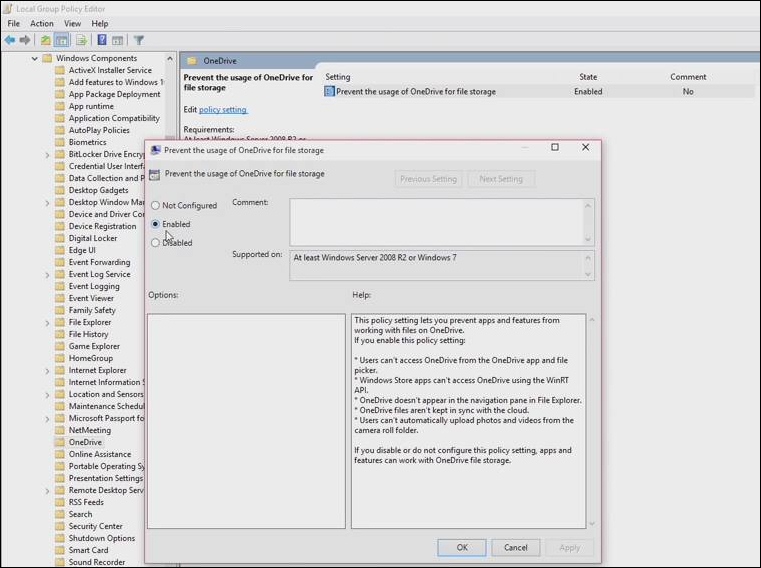 Now in this you have to click on "Administrative Templates" under "Computer Configuration" not "User Configuration" then under Administrative Templates after expanding click on "Windows Components" and expand that now just go to below "OneDrive" you will see a windows at your right-hand side it will open now "Right Click" and edit on "Prevent the usage of OneDrive for the Storage" which will may be "Disabled" from default but now you have to "Enable" it Done.
Step 4. In this you have to open up gpedit registry and again go to "Computer Configuration" -> "Administrative Templates" and then "Settings", it will take you to the right-hand side you will see "Allow Telemetry" just click on that and "Disable".
Now the same you have to do in "regedit" go to your desktop and from keyboard press "Win+R" on that type "regedit" it is also a system registry where the registry settings occur, Now Go to "HIKEY_LOCAL_MACHINE" -> "SOFTWARE" -> "MICROSOFT" -> "WINDOWS" -> "CurrentVersion" -> "Policies" under policies you will see right-hand side "Allow Telemetry" Right-click on that and select "Modify" and in the value box type "0" and save and final exit.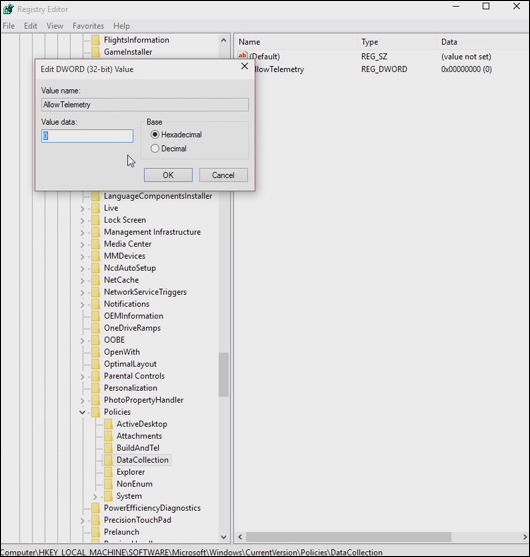 Step 5. Now again go to your Desktop, Before proceeding next step, I recommend you to clear all your background programs and proceed, Now from Desktop, click on Start button and start typing "Command Prompt" and right click on that to open it as "Run as Administrator".  Now just type as I have typed! except (HIT ENTER) it is just to tell you that what to do next. (not necessary to type in CAPITALS)
cd .. (HIT ENTER)
cd .. (HIT ENTER)
SC DELETE DIAGTRACK (HIT ENTER)
SC DELETE DMWAPPUSHSERVICE (HIT ENTER)
ECHO "" > C:PROFRAMDATAMICROSOFTDIAGNOSISETLLOGSAUTOLOGGERAUTOLOGGER-DIAGTRACK-LISTENER,ETL (HIT ENTER)
exit (HIT ENTER)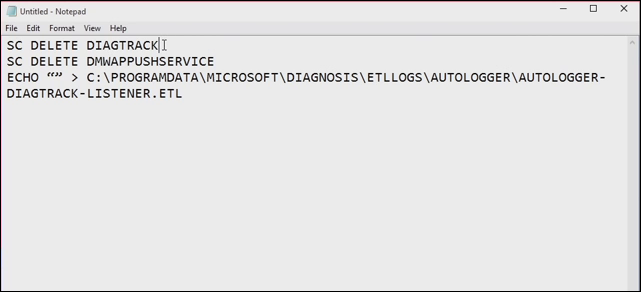 Step  6. Now go to the settings, and just disable Cortana. you can see the sentence written in Cortana Setting "Manage everything Cortana Knows about me in the cloud" just click on that you will be taken to Web Browser for that setting and manage those setting if you have logged in with Bing Search toolbar.
Also Read: How To Reset Your Forgotten Windows 10 Login Password
Now you have successfully stopped Windows 10 from Spying On You. Later we will discuss and explain all about the WiFi wireless network Internet Connections which will also help to connect the Routers which also help you not to share some more stuff. Hope you like the post! Share it with your friends too. If you are facing any trouble at any mentioned steps, feel free to ask us in the comments below.