Just like a real company, we have staff! They work and get paid too! Remarkable, we know. Let's take a minute to introduce Tech Viral team…
Editorial Staff:
Manpreet Singh – Editor in Chief
Manpreet Singh is the Founder of TechViral. He is a young Entrepreneur who is managing Tech Viral & Also an aspiring blogger and Chief Editor for Tech Viral. He is an Experienced Blogger, SEO Expert, Digital Marketer, Certified Web Developer & Social Media Expert.
Amarnath Chakraborty – Content Creator
Amarnath Chakraborty is the content writer at Tech Viral. He writes/edits how-to tips and tutorials, especially on Social Networks, Android, iPhone, computers, the Internet, etc.
Kavita Iyer – NEWS WRITER & JOURNALIST
An individual, optimist, homemaker, foodie, die-hard cricket fan, and most importantly, one who believes in Being Human!
Farhan Shaikh – NEWS JOURNALIST & Social Media Manager
Farhan Shaikh is the news editor at Tech Viral. A part-time blogger and tech enthusiast. I love to share articles and news about technology. Farhan Shaikh is presently putting writings skills efforts on techviral.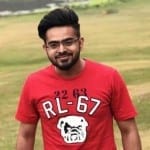 Harsh Sharma – SEO Consultant
Harsh is a 24 years old Tech Enthusiastic, Passionate Blogger, SEO-Expert. He Has 6 Years of Experience in Digital Marketing and Holding Multiple Digital Assets. He Helps Many Organizations with Their Site's SEO and Stands out on the Web.
Karanpreet Singh – Contributor
Karanpreet Singh is the Co-Founder at TechViral. He writes about how-to tutorials, especially on Android, iPhone, Computer, Internet, Social Networks, etc. Apart from this, he is an Ec-Council CEH (Certified Ethical Hacker). He loves to share his knowledge with others through blogging.
Khazin Muzaffar – News Editor
Khazin Muzaffar is the news editor at Tech Viral. He writes about Technology, Hacking/Security, Gadgets, Science, etc., and mainly works on the editing part of the articles.