Well, Android is always known for its massive app ecosystem. Just take a brief look at the Play Store, you will find for every different purpose over there. Not only that, but the Play Store also sorts apps based on their categories. In this article, we are going to talk about WiFi File Transfer apps.
WiFi File transfer apps are useful, especially if you want to quickly exchange files between devices. With these WiFi File transfer apps, you can exchange photos, videos, documents, apps, etc in-between devices.
Also read: 10 Best Files Sharing Apps for Android (Transfer Files Wirelessly)
10 Best Wi-Fi File Transfer Apps For Android in 2021
It's worth noting that we have not listed any banned apps like Xender. So, let's check out the best WiFi file transfer apps for Android in 2021.
1. Zapya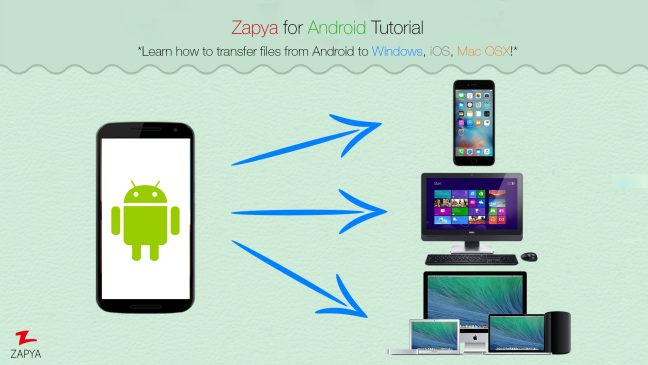 There are some contenders like Xender which was fighting for the third spot, but I eventually went to Zapya, because of characteristic as well as due to the fact that other app's have annoying ads. Zapya is super easy to use and supports multiple languages! File transfers have never been simpler!
Well, SuperBeam is another example of a file transfer app with an intuitive interface. It also has the standard features mentioned in the previous apps. One of its best features is the methods it uses to pair your Android phone or tablet to your computer. SuperBeam lets you pair devices via NFC or QR codes, so there's no need to do a lot of clicks and manual sharing of keys.
This is one of the most downloaded apps in its category. WiFi File Transfer allows you to upload and download files to and from your phone/tablet and computer through an easy-to-use web interface. That interface also lets you delete, copy, rename, zip or unzip files quickly. You can upload entire folders if you use the Google Chrome browser.
This app simply allows you to access and manage your Android smartphone from Windows. It is an effective file-sharing app you can have on your phone as well as the computer. This works more like a PC suite. However, it completely unfolds all your mobile in your computer browser
Well, Portal makes transferring pictures, videos, and other files from your computer onto your phone simple. Just grab the app, scan the code above, and then drop as many files as you want on this site. We'll get them on your phone, and we'll do it fast!
With Pushbullet you can do everything like sending text messages while typing with your computer keyboard. See your phone's notification, exchange links and of course transferring files.
It is the first app in the Google Play to use the WiFi Direct technology to wirelessly transmit photos, videos, and any file directly between two Android devices! The app works super fine on Samsung Galaxy and HTC devices.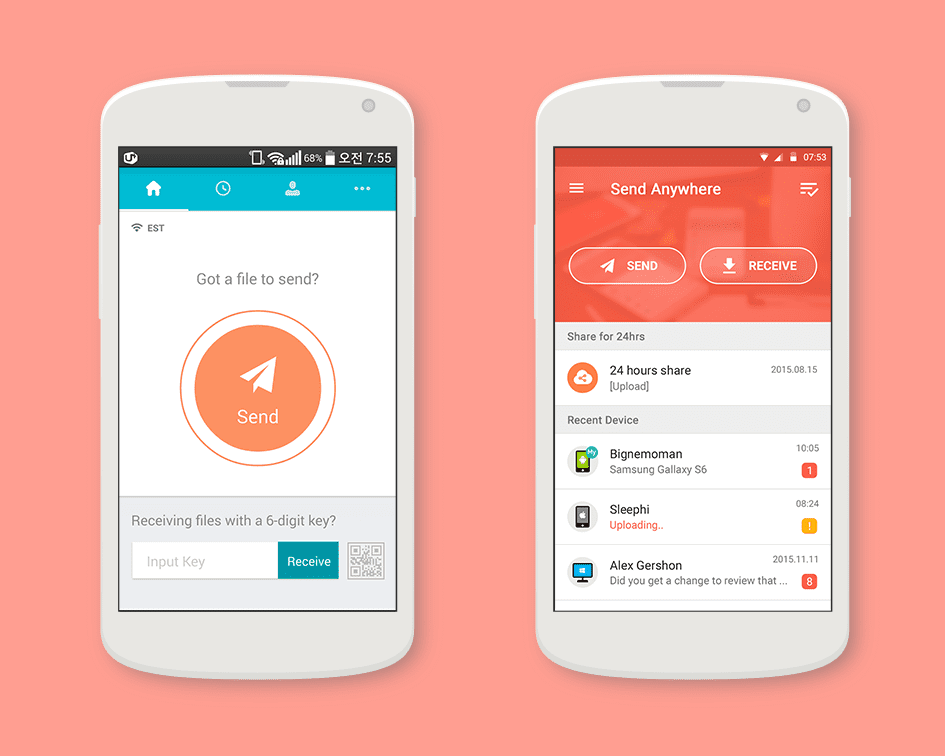 Well, this is another best Android app that allows users to securely send Android files of any size. The great thing about Send Anywhere is that it transfer files via WiFi direct. So, it's one of the best WiFi file sharing app which you should have on your Android device.
It is the lightweight version of Zapya which has been listed on the article. The app is lightning fast and it requires very little space to install on your smartphone. Every other feature of Zapya Go remains the same as of the Zapya app. The app also offers users an offline chat feature that you can use to chat with your friends without an internet connection.
It is a multi-purpose file sharing app that you would love to use on your Android smartphone. Talking about file sharing, you can use the app to share images, videos, and other large files via WiFi. Not just that, but all files that you send using Files by Google are encrypted over a direct WiFi network. Apart from that, it's also a file manager in itself.
So above are the Best Android File Transfer Apps. I hope this article helped you! Share it with your friends also.