We are going to share the best free Android file transfer apps. With the help of these apps, you can easily transfer files from your Android smartphone to another or even in PC. Without using inbuilt characteristics like Bluetooth and Nfc etc, you can transmit files to any other Android device with very accelerated speed supervising these apps. So in this post, I will tell you the Best Android File Transfer Apps.
Today there are countless third-party apps that are available on Play Store from which you can transfer files in Android. By these apps, you will have the file transfer speed up to 3-5 MB per second. And certain apps have crossed platform feature which works on every version of Android. You can download and install these apps and have the exceptional experience of fast file transfer over the Android.
Top 15+ Best Wi-Fi File Transfer Apps For Android 2019
Below I have listed best Android file transfer apps by which you can easily share all your media from one Android to another with a very high speed.
ShareIt is one of the best WiFi transfer apps for your Android smartphone and the purpose it has been put on the top of a list because of its reliable and user-friendly Interface. Using ShareIt for file transfer from Android to Android over WiFi is quite easy. Here's a brief tutorial on what else this app can do.
Features:
Share all kinds of files whenever and wherever.
200 times Bluetooth speed!
No USB! No data usage! No internet needed!
Supports Android, iOS (iPhone/iPad), Windows Phone, Windows, and Mac.
The choice of OVER 400 Million users from 200 countries.
Top 1 downloaded App on Google Play in 15 countries and regions
Xender is another app for WiFi file transfer, but it's even one step ahead than ShareIt. Unlike ShareIt which is for transferring files between one sender/one receiver, Xender enables even group transfer! i.e one sender and multiple receivers. Using Xender too doesn't require an Internet connection.
Features:
No USB, no internet, no data usage!
Transfers everything – files, pictures, music, videos, even apps!
Extremely fast – imagine sending your party video to friends in seconds!
Supports group sharing to up to 4 devices.
Supports cross-platform transfer and sharing between Android and iOS devices.
Also Read: Best Camera Apps For Your Android Smartphone
There are some contenders like xender which was fighting for the third spot, but I eventually went to Zapya, because of characteristic as well as due to the fact that other app's have annoying ads. Zapya is super easy to use and supports multiple languages! File transfers have never been simpler!
Features:
QR Code Sharing – Generate personalized QR Codes and share content through QR codes! Have others scan the QR to instantly join a group or start transferring!
Transfer files of any size – Zapya can share photos, music, video, apps, PDF, and any other file types with unlimited file size.
Instantaneous transferring speed – The fastest file transferring option out there. Up to 200 times faster than Bluetooth!
Group Sharing – Multiple files of all formats can be sent instantly to a group of friends. You can connect to up to 4 devices simultaneously!
SuperBeam is another example of a file transfer app with an intuitive interface. It also has the standard features mentioned in the previous apps. One of its best features is the methods it uses to pair your Android phone or tablet to your computer. SuperBeam lets you pair devices via NFC or QR codes, so there's no need to do a lot of clicks and manual sharing of keys.
Features:
Blazing fast transfer speeds using WiFi direct.
Pair devices using NFC or QR code scanning.
Sharing with devices that do not have SuperBeam through the web interface.
Share single or multiple files of any type (photos, videos, zip files, APK's, contacts… You name it!).
Keep the history of all transfer operations.
Also Read: Best Paid Android Apps You Must Have In Your Smartphone
#5 WiFi File Transfer
This is one of the most downloaded apps in its category. WiFi File Transfer allows you to upload and download files to and from your phone/tablet and computer through an easy-to-use web interface. That interface also lets you delete, copy, rename, zip or unzip files quickly. You can upload entire folders if you use the Google Chrome browser.
Features:
Upload or download multiple files at once
Upload entire folder structures (Google Chrome only)
Delete, rename, copy, zip or unzip files using the built-in file manager interface
Password authentication (optional)
Shortcuts to photo, video and music directories
#6 WifiDroid
The app is just 981KB and has a simple web interface to view and manage files. If that sounds boring, please note that you can also stream the music and videos saved on your Android device to your browser.
Features:
Simple to use web-interface to manage and view files.
Being lightweight delivers results quickly.
Stream music, videos, and media like camera shots and pictures through the browser.
Image Preview: mouse-over on any kind of image to generate a preview without clicking on the picture.
Click on any jpeg image to start the image gallery.
Airdroid Simply allows you to access and manage your Android smartphone from Windows. It is the effective file sharing app you can have on your phone as well as the computer. This works more like a PC suite. However, it completely unfolds all your mobile in your computer browser
Features:
Better focused: Calls, SMS, and the app notifications you allowed, mirrored to the large computer screen you are focusing on.
Better equipped: Type with full physical keyboard and control with a mouse. Transfer things faster without looking for a cable. Better equipment, better life.
Better connected: Control your Android from a computer and use any apps on the computer, like WhatsApp, WeChat, and Line. (root required for some devices)
#8 Infinit
Infinit is the easiest and fastest file transfer app for sending any file, of any size to your friends; and transferring large files between your own devices: phone, tablet, and computer. Infinit is the fastest file transfer application on the market thanks to a unique peer-to-peer (P2P) technology that bypasses the cloud, directly connecting the sending and receiving devices.
Also Read: Top 10 Best Android Car Racing Games That You Must Play In 2016
Portal makes transferring pictures, videos, and other files from your computer onto your phone simple. Just grab the app, scan the code above, and then drop as many files as you want on this site. We'll get them on your phone, and we'll do it fast!
Features:
Transfer individual files, multiple files, or entire folders at once
Easily browse, open, or share the files you've put on your phone
Pictures transferred with Portal are automatically put into your phone's Gallery
Android 5.0 (Lollipop) or later: have Portal save files to your removable SD card!
With Pushbullet you can do everything like sending text messages while typing with your computer keyboard. See your phone's notification, exchange links and of course transferring files.
Features:
Conveniently send and receive SMS messages from your computer
Reply to messages from many popular apps including WhatsApp, Kik, and Facebook Messenger
Easily share links and files between your devices, or with friends
Also Read: Best 10 Hacking Movies 2019 of All Time
WiFi Shoot it is the first app in the Google Play to use the WiFi Direct technology to wirelessly transmit photos, videos and any file directly between two Android devices! The app works super fine on Samsung Galaxy and HTC devices.
Features:
WiFi shoot is free and it's much faster than Bluetooth
It's easy and efficient and it also has a beta version of the app
The app carries a user-friendly interface and it's remarkably easy to use.
ES File Explorer is a free, safe, simple app that allows you to manage your file efficiently and easily. The app actually brings many useful features apart from the file manager, it brings Recycle bin, WiFi sharing, Connect to PC feature. You can use this app to transfer the file to the WiFi
Features
The ultimate set of file management tools for root users.
You can copy and paste files between Bluetooth-ready devices
WiFi File Transfer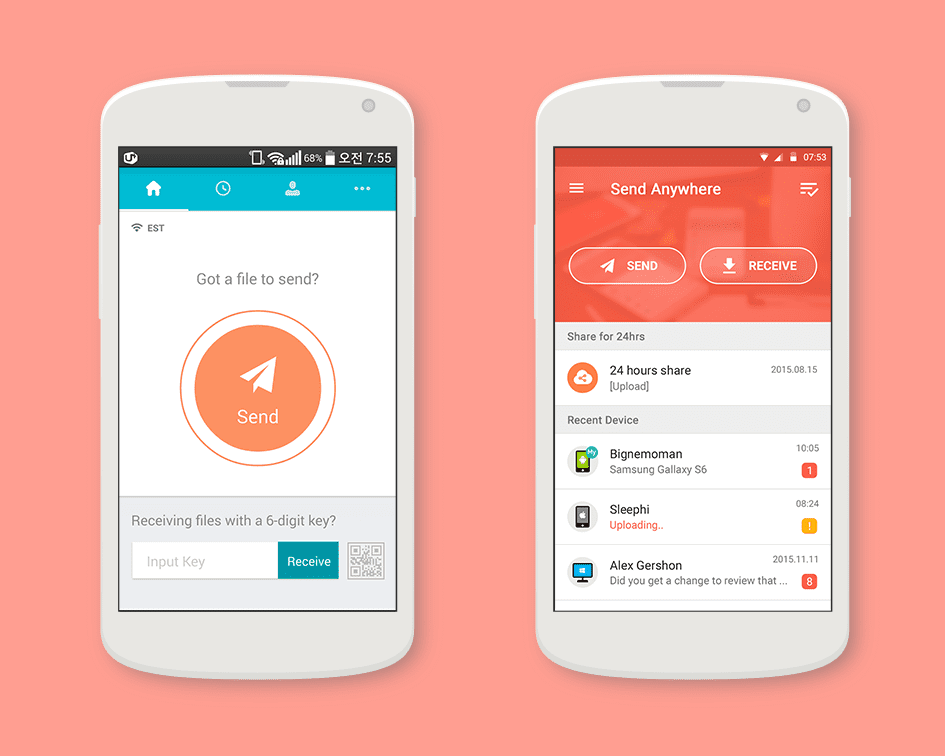 Well, this is another best Android app that allows users to securely send Android files of any size. The great thing about Send Anywhere is that it transfer files via WiFi direct. So, its one of the best WiFi file sharing app which you should have on your Android device.
Features
Transfer any file type without altering the original
All you need is a one-time 6-digit key for an easy file transfer
Wi-Fi Direct: transfer without using data or the Internet
Share files to multi-people at once via a link
Mi Drop is one of the best alternatives to Shareit and Xender. The best thing about Mi Drop is that it's lightweight and it supports almost all Android devices. You can use Mi Drop to share files without an internet connection. The WiFi file sharing speed is also high compared to others.
Features:
Transfer & share all kinds of files
Transfer files between all Android devices
Resume interrupted transfers
Send large files without limitation
Well, if you are looking for an easy to use file sharing app, then CM Transfer is just for you. The best thing about CM Transfer is that it's very fast and it can transfer files wirelessly at the speed of up to 10Mbps. The app operates just like Shareit or Xender and its one of the best file sharing app available on Google Play Store.
Features:
Lightning fast mobile file transfer
Simply share files in any format and any size
Instantly find nearby friends with Bluetooth support
Build connections without internet
4 Share Apps is one of the leading file sharing apps that you can use on your Android smartphone. Since the app relies on WiFi to exchange files, the file-sharing speeds are high. With 4 Share Apps, you can share photos, videos, installed apps, and other files types. Apart from that, the app also allows users to back up the installed apps to SD card in just one tap.
Features:
4 Share Apps is entirely free to use
The app doesn't put any restriction on file sharing.
You can share almost every file types with 4 Share Apps.
Zapya Go is the lightweight version of Zapya which has been listed on the article. The app is lightning fast and it requires very less space to install on your smartphone. Every other feature of Zapya Go remains the same as of the Zapya app. The app also offers users an offline chat feature which you can use to chat with your friends without an internet connection.
Features:
The app is completely free to use and it doesn't show any ads
Zapya Go is compatible with Zapya and Zapya MiniShare
Zapya Go also supports group sharing.
Files by Google is a multi-purpose file sharing app that you would love to use on your Android smartphone. Talking about file sharing, you can use the app to share images, videos, and other large files via WiFi. Not just that, but all files that you send using Files by Google is encrypted over direct WiFi network. Apart from that, it's also a file manager in itself.
Features:
You can clear junk files stored on your smartphone
The app is completely free to use and it doesn't show any ads
You can share files with super fast speed with rate up to 480 Mbps.
So above are the Best Android File Transfer Apps. Through these apps, you will have the great experience of transferring files to the Android device as those apps will contribute high file transferring rate. Just download and install these apps from Google Play Store. And have fun with these apps. Don't forget to share the post.
AUTHOR