Let's admit, the technology around is evolving at a rapid pace, and the entire tech industry is undergoing rapid transitions. Every other day, we hear about new gadgets, new technology, etc. These days, it's quite easy to stay updated with the latest technology trends because there are plenty of tech news sites and apps available on the web.
Since we now use smartphones more often than computers, it makes sense to share the best tech news apps. We have compiled a list of the best tech news apps that you can install right now for Android users. With these apps, you can watch news videos, read the news, watch live news, etc.
Also Read: Best Password Cracking Techniques Used By Hackers
List of 10 Best Tech News Apps For Android in 2021
Not only that, but some apps listed in the article also allow users to bookmark or save a webpage offline. So, let's check out the best Android apps to read tech news.
Tech viral is a tech app dedicated to providing the latest tech news, android tricks, PC tutorials, top-list apps, etc.
Well, Appy Geek is made by the same tech enthusiasts behind the Tech Republic – another best tech news app. Talking about the Appy Geek, the app's interface is pretty amazing, and it gathers tech news from different popular sources. So, it generally gathers popular tech content from all around the world and assigns it to one place. So, Appy Geek is another best tech news apps that you would love to have.
It is an RSS reader app that allows users to subscribe to favorite tech blogs. So, when you open the app next time, you will see the content from the sites you have subscribed to. Feedly makes things a lot easier because you don't need to open the browser and visit the website to view news as it automatically lists all news that has been recently published by various tech blogs. Apart from that, Feedly also got a dark mode, light mode, and a reader mode, which improves the reading experience.
4. Drippler
Well, Drippler is much different compared to all others listed in the article. The app basically focuses on delivering tips and tricks based on what smartphone you are using. It detects your smartphone and then shows you the most personalized tips and tricks. Apart from that, it also shows the most important and trending tech news topics from around the world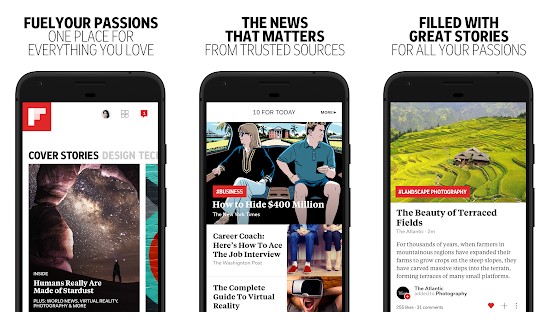 Well, Flipboard is one of the popular sources to view the latest news. Not just technology, Flipboard covers almost every category of news. Talking about technology news, the app is filled with a plethora of information and interesting tech articles. So, Flipboard is another best tech news apps that you can install right now.
Well, TechCrunch is one of the popular portals that reports on technology, startups, venture capital funding, and Silicon Valley. With the TechCrunch Android app, you can use the browser and read all TechCrunch's headlines. The app also provides users customization options to see topics of their own choice.
Well, this is another app from the CNET news portal. Tech Today is designed to be as simple and minimalist as possible. It's even lightweight than the CNET app that's listed above. It's basically a tech news app that delivers a selection of the best stories based on the most popular topics right now.
It's a relatively new news app available on the Google Play Store. The app is not much popular, but it's pretty consistent in providing tech news. Findups Daily covers tech news content of popular news portals like Gizmodo, CNet, Slashdot, Engadget, Wired, The Next Web, TechCrunch, etc.
Well, Google News organizes what's happening in the world to help you learn more about the stores that really matter to you. What's more interesting is that Google News adapts to your browsing and reading habits to show relevant suggestions.
It is one of the unique news apps that Android users would love to have. The app collects news from multiple national & international news sources and summarises them to present in 60 words or less format. So, it basically generates a shorter version of trending news, which makes it convenient to read the news on mobile.
So, these are the best tech news apps which you can use on your Android smartphone. I hope this article helped you! Please share it with your friends also.