Telegram has launched its Telegram Premium subscription. This paid tier contains many new features such as 4 GB file uploads, faster downloads, exclusive stickers, and reactions.
In an official announcement, Telegram also mentioned that the app has now crossed over 700 million monthly active users and become 2022's top-5 downloaded apps worldwide without having a monetization system.
Telegram Premium Allows 4 GB File Uploads & Faster Downloads
A month ago, Telegram announced that they would soon launch a premium tier for the users to enhance their experience of using the app, which will also support Telegram's team.
The new premium tier will cost you $4.99 / month, which is pretty fair in comparison to other platform's subscriptions, but there is no force that you should go for it. The free version will still get improvements.
Telegram Premium Features & Benefits
Premium members can only access all these features, and to know more, you also check out the official report. Let's delve into the details.
Animated Profile Pictures
There is a new video profile picture option for the premium subscription holders. They can now set an animated profile picture that everyone can see as a GIF.
4GB uploads
The messaging app will allow the sharing of files up to 4GB. It is double of free version's file-sharing limit.
Faster downloads
Now, Premium users can download faster from Telegram with the complete potential of your fast internet.
Unique Stickers & Reactions
The most rumored Telegram feature is now unveiled with the Premium tier. Subscribers will get a bundle of Unique Stickers & Reactions showing impressive full-screen animations with unique 3D effects.
2x Limits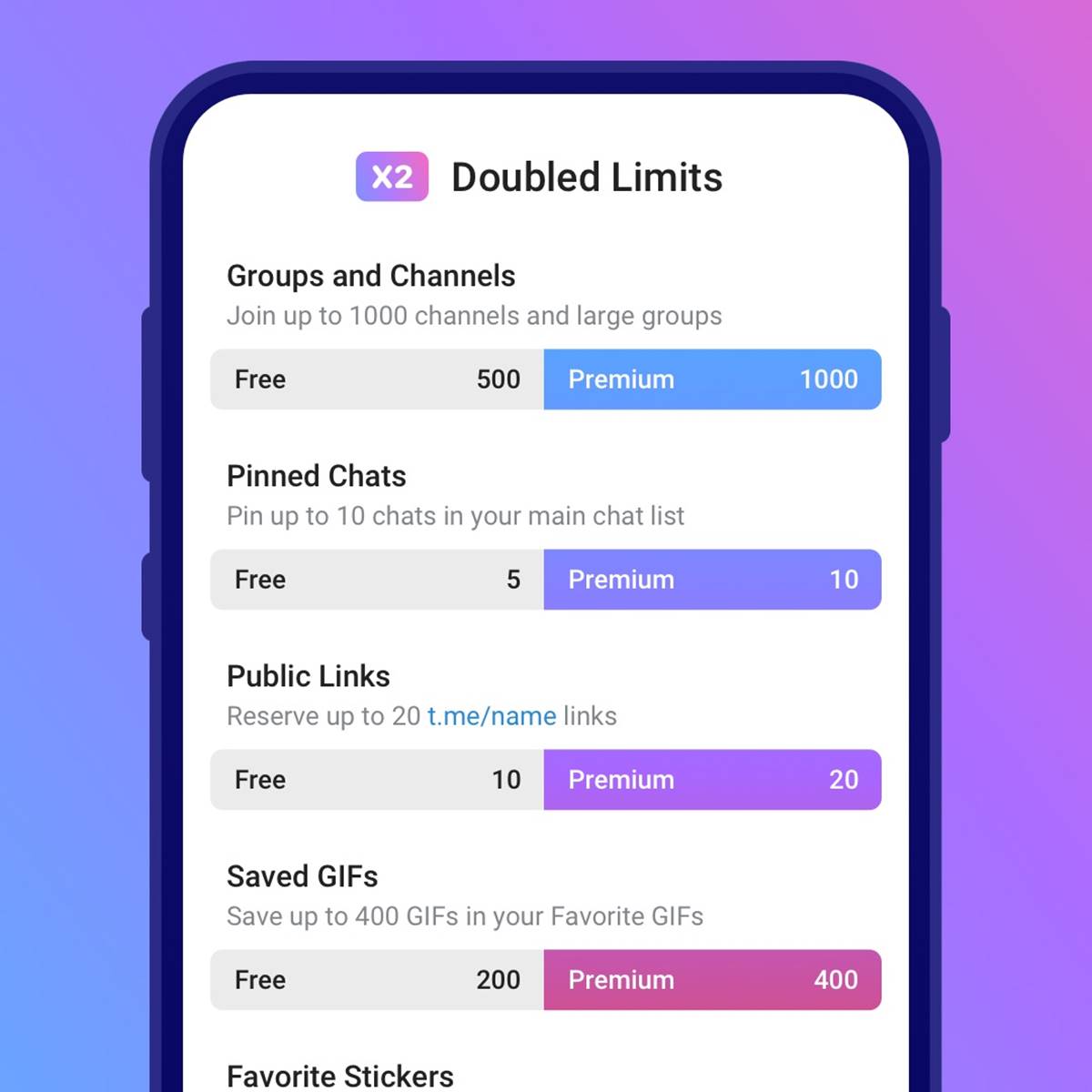 Some limits have been doubled, such as you can join 1,000 channels, while it offers 500 channels to free users, 20 Premium links, and 400 GIFs from 200 GIFs.
Premium Badges & App Icons
As other subscriptions offer a premium badge, Telegram will do the same, and you can show off your subscription with a blue star badge on your profile.
And also, you can set different app icons, which you will get with your paid tier.
No Ads
Premium users will not see any Ads in the app, even in Chats or the homepage main chat section.
On Sunday, the company has also launched some new improvements for everyone, whether you are a premium user or an average user.
The new improvements are mainly for iOS, iPadOS, and macOS, which include Public group join requests, new animations in file sharing, bot improvements, 120Hz ProMotion support, and bug fixes.