Here are some of the extensions that you can use with Google chrome so that you can get all that features in this browser also. Below are the extensions that you can use to make chrome the better and the faster browser.
[dropcap]G[/dropcap]oogle Chrome is the best and the most popular browser that is available right now in the digital world. There are some other popular browsers like Firefox or Internet Explorer that also matches the features and performance with that of the Google Chrome web browser. These browsers use up the plugins that help them to overtake the functionality and features of Google Chrome.
Also Read: 7 Best Chrome Extensions to Transform 'New Tab' Page
20+ Must-Have Chrome Extensions For Better & Faster Browsing
So below are the best extensions that you must try in your Google Chrome browser to have the better browsing experience.
Also Read: How To Send Encrypted Mails In Google Chrome
This extension is all about taking away all the available Gmail links from the page of the website to a linked page where you can use all these Gmail links to send your messages or to carry on the conversation. This could be a great extension for those who just want to find the Gmail account and the huge page of the website. You will now not require to copy and paste the URLs of these pages so as to start the Gmail.
This extension creates an icon next to the search bar in the Google Chrome browser. By clicking on this icon you will open up in the new window where you can check your Gmail account and read and send the messages as you can in Gmail. The only con of this extension is that you don't get the real-time updates of your Gmail account that is open in it.
There are some sites that are pre-optimized for use on the Internet Explorer web browser and the experience of these sites is not that rich as you get on IE browser.IE Tab extension makes a sub-browsing window in the Chrome browser itself where you get the same modified browsing like that in Internet Explorer and you can also feel the same experience as that in it.
This extension just sends the links of pdf or powerpoint files to Google drive where you can read these files properly. This could be a great extension for Chrome as the Pdf and Powerpoint files are not well handled by this browser and the experience is very bad for these files.
Using this extension you can highlight any term on the window to search for it, find its meaning. This extension can also be used to find the words on the page and to quickly search for the details of anything on the page. This extension also helps to boost the search speed of the browser. Just give this a try and you shall be stuck with this extension of the Google Chrome.
This chrome extension helps you to stop the auto-playing of youtube videos as soon as you reach the webpage that contains videos or you can say it stops the autoplay of the videos on various hosts and websites. This extension also helps you to pre-load the videos and then play it after it been fully loaded. This can be a very helpful feature for those with slow connections and want to enjoy the smooth video playback without stuttering.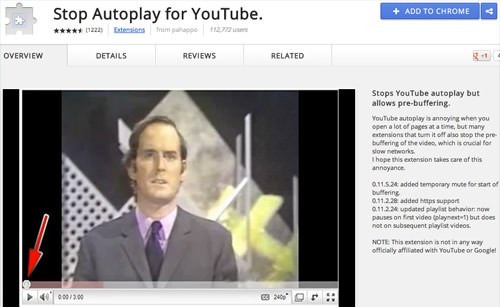 If you have bookmarked RSS feeds from Google Reader, Twitter, Delicious, YouTube or Amazon, the Feedly Chrome extension is what you will find very helpful. Feedly automatically imports your feeds and then arranges the content into an eye-pleasing magazine page. The Feedly extension also keeps a running tally the items that you have not read yet in the address bar.
This is a very simple extension that just shows the snapshot of the page from every website in the form of the thumbnail on the left side every add on the Google search screen. This could be helpful for those who just want to know about the website through the inner look on their site.
It is the best time-saving extension for chrome that you can use. You can use this extension from the cardboard icon on the left of the search bar. This extension just saves the whole webpage as it is and you can open the same from the saved list. You can also use this to view the web pages when you are offline.
This is one of the best plugins that you can use to use the private network on your device and you can also unblock the blocked websites on your server.
Also Read: How to Make Websites Load Fast In Google Chrome On Android
This extension applies clever caching techniques (which are not there in the browser by default) and blocks the stuff you do not need (ads and trackers). All of that makes web pages load noticeably faster!
#12 Better Browser – for Chrome
Better Browser for Google Chrome – Browse 15% faster. Improve your Google search experience. This extension actually improve your search experience like it had auto-scroll feature and automatically loads next page before you reach to the end. Users also get a floating search panel.
Google dictionary views definitions easily as you browse the web. Double-click any word to view its definition in a small pop-up bubble. View the complete definition of any word or phrase using the toolbar dictionary.
Ever tried having 20 tabs or more open in Chrome? You can't even see the favicon of the tabs, not to mention the tab titles! If that happens to you, TooManyTabs is a must-have extension that manages your tabs, reduces your tab overflow, and saves your sanity!
Disconnect lets you visualize and block the invisible websites that track you. Load the pages you go to 44% faster. Stop tracking by thousands of third-party sites.
If you prefer security and don't have much faith in your internet security solutions then Ghostery is the best extension for you. This extension displays and allows users to block trackers which collects user data.
uBlock is basicall an adblocker. The best thing is this extension is extremely light on CPU and memory. The uBlock Origin is best if you want to block each and every ad elements that manage to escape from its counterparts.
Flashcontrol blocks flash content and replaces embedded players with placeholders. Allow content only when you want by clicking any placeholder, or by adding your favorite sites to a whitelist.
If you want to keep a track of the time spent on each active tab on Google Chrome browser then Rescue time is the best one for you. The extension provides a picture which displays how you spend your time on each and every active tab.
Blur makes it easy to keep track of and secure all your personal information online. The extension is very helpful in the world of privacy threats and online frauds. You can even create strong passwords in one click for various sites.
Also Read: Top 15 Websites For Downloading Windows Software For Free
AdBlock is one of the best Chrome extension for blocking ads. The extension improves your browsing experience by preventing all annoying ads. Moreover, the extension also helps to save some precious data. So, if you are getting slow internet speed or want to save some precious internet data, then AdBlock is a must-have extension.
Tab Cloud allows you to save any window session and restore it at a later date or on another computer. Effectively allowing you to sync open tabs between multiple computers. You just need to click the TabCloud icon on the menu, and you will then see your currently open windows and previously saved windows, you can save open windows, or restore saved ones.
The extension allows users to manage multiple tabs without leaving the current tab. It is a great extension that you can find to use for extending the google chrome tabs, and this program is also open source hence you can find it easily on a network for downloading. Not only these, but the extension also suspends tabs after a period of inactivity.
Although the browser itself is fully featured in itself to provide you with the best experience of browsing you can still use these extensions as these extensions will help you manage your working task in a great manner and will also help to boost up the performance more and more. Just try these extensions with your Chrome browser and you will feel the browsing much easier and faster.