Google Chrome is the best and the most popular browser available right now in the digital world. Some other popular browsers like Firefox or Internet Explorer match the features and performance, but Chrome is still the most preferred option.
Chrome is known for its features and extension support. You will find Chrome extensions for every different purpose on the Chrome web store. Hence, this article lists a few best Chrome extensions for better and faster browsing.
Must-Have Chrome Extensions For Better & Faster Browsing
All these extensions are available on the Chrome web store and are free to download and use. So, let's check out the best free Chrome extensions for better and faster browsing.
This extension is about taking away all the available Gmail links from the website's page to a linked page where you can use all these Gmail links to send your messages or to carry on the conversation.
This could be a great extension for those who want to find the Gmail account and the huge page of the website. You will now not require to copy and paste the URLs of these pages to start Gmail.
This extension creates an icon next to the search bar in the Google Chrome browser. Clicking on this icon will open a new window where you can check your Gmail account and read and send the messages as you can in Gmail.
The only con of this extension is that you don't get real-time updates of your Gmail account that is open in it.
Some sites are pre-optimized for use on the Internet Explorer web browser, and the experience of these sites is not as rich as you get on the IE browser.
IE Tab extension makes a sub-browsing window in the Chrome browser where you get the same modified browsing as that in Internet Explorer, and you can also feel the same experience.
This extension sends the links of pdf or PowerPoint files to Google Drive, where you can read these files properly. This could be a great extension for Chrome as this browser does not handle Pdf and Powerpoint files well, and the experience is very bad for these files.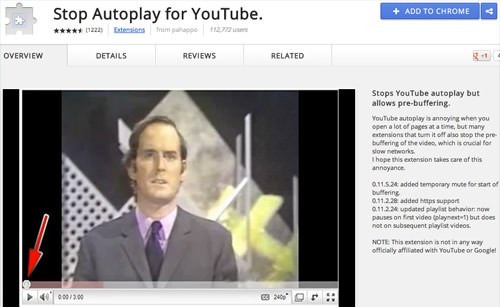 This chrome extension helps you to stop the auto-playing of youtube videos as soon as you reach the webpage that contains videos, or you can say it stops the autoplay of the videos on various hosts and websites.
This extension also helps you pre-load the videos and then play them after fully loaded. This can be helpful for those with slow connections who want to enjoy smooth video playback without stuttering.
If you have bookmarked RSS feeds from Google Reader, Twitter, Delicious, YouTube, or Amazon, the Feedly Chrome extension is what you will find very helpful.
Feedly automatically imports your feeds and then arranges the content into an eye-pleasing magazine page. The Feedly extension also keeps a running tally of the items you have not read yet in the address bar.
This is a very simple extension that shows the snapshot of the page from every website in the thumbnail on the left side of every search result on the Google search screen.
This could be helpful for those who want to know about the website through the inner look on their site.
This is one of the best plugins to connect to a private network on your device and unblock the blocked websites on your server.
Hola Better Internet is basically a VPN extension for Chrome browser that's mainly used to unblock blocked websites.
This extension applies clever caching techniques (not in the browser by default) and blocks the stuff you do not need (ads and trackers). All of that makes web pages load noticeably faster!
Google dictionary views definitions easily as you browse the web. Double-click any word to view its definition in a small pop-up bubble. View the complete definition of any word or phrase using the toolbar dictionary.
Ever tried having 20 tabs or more open in Chrome? You can't even see the favicon of the tabs, not to mention the tab titles!
If that happens to you, TooManyTabs is a must-have extension that manages your tabs, reduces your tab overflow, and saves your sanity!
uBlock is an adblocker. The best thing is this extension is extremely light on CPU and memory. The uBlock Origin is best if you want to block every ad elements that manage to escape from its counterparts.
If you want to keep track of the time spent on each active tab on the Google Chrome browser, then Rescue time is the best for you.
The extension provides a picture that displays how you spend your time on every active tab.
AdBlock is one of the best Chrome extensions for blocking ads. The extension improves your browsing experience by preventing all annoying ads.
Moreover, the extension also helps to save some precious data. So, if you are getting slow internet speed or want to save some precious internet data, then AdBlock is a must-have extension.
Tab Cloud allows you to save any window session and restore it at a later date or on another computer. Effectively allowing you to sync open tabs between multiple computers.
You need to click the TabCloud icon on the menu, and you will then see your currently open and previously saved windows; you can save open windows or restore saved ones.
So, these are some of the best free Chrome extensions for better and faster browsing. If you know of any other useful Chrome extension, let us know in the comments below.