We rarely think of text messaging these days, but still, it's one of the most popular ways to communicate. We receive important messages like OTP, confirmation codes, banking receipts, etc., in our SMS inbox.
Text messaging is still helpful, and lots of people use it today. So, if you are one of those who rely on the default text message or SMS app to exchange text messages, then you have landed on the right webpage.
List of Best Texting & SMS Apps For Android
This article will share some of the best texting & SMS apps that will improve your messaging experience. So, let's check out the best texting & SMS apps for your Android smartphone.
If you are looking for the best and highly customizable alternative to your default SMS & MMS app for Android, then look no other than Mood SMS.
Mood SMS is an SMS app for Android that provides you with many backgrounds, themes, fonts, and more. If we talk about the features, Mood SMS has some excellent features, such as the typing indicator, chat encryption, real-time caller identification, etc.
You can also use the app to block spam numbers, schedule your messages, and delay the sending to avoid mistakes.
Messages is one of the most used and popular messaging apps by Google. The messaging app is capable enough to replace the default one from your smartphone.
Google Messages offers a material design that looks good, and it has almost all the features you need for messaging needs. Apart from that, the app also gives users multiple theme options.
Chomp SMS has been around for a while now, and it's a decent third-party texting app for Android. The app has a material design and offers plenty of useful features.
With Chomp SMS, you can easily lock specific messages, schedule SMS Messages, apply signatures to SMS, add emojis, etc. Chomp SMS is also fully compatible with Yappu, Pushbullet, MightyText, and Android wear for desktop access.
Not many would know that Facebook Messenger can also display your phone's SMS. Facebook Messenger replaces the default SMS app of your smartphone.
However, on the downside, Messenger consumes lots of battery, storage, and RAM resources. So, if you have a low-end smartphone, it's better to avoid this one.
Well, Handcent Next SMS is pretty much similar to the Chomp SMS app that has been listed above. Just like Chomp SMS, Handcent Next SMS also offers tons of features.
With Handcent Next SMS, you can actually text from your computer in a few simple steps. It also provides a few other useful features like spell check, theme support, password protection, etc.
Pulse SMS is a next-generation, private text messaging app for Android smartphones. The messaging app for Android is highly customizable and offers tons of features.
It's a standard SMS app that brings some extra texting features. For instance, you can use essential features like number blocklisting, SMS backup, and more. Apart from that, it also offers lots of themes.
If you are searching for an ad-free and open source messaging app for your Android smartphone, you need to give QKSMS a try. Guess what? QKSMS offers many privacy features such as SMS Blacklist, Android wear support, Talkback support, etc.
Apart from that, it was the beautiful, intuitive, and clutter-free design that makes the app stand out from the crowd.
If you are looking for a smart messaging app for your Android smartphone, Textra SMS might be the best pick.
The app is known for its interface, and it also offers lots of customization options. The app also supports floating notifications, delayed sending, slide to delete, etc.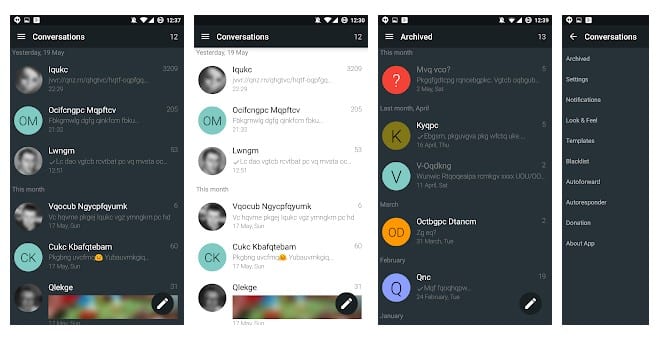 YAATA SMS is another excellent text messaging app that you can use on your Android smartphone.
The best thing about YAATA SMS is that it provides users with many useful features like scheduling messages, auto-responses, backups, blacklisting, etc. Apart from that, the app has a Material design that looks great.
This one is similar to Hangouts, Facebook Messenger, WhatsApp, etc. However, Signal Private Messenger is meant for those users who give security the utmost priority.
For those who don't know, Signal Private Messenger also works on a phone number, and if the receiving person doesn't have Signal Private Messenger installed, it will send a text message.
So, these are the Best Android text messaging app that will undoubtedly enhance your texting experience. If you know any other app similar to these, then make sure to drop the name in the comment box below. I hope this article helped you! Please share it with your friends also.