After reading the headline, many of you would argue why you would need to turn your Ubuntu Phone into a PC. Yes, we know typing on a physical keyboard is way better than typing on a mobile, and our computers are faster.
However, carrying a laptop around can be frustrating and tiring. You can avoid such situations by knowing how to turn your phone into a computer. This way, you will have the freedom to access desktop features from your smartphone.
Yes, there could be other reasons as well. For example, if you are a tech geek, you may want to turn your Ubuntu Phone into a desktop PC just for fun. Whatever the reason is, it's very much possible to turn Ubuntu Phonto into a desktop PC.
Turn Ubuntu Phone into Desktop PC with Convergence
Below, we have shared some simple steps to let you turn your Ubuntu Phone into a desktop PC. Let's get started.
1. The first thing we will have to do is access the preinstalled app "Convergence" on your Ubuntu device and set it up with further settings.
Know that this app is the basic need for running the desktop on the smart TV through the Ubuntu smartphone, so you should have the perfect updated version of this app.
2. After that, you must connect the wireless mouse and keyboard to your Ubuntu device through Bluetooth. For that, go to the Ubuntu Touch and then pair these accessories.
You may not be able to use your Ubuntu phone touch to control the projected desktop on the smart TV, so you will need to connect the keyboard and the mouse.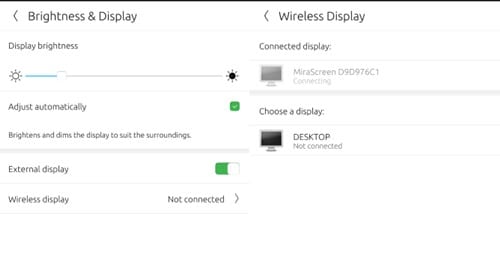 3. Now, the last thing that you will have to do to turn your smart TV into a desktop PC. Go to the settings of the Ubuntu device, and then through the Brightness and Display settings, find the wireless TV or the display in the search box and then connect to it by tapping on it. This will cast the Desktop OS on your wireless display or the Smart TV.
4. What may arise in your mind is whether you would be able to use your Ubuntu device even after casting the desktop on your wireless screen through the HDMI connection. And the answer is that yes, you can easily work on it like normal, and it won't interfere with anything.
And hence this was the easy method through which you could easily turn your Ubuntu smartphone into a Desktop PC. This could be very helpful to those who do not want to carry heavy laptops or other devices with them to fulfill their desktop-related needs.