Let's have a look at the guide to Turn Ubuntu Phone into Desktop PC with Convergence app that will make it easier to easily access your desktop screen from your device. So have a look at complete guide discussed below to proceed.
[dropcap]U[/dropcap]buntu OS for the smartphone devices is great OS like the Android OS and the iOS, if you are familiar with the term OS i.e Operating System then you could have easily understood the above difference among the various smartphone devices that is actually based on their different software. Ubuntu Phones have their great advantages and also some great features and functions but still, like Android and iOS, this one hasn't proved to be the PC replacement yet as the features cannot match up the level of PC.  But still apart from all that the one thing that makes the Ubuntu Phones a great deal and a contender for the PC is that it could be used as a desktop PC when attached through the dock, miracle, USB to the smart TV. This project up the Desktop OS i.e Windows to the connected smart Tv and hence could be controlled through the Bluetooth connected keyboard and mouse. All that is although not provided in easy options but you need to go through some methods and use some apps in Ubuntu, and here in this article we have discussed all the method. Just go and read it to know more about it!
Also Read: 10 Linux Distros you Should Know About
How to Turn Ubuntu Phone into Desktop PC with Convergence
The method is quite simple and easy and you just need to follow some of the simple steps that will help you to turn Ubuntu phone into desktop PC.
Also Read: How to Mount your Google Drive in Ubuntu
Steps To Turn Ubuntu Phone into Desktop PC with Convergence:
1. The very first thing that we will have to do is access the preinstalled app named " Convergence " on your Ubuntu device and then set it up with further settings described in below steps. Know that this app is the basic need for running the desktop on the smart TV through the Ubuntu smartphone so you should have the perfect updated version of this app.
2. Now after that, you will need to connect up the wireless mouse and keyboard to your Ubuntu device through Bluetooth, for that go to the Ubuntu Touch and then pair these accessories. You may not be able to use your Ubuntu phone touch to control up to the projected desktop on the smart TV so you will need to connect the keyboard as well as the mouse.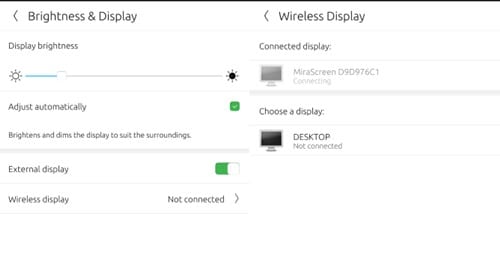 3. Now the last thing that you will have to do so as to turn your smart TV into a desktop PC is going to the settings of the Ubuntu device, and then through the Brightness and Display settings find up the wireless TV or the display in the search box and then connect to it by tapping on it. This will cast the Desktop OS on your wireless display or the Smart TV.
4. The thing that arises in your mind now will be would you be able to use your Ubuntu device even after the casting of Desktop on your wireless screen through the HDMI connection? And the answer is that yes you can easily work on it like normal and it won't interfere with anything.
Also Read: How to Access Ubuntu PC From Android Phone
And hence this was the easy method through which you can easily turn your Ubuntu smartphone into a Desktop PC. This could be very very helpful to those people who do not want to carry up the heavy laptops or other devices with them to fulfill their desktop related needs. Just go and apply the method to convert your Ubuntu power into a desktop OS which you could easily control like any traditional desktop. Hope you like the guide, if you have any related query please leave a comment below we will be more than happy to assist you in your issues and also don't forget to share this guide with others too.