Tethering is the technology that allows the users to share their active internet connection with other devices that are compatible and in range. This technology is available in almost every smartphone device.
With Tethering, users get huge benefits as they could easily share their connection with the PC, desktop, and other smartphone devices. However, sometimes users see an error message like "Account not set up for Tethering".
This happens when your carrier has blocked your tethering access or doesn't allow it. So, if you are also getting the same error, then you are reading the right article.
Use Android's Built-In Tethering While Your Carrier Blocks It
In this article, we will share the few best methods to use Android's Built-in Tethering while your carrier blocks it. Let's check out.
On Non-Rooted Device
There are several apps available on the Google Play Store that can be used to bypass the carrier block. So, below, we will list down the two best Android apps you can use to bypass the carrier block. With this app, you can use Android's Built-in Tethering while your carrier blocks it.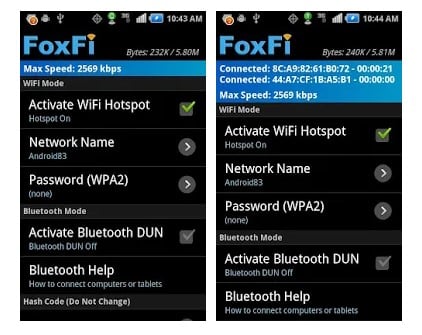 Well, FoxFi is one of the best and top-rated Android app for tethering available on the Google Play Store. Well, there is plenty of FoxFi variant available on the Google Play Store, but only a few of them works.
Using FoxFi is pretty straightforward. Users need to download & install FoxFi on their Android smartphone and enable the 'Activate WiFi Hotspot' checkbox. Once done, you will connect to the WiFi network from other devices like laptops, tablets, etc.
Like FoxiFi, PdaNet+ is another excellent Android app that can bypass the career block. The latest version of PdaNet+ has a feature known as 'WiFi Direct Hotspot', which works on all Android versions.
The great thing about PdaNet+ is that it allows users to connect computers and tablets to their phones using WiFi. However, users need to install the client app or set up a proxy to use PdaNet+.
On Rooted Device
This method requires root access on the Android device to perform the desired action. If you have root access on your device, you would be able to utilize the method.
Step 1. First, install the Xposed installer app on the Android device. This is a root application, so it would require the permissions for the overall access from the user. Just provide the access and then move ahead.
Step 2. Open the Xposed app, and go to the menu, and click on the Download option. Inside the Download panel, you have to search for the Tether keyword. Now in the search results, look for the X Tether option and click on it. This would display all the details of this selected module, and you would be able to install it right from there.
Step 3. Move to the Versions section and then install the latest version of this module on your device. After successful installation, you would get the option to activate the module and Reboot. Select to reboot and let your device restart.
That's all. Once you have installed and activated this module on your device, your tethering access would be regained, and the carrier blockage won't happen to interact any further.
So, this is how you can use Android's built-in tethering while your carrier blocks it. I hope this article helped you! Please share it with your friends also. If you have any doubts related to this, let us know in the comment box below.