Today, we have hundreds of keyboard apps available for Android that claims to improve the mobile typing experience. However, nothing seems to match the satisfaction we get from typing on a physical keyboard.
If you often use social networking or instant messaging apps, it's best to use a Bluetooth keyboard with your Android device. Bluetooth keyboards can connect with your Android and can improve your mobile typing.
Steps to Use Bluetooth Keyboard with your Android Device
However, connecting Bluetooth keyboards to an Android is not that easy. You need to manually pair the Bluetooth keyboard with your Android smartphone to use it for typing. Here's how you can use a Bluetooth keyboard with your Android.
1. First, get the Bluetooth keyboard and the Android device. After getting the keyboard, you must check whether it is turned on. If not, then turn it on.
2. Now open Bluetooth on your Android smartphone and search for your keyboard name. Once your Android finds the Bluetooth keyboard, tap on it to start the pairing process.
3. If you cannot locate your keyboard, search again by pressing the "Search for devices" option. Try to place the keyboard as near as possible because this will affect the signal strength.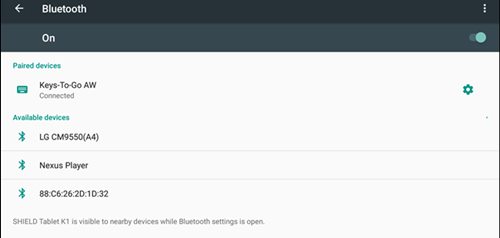 4. Once the keyboard has been shown on the Bluetooth list, select it, and you will see a code. Accept the prompt.
That's it; you will now see that your keyboard is successfully connected to the Android device, and hence you can now work on it.
Now, whenever you want to type on your Android, use the connected Bluetooth keyboard for typing. This will provide you with a better typing experience.
So, this guide is all about how to use a Bluetooth keyboard with your Android device. If you need more help pairing your Bluetooth keyboard with Android, let us know in the comment box below.