There are reasons why ChatGPT has created so much hype on the web. First, the world is not readied for it; second, it's the first AI tool for non-experts.
The simplicity level of ChatGPT is unmatched, especially if compared with its competitors. From doing your assignments to writing code, ChatGPT can solve all complicated things.
Use ChatGPT on Android & iPhone
Due to its massive hype, many users want to run the new AI tool on their smartphones. So, is it possible to use ChatGPT on mobile? We will clear all your doubts related to ChatGPT on mobile.
Is ChatGPT available for Mobile?
No ChatGPT is not available for mobile, and there's no official app for the AI tool. However, you can still use ChatGPT and enjoy all its features on your smartphone.
Whether you use an Android or iPhone, you can use ChatGPT without limitations. And if you are an existing ChatGPT Plus subscriber, you can use GPT-4 too on your phone.
Since there's no official mobile app for ChatGPT, you need to rely on a browser and visit the website to access it. You can create a shortcut to access ChatGPT on your Android & iPhone home screen; we will discuss it.
Requirements to Run ChatGPT on Android and iOS
There are certain prerequisites for running ChatGPT on Android and iPhone. Make sure you have all requirements to run ChatGPT on Android/iPhone.
Internet Connection
An Active OpenAI Account
A Web Browser (Google Chrome/Safari is recommended)
How to Use ChatGPT on Android Device?
If you want to use ChatGPT on your Android smartphone, follow these steps. Here's how to use ChatGPT on an Android device.
1. Open your favorite web browser (Google Chrome is recommended).
2. When the web browser opens, visit chat.openai.com and wait until the site loads.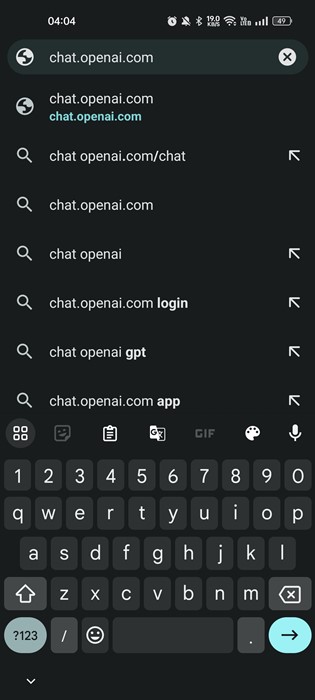 3. Tap the 'Try ChatGPT' button at the top when the site loads properly. If you don't see this move the the next step.
4. You will be asked to Log in with your OpenAI account. Tap on the Log in button.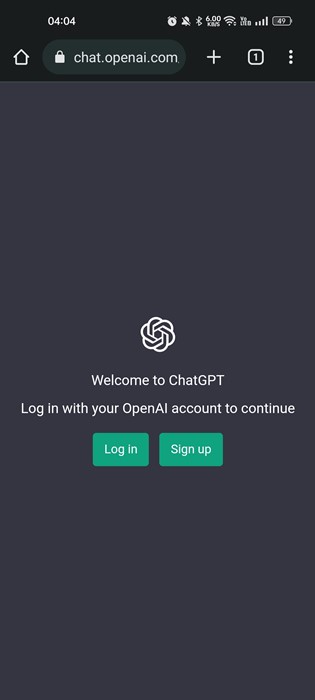 5. On the next screen, enter your OpenAI account credentials and tap the 'Continue' button.
6. Now, you will see a preview of the features. Tap on the Next button.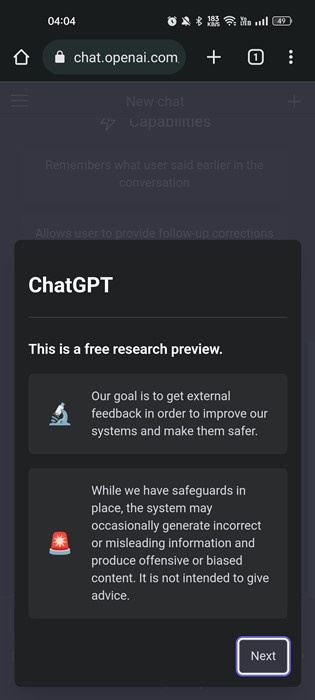 7. After going through the details of features and a short tutorial, you will be able to use ChatGPT.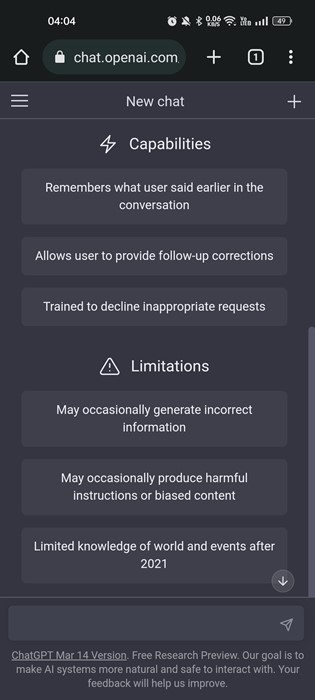 8. You can now ask the AI bot any questions, and it will deliver you the answers.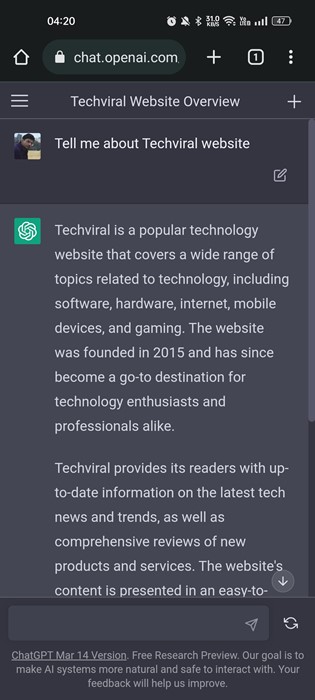 Create ChatGPT Shortcut on the Android home screen
Once logged in to ChatGPT, you can create a ChatGPT shortcut on the Android homescreen for quicker access. Here's how you can do it.
1. First, open the chat.openai.com/chat website and tap on the three dots at the top-right corner.
2. Select 'Add to home screen' from the list of options that appears.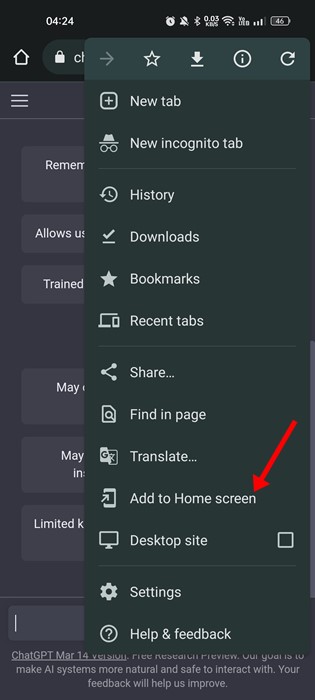 3. On the Add to Home Screen prompt, type 'ChatGPT' as the name and tap the 'Add' button.
4. On the widget creation prompt, tap the 'Add to home screen' button again.
5. Now, move to your Android home screen. You will find the new ChatGPT shortcut there. Tap on it to access the AI chat directly.
That's it! This is how you can create ChatGPT shortcut on your Android phone.
2. How to use ChatGPT on iPhone?
Creating a shortcut for ChatGPT on iPhone is easy; for that, you need to use the Safari web browser. Here's what you need to do.
1. First, open the Safari web browser and visit chat.openai.com. Next, sign in to your OpenAI account and access the chat.
2. Next, tap on the share button at the bottom of the screen.
3. On the Share menu, tap the 'Add to Home Screen' option.
4. On the Add to Home Screen screen, tap the Add button.
5. Now move back to your iPhone's home screen. You will find the ChatGPT icon over there. You can tap on it to access the AI chatbot.
That's how easy it is to use ChatGPT on Apple iPhone.
Use ChatGPT for free on Android & iPhone With Bing
Microsoft recently revealed that its new Bing AI is powered by GPT-4. This means you can use ChatGPT 4 for free using the Bing AI search engine.
The Bing App for Android and iPhone is powered by the same technology behind ChatGPT and draws on the deep knowledge base behind Bing search.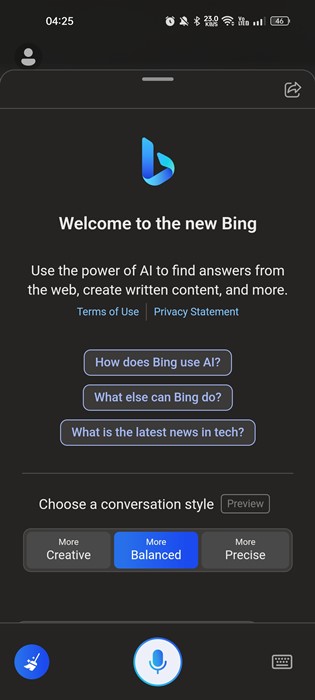 The good thing about Bing search is that it also fetches its search results to provide reliable, up-to-date results and complete, cited answers to your questions.
All you need to do is join the new Bing AI waitlist and wait to access the new AI chatbot. Once you get access to Bing's new AI chatbot, you can use the new GPT-4 for free.
Also Read: How to Access ChatGPT 4 for Free
So, that's how easy it is to use ChatGPT on mobile. If you need more help using ChatGPT on Android or iPhone, let us know in the comments. Also, if the article helped you, make sure to share it with your friends as well.