Facebook is definitely the best social networking platform out there. Compared to other social networking sites, it has more active users.
While most users use Facebook to connect with friends, check their status, like their content, etc. Many use it to find relevant information.
Facebook's search engine is pretty powerful and can provide you with many important information. From finding the best dining location to finding the best pair of sunglasses, you can do it all through Facebook's search engine.
Best Ways to Use Facebook's Search Engine to Find Anything
Below, we have shared some simple tips on using Facebook's search engine to find anything. Let's get started.
Find Friends, Groups, or Pages on Facebook
Searching for friends on Facebook is common, but for advanced search results, you need to use filters to find people based on education, work, and mutual friends. Some other keywords could be used for finding the perfect person on Facebook like:
*My friends, Friends of my friends, friends of Sarah, my close friends, etc.
Search for the Interests, Likes, Photos, and more
Search for the things or the posts likes by the phrases like Photos of_your friend name, Friends who liked your pictures, photos liked by me, etc. This makes it quick and easy to locate some great things on Facebook.
Find the Hotels, Restaurants, etc
Searching for nearby hotels, restaurants, or places is simple on Facebook, and you can use some more search phrases to refine the search results.
Using the phrases in the search keywords like hotels liked by Lisa, best pizza places nearby, etc., could help you better determine the place your friends have also visited and liked.
Search Videos
Use the keywords like a trailer, video, music or movie, etc., with your searches to get up the movies, videos, or trailers on Facebook. To refine the videos, you can also use search terms like Videos of Justin Bieber, Videos of (friend name), etc.
Latest News
Use either hashtag with your search keywords or phrases like posts, news or links, etc., to find the corresponding posts and things directly on the Facebook search engine.
Games and Music on Facebook
That one is amazing as Facebook could be used to search for various games, remain updated about their new versions that are just going to be released, etc.
Facebook now has a dedicated section for games, which you can explore to find the game of your choice.
Shop on Facebook
You can also locate products available for sale on Facebook Marketplace. For example, if you want to purchase sunglasses, you need to search Sunglass on the search.
When the search results appear, click on the Marketplace tab on the left side. This will take you to the Facebook marketplace.
Know your Facebook History
Can't recall what you have searched before on Facebook? Facebook tracks all search terms you enter in its search box.
You can go to the Privacy settings to check and remove them. Here's how to clear Facebook search history in easy steps.
Search by Phone Number
While Facebook is strict in giving away people's identities, many users still keep their phone numbers visible to the public.
Facebook can locate such accounts. So, if you want to find your friend on Facebook through a phone number, you need to search for the number in the search box.
Facebook will return all relevant accounts that mention your phone number.
Find Photos & Videos Within A Specific Time Frame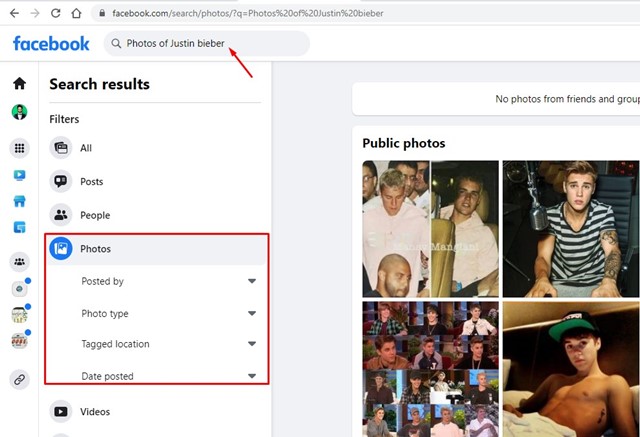 Like Google, we can search and find anything through Facebook. Suppose you want to find photos or videos of an event that was held last week; you can search phrases like photos of 'event name' in Delhi Last Week.
For example, below is the search result of Photos of Coldplay in Amsterdam. It will show you the most relevant answers to your searches. Similarly, you can search for videos too.
Find Jobs On Facebook
Like Linkedin and Google, you can also search for Jobs on Facebook. In the search box, you need to search for Jobs Hiring in [place] or Jobs near [place] and hit enter. It will show you the available Jobs near your location.
Not only these, but you can also apply for jobs directly from Facebook itself. You must fill out the required information and send it to the company.
So, these are some of the best Facebook search engine tips that will help you find almost everything on the platform. I hope this article helped you! Please share it with your friends also.