Microsoft introduced a new gaming-related feature on its Windows 10 operating system to benefit gamers. The new feature is called Game Mode and greatly enhances your Windows 10 computer performance while gaming.
However, the problem is that Microsoft hasn't advertised the new gaming mode; this is why many users don't know about it. Microsoft silently added the gaming feature on Windows 10 and kept it hidden.
Steps to Use Game Mode In Windows 10/11
You need to manually enable the new game mode from Settings to use it. Hence, this article shares a few simple steps to enable the game mode in Windows 10. The feature will enhance your gaming experience and will provide better frame rates. Let's check out.
1. First, open the Settings app of your Windows 11 computer and select Gaming.
2. On the Gaming screen, switch to the Game Mode on the left. On the right, enable the toggle for 'Use Game Mode'
3. Once enabled, you must launch a game on your device.
4. When the game launches, press your keyboard's Windows + G button. You will see the Game bar along with a few settings.
5. Switch to the General tab, and enable the option for 'Use Game Mode for this game'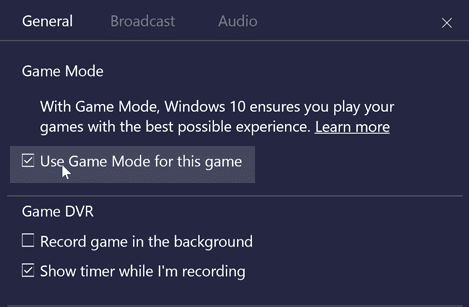 Note: If you cannot find the feature, you might be using a very old version of Windows 10. In that case, you need to update your Windows 10 to the latest version.
That's it! This will enable Game mode on your Windows 10 computer. You can now play your games with a better frame rate.
So, these are some simple steps to activate the game mode on your Windows 10 computer. This is a great feature since it enhances the performance of your games. If you need more help enabling the Game mode on Windows 10, let us know in the comments below.