Animated movies and videos are exceedingly popular worldwide, and this amazing way to express fantastic story scenes is all that makes sense.
However, creating 3D animated stores is not that easy; one needs to use advanced tools or software. But for those users who want to make 3D moving stories while not going for all those chunky tasks and hard work, Google has created a great way.
Google Toontastic 3D is a great tool that could be potentially used to create 3D animated stories easily and short time. This article has been written to explain the method of using Google Toontastic 3D to Create 3D animated stories.
Steps to Use Google Toontastic 3D to Create 3D Animated Stories
The method is quite straightforward, and you must follow the simple step-by-step guide discussed below.
1. Open the App Toontastic 3D on your Android or iOS device. To start making your new story, tap on the + button.
2. On the top right corner of the app, there is a button named Idea Lab, from where you can access numerous animated stories made by users. You could get great ideas for making your animated videos using these videos.
3. Inside the app, there is a Settings button at the bottom left corner. By clicking on it, you can see other options, like choosing between simple character animations and fully featured animations. Just select the one of your preference.
4. On clicking the + button, various options to create the animated videos appear, like Short Story with three parts, Classic Story with five pieces, and Science Report with five parts. To create animated videos, we will discuss the Short Story option, but you could also go for the other two options.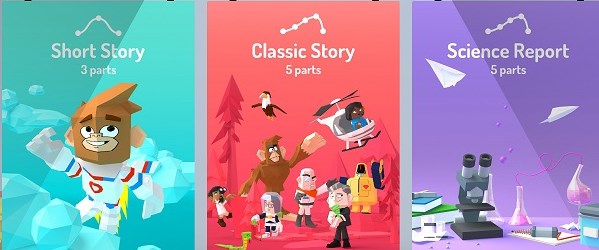 5. Now, you have to choose the templates for your story outline, and to add or remove the templates, tap on the + button. From the defined templates, you have to choose your desired ones and then add these to your outline.
6. Once you have made your final outline for the video, the app will prompt you to choose from various 3D animated backgrounds. Just select the ones of your liking. If none of the backgrounds suit your requirements, there is an option "Draw your own" to create your 2D doodle background.
7. The next thing this app will ask you is to choose a 3D character for your story, and there are multiple pre-defined styles from which you can choose quickly. If you want to create your own, tap on the "Draw your own" button. The pre-defined characters could be edited by tapping the edit button on each character's icon.
8. Now, when the storyboard opens, you have to place the characters on the screen wherever you like to set them up and then click on the Start button to let this app record every movement of the characters you make by dragging them.
The full actions of the characters would be recorded, creating your final video of the story. Note that the characters you add to your storyline cannot be animated, but the story can be depicted only through the characters' movements.
9. Finally, you will get the option to choose from various sounds. Select the one that fits well with the video. Once done, you can export the story video and share it with your friends!
So, this is how you can use Google Toontastic 3D to create 3D Animated stories. If you need more help creating 3D animated stories with Google Toontastic 3D, let us know in the comments below.