Learn How to Use Someone else's Music Subscription on a Shared Google Home using a simple method that will help you to make someone subscription yours. So have a look at complete guide discussed below to proceed.
[dropcap]G[/dropcap]oogle Home lets the users grasp the access to the music from various different sources, and the thing is that the music available here is top class. For using the Google Home the users need to subscribe to it at some amount, this is nothing bad for the music lovers those who wish to grab the amazing high-quality music. Now for a single person, the subscription cannot be expensive, but for the attachment of whole family members to the Google Home, this can cost really high. Fortunately the there is a function through which the Google Home can be connected with multiple other members for no cost and the access to the full music library can be gained easily. Here in this article we are going to write about the method through which you can be able to share or use Someone else's Music subscription on a shared Google Home. If you are willing to get your hands on the highest quality music list then follow up reading this whole article so as to know about the method described there!
Also Read: Recover WiFi Passwords Using Android Phone
How to Use Someone else's Music Subscription on a Shared Google Home
The method is quite simple and easy and you just need to follow simple step by step by the guide that will help you to easily use Use Someone else's Music Subscription on a Shared Google Home that will give you an amazing experience. So follow the below steps to proceed.
Steps to Use Someone else's Music Subscription on a Shared Google Home:
#1 Before we start up with the method I shall tell you that we would not be telling you the way for adding a new user to the Google Home but we will only assume that you have already added the user to your Account. So get started with the steps if you have already attached the new user to your account. Open the Google Home App and then click on the Button named Menu above it. This will launch up a new menu on your device inside the Google Home App.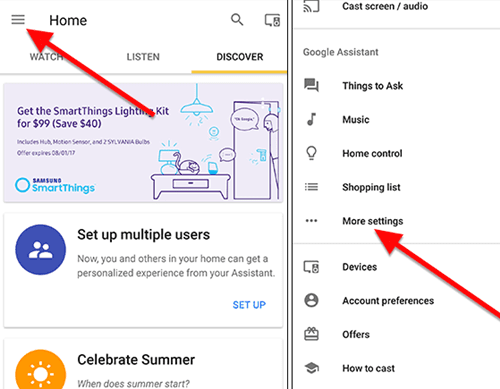 #2 The menu will be consisting of several options listed in a form style, you need to click on the More Settings option so as to reveal further preferences. Just scroll down on the upcoming list of options and then find the Music option. Tap on it so as to manage all the preferences regarding that. You would have got that we will be changing the Google Home preferences from this screen only because it is the Music app only which is identified by the device.
#3 This last step is extremely simple and if you have reached the above screen accurately then you will only require clicking on the single option named "No default provider". This is the option under the Music Preferences which is correlated to the Google Home for the particular user you have selected. Just enable this option and that user will not be prompted for any queries before he/she could start to access all the music library in your Google Home without subscription!
Also Read: Recover Uninstalled Android Apps in Google Play
Finally, you have now grasped the whole knowledge about the way through which you can be able to share with the Google Home subscription of someone else. Thus your life will devastatingly turn into a great musical treasure as you can run the top class music on your device that indeed you were to get through the different sources after huge searching. Lastly, we believe that you might like the whole information of this article, and probably you will also share this with your friends. We have a great respect for you all because you have only helped us reach to this level where many people know about our website, please keep on supporting us further and tend to provide us with your opinions and suggestions through the comments section below!