If you have been using Telegram for a while, you might know that the instant messaging app offers a self-destruct timer for chats. However, the self-destruct feature is only limited to secret chats, and it's not available for regular chats. On the other hand, other instant messaging apps like WhatsApp, Signal, etc., do offer self-destructing or Disappearing message features on regular conversations.
Recently, Telegram for Android rolled out a new update. The update packs some new features like Auto-delete messages, home screen widgets, broadcast groups, etc. Out of all those, the Auto-Delete message seems to be the best one. The Auto-delete message feature brings the self-destructing timer even in personal chats, group chats, and channels.
There's another difference between the Self-destructing timer and the auto-delete timer. Unlike the Secret chats, Telegram's auto-delete message timer starts when you send the message and not when the recipient reads it. So, what that means is that the message may expire even before the recipient reads it.
Also Read: How to Hide Your Phone Number in Telegram
Steps to Enable & Use the Auto-Delete Message Feature On Telegram
In this article, we will share a step-by-step guide on how to enable and use the auto-delete message on the Telegram messaging app. So, let's check out.
Step 1. First of all, open Google Play Store and search for Telegram. Update the Telegram app from the Google Play Store.
Step 2. Now open the Telegram app and start a conversation. Now tap on the three dots as shown below.
Step 3. From the pop-up menu, select the option 'Clear History'
Step 4. On the Clear History pop-up, you will find a new option, 'Auto delete messages in this chat'
Step 5. You need to set the duration and then tap on the 'Enable Auto-Delete' button.
Step 6. Once enabled, the new messages will automatically get deleted after the set time.
Step 7. To see the timer countdown, tap on the message.
Step 8. You can implement the same feature in Telegram Group chats. However, you need to be the admin of the group. Once enabled, every new message sent in the group will automatically expire. However, the group members can't see the message timer.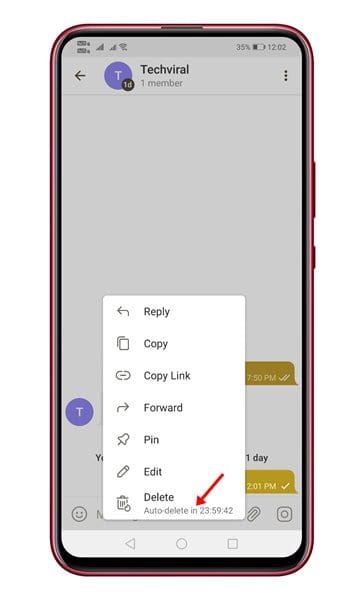 That's it! You are done. This is how you can enable and use the auto-delete message on Telegram.
So, this article is all about how to enable and use the auto-delete messages on Telegram. I hope this article helped you! Please share it with your friends also. If you have any doubts related to this, let us know in the comment box below.