If you are a digital marketer or own a website, then the Wayback machine might be helpful to you. Wayback Machine is a digital archive of the World Wide Web. Wayback machine was founded by the internet archive, which is a nonprofit organization.
The site lets you go 'back in time' to see what websites looked like in the past. WayBack machine could be helpful in many ways. For example, you can load the old version of the site to compare templates, extract content, etc.
Primarily, the website is used to access the deleted data of the website. However, the Wayback machine has few demerits. Compared to other internet archives, the Wayback Machine is a little slow. This is the primary reason why users search for Wayback machine alternatives.
List of 10 Best Wayback Machine Alternatives (Internet Archive)
So, if you are also searching for the same, then you are reading the right article. In this article, we have decided to share a list of the best Wayback machine alternatives.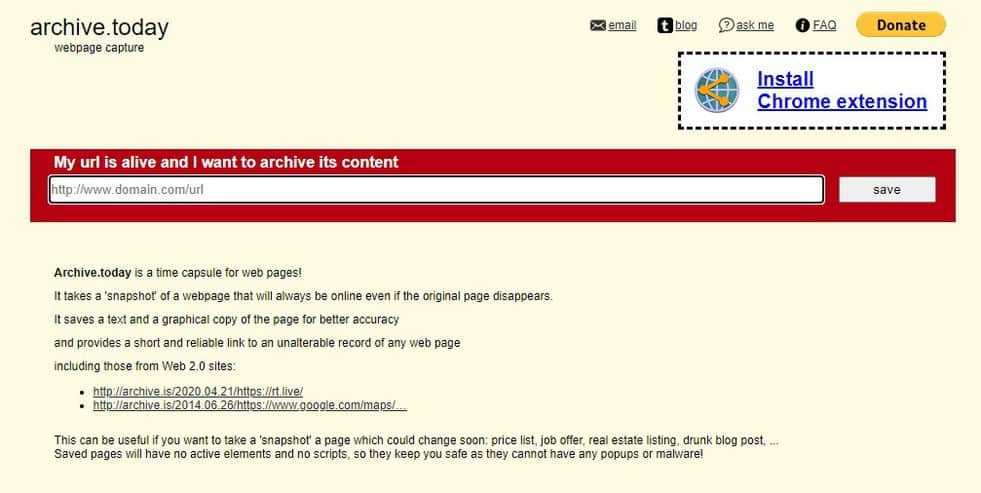 Well, it's one of the best internet archives available on the web. Like the Wayback Machine, Archive. also stores 'snapshots' of every web page that the website has listed before. Although the site is old, people love to use it because of its simplicity. The site also lets you download the screenshots for later use.
If you are searching for a Wayback machine alternative that offers more than just screenshots, then ITools might be the best pick for you. Compared to the Wayback machine, ITools has more features. For example, the site is known for its advanced website scanning. It scans and shows many valuable website details like Alexa Rank, Contact Information, Popularity, etc.
If you are searching for an online service to improve your website, you need to try Stillio. The site shows the coding structure, including the screenshots of a particular website. Stillio also shows other useful information like SEO directives, technical issues, traffic statistics, etc.
If you don't mind subscribing to a premium service to automate the process of capturing screenshots, then you might like PageFreezer. The premium service is mainly used to capture online conversations. Some of the critical features of PageFreezer include data export, webpage comparison, digital signature, live browsing, etc.
If you are searching for a website to fetch out the history of any website, you need to give DomainTools a try. This site not only shows the screenshot history of a website, but it also reveals additional details like domain registration date, domain expiry date, contact details, etc.
This one calls itself a social command line for the web. YubNub is another best Wayback Machine alternative on the list that you can consider. It relies on commands to execute tasks. Through YubNub, you can search the web, search for images, check screenshots of websites, find blogs, find news, find WHOIS information, etc.
As the name of the site says, TimeTravel is a website that lets you travel back in the past to see how the website looked at a particular period. What's more interesting is that TimeTravel also enables you to enter the time details. It's a search engine that accesses the database of other internet archive websites to serve the user queries.
Well, WHO.IS is a little bit different compared to all others listed in the article. Users often use this site to fetch out any website's basic details, including its launch date, expiry date, IP Address, server location, etc. It doesn't provide you with the screenshot history of websites, but it does show you other important details that might come in handy at times.
Perma is a website that helps scholars, journals, courts, and others create permanent records of the web sources they cite. The site is straightforward to use, and libraries support it. However, it's a subscription-based service where you need to pick a plan to see different details of websites. The good thing is that Perma also provides social media archiving options.
10. Archive.today
Although not widespread, Archive. today is still one of the best Wayback machine alternatives that you can use today. It's an online tool that helps you to create a cwebpagea webpage. Once the snapshot is taken, it will always be available on the Archive. today, even if the original link is no longer available.
So, these are the ten best Wayback machine alternatives that you can visit today. I hope this article helped you! Please share it with your friends also.