Just when the hype of ChatGPT kicked off, Microsoft introduced its new Bing AI powered chat. Microsoft unveiled its new version of Bing in early February with new AI powered features.
While the new Bing AI Chat is less popular, it still has many features that remain hidden from the users. Actually, Microsoft promoted its Bing Chat which is powered by the same technology behind ChatGPT, but it never openly talked about its capabilities.
Users who want to try new AI tools should always start with Bing Chat. We will discuss Bing AI chat and will know what can the new Bing Chat do. Let's get started.
What is Bing Chat?
Bing Chat is a new AI chatbot from Microsoft that is free to use. Microsoft revealed its new AI chatbot in February this year, along with other new features.
At the initial stage of the new AI chatbot, it was believed that Bing Chat is powered by the same technology behind ChatGPT; later, Microsoft confirmed that its AI chatbot is powered by OpenAI's most advanced model – GPT-4.
This could mean you don't need to spend money purchasing ChatGPT Plus to access the most advanced model – GPT-4. You can sign up for a Microsoft account and access Bing Chat powered by the same GPT-4.
However, ChatGPT's Plus variant has other features, like adding plugins.
What Can the New Bing Chat Do? (Best Features of Bing AI Chat)
Since it's an AI Powered chatbot, it can do a wide range of things for you, too, for free. With the Bing AI Chat, you can ask, find, and create anything using your everyday language.
Now when it comes to 'What can the new Bing Chat Do?', there are many answers for it as it depends on what questions you ask. For example, you can ask Bing Chat to write you a story, proofread your text, compose an email message, convert text into images, write code, create a table for your data, etc.
Below, we have shared a few best uses of Bing AI Chat using everyday language. Let's explore the best features of Bing Chat.
1) Get Summarized Answers
The biggest advantage of relying on Bing Chat is that it can provide summarized answers. Before this, you must search the web, refine the results and find the most relevant information.
Bing AI Chat saves you from such hassles by providing you with the latest information from across the web to summarize and cite answers to your questions. The summarization that it provides is often relevant and meets your unique needs. Here's a good example of it.
Depending on your question, the Bing chat will display the answer in a way that's easy for a regular user to understand. It can even use bullet points, highlight texts, and do many other things to make the text easier to read.
2) Follow-up Questions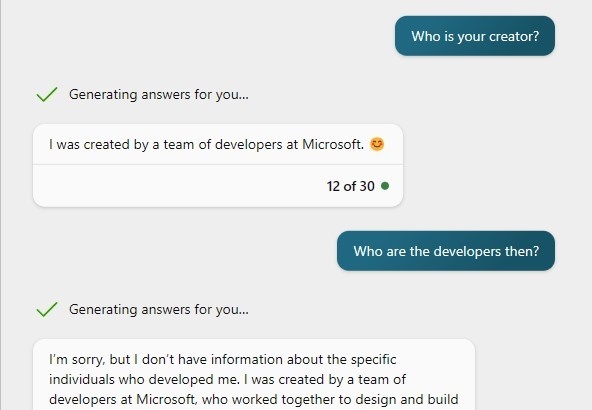 The ability to ask follow up questions is another plus point of the Bing Chat. Like ChatGPT, you can ask follow up questions to your subject to get additional information.
If you are confused, follow-up questions are mainly used to get more insights into the previously provided information. You can take help of follow up questions to expand or get more clarification on an answer.
Usually, the Bing Chat responds well to the follow up questions, but when the conversation becomes too long, it can divert from the main topic. This is why Microsoft recently limited how many conversations and back & forth chats people can have daily.
3) Create & compose
Regardless of whether you want inspiration to start something new or read a relaxing bedtime story to fall asleep, you can ask the AI chatbot to compose a text on various subjects.
You can ask the Bing AI chat to write a bedtime story or motivational story, compose an email for your business needs, etc. The chatbot will instantly provide text-based relevant information based on your question. Here's a good example of getting started.
4) Selecting the Conversation Style
Bing Chat provides you with three different styles to shape your conversations. The 'More Creative' option generates shorter and more off-the-wall suggestions. This mode generates responses with a creative touch.
The Creative mode isn't always safe, but good for generating stories and poems that require a good amount of humor. The Precise mode generates shorter responses, which are often to the point. This mode focuses more on relevancy & accuracy.
The remaining one is the Balanced mode which is set by default. This mode comes just between the Creative & Precise and is good for regular conversation with the chatbot.
5) Saves your Chat History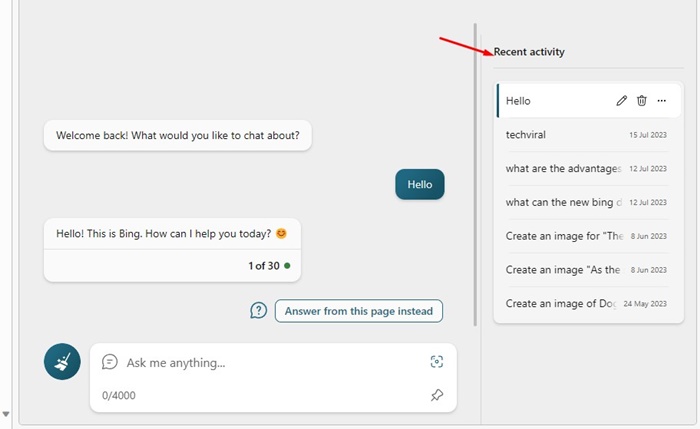 When Microsoft first introduced Bing AI to the public, the chat history was unavailable. But a recent update added the feature to the chatbot.
This means you no longer have to start a new chat again every time you visit the site; just select the old chat from the Chat history & continue having the conversation.
According to Microsoft, the new chat history feature will help the chatbot provide more personalized & improved responses.
6) Bing Chat can access the web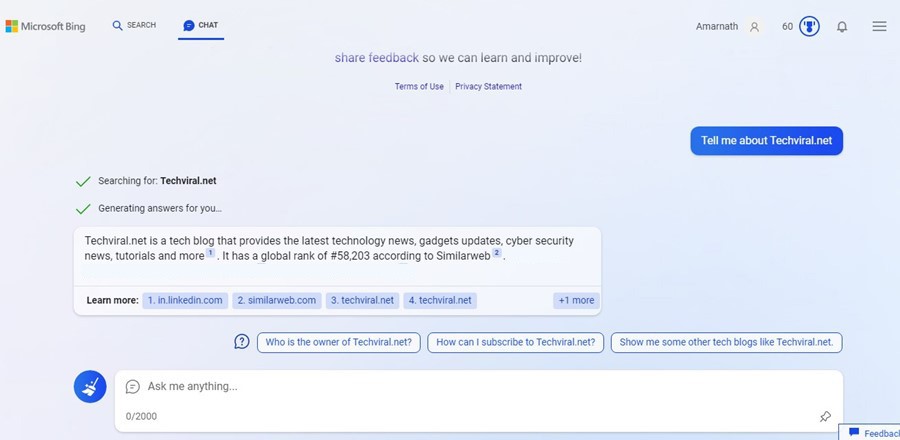 One of the major limitations of ChatGPT is no access to the web. The dataset that ChatGPT relies on to provide you with information ends in 2021. This means ChatGPT can't provide you with up-to-date information on current events.
However, the new Bing Chat can access the Bing search and can answer your questions about current events, history, random facts, etc. It also cites the websites from where it grabbed the information.
Simply put, the responses generated from Bing Chat are more reliable because they involve web scanning.
7) Get Answers in a Chart Format
Bing AI chat can also be your data analytics! Don't believe it? You can ask it to present the information in a chart format.
Whether you are searching for a short review, product guide, pros/cons, etc., Bing AI chat can compile data and present you in an easy-to-read chart format.
To get answers in chart format, you need to ask the chatbot 'create a chart' followed by your question. The chatbot will instantly present you with a chart with all useful information.
8) Generate Lyrics for your Song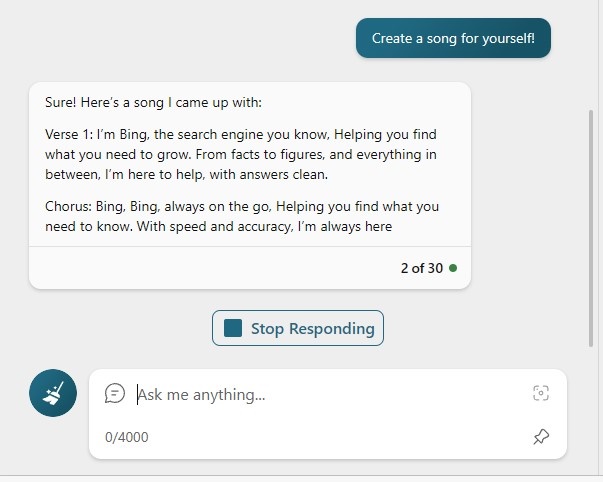 Bing Chat AI can give tough competition to songwriters as well. You can directly ask the chatbot to generate lyrics for a song with accompanying chords.
Just type 'write a song' followed by the requirements. If you are unsatisfied with the response; feed the chatbot more information in text form.
You can even try narrating a scene or mood to the chatbot to generate a new & unique song.
9) Find Errors or create your Code
If you are a coder and need help fixing certain codes, you can take the help of Bing AI chat. Bing AI chat is quite impressive when it comes to generating codes or finding errors in existing ones.
You can also ask the AI chatbot directly to create a code for your ongoing projects. The chatbot could be very useful to those who want to generate codes for some side project without learning.
10) Solve Math Problems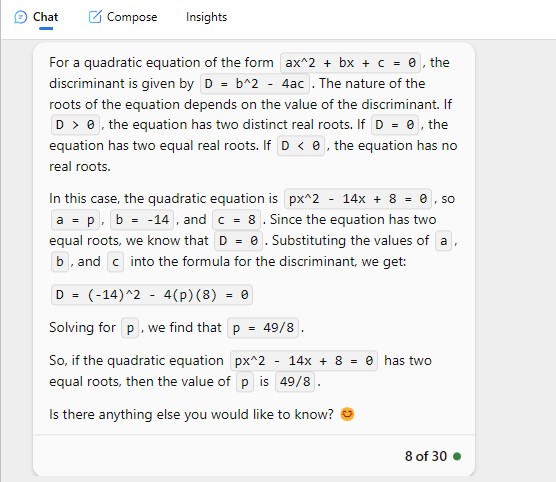 Bing AI chat can be your ultimate math solver as it can solve complex math problems. This is something which will be appreciated by every students.
You need to type your math problem and ask the chatbot to solve it. Within a few seconds or so the Bing AI chat will come up with the answer to your question.
These are some of the best ways to use the GPT-4 based Bing AI chat. The Bing chat is constantly being updated to fulfill user needs and to fix existing problems. We found Bing AI slower than other chatbots, but considering its features and ability to access the web, it's well worth a try. So, what's your take on Bing AI? Please discuss this with us in the comments.