Even though GIFs and Stickers have served as a great way to convey our emotions on social networking platforms, they are rapidly getting replaced with acronyms and abbreviations.
People prefer acronyms and abbreviations to convey emotions, and it's also effective. However, the problem is that anyone who recently joined social networking platforms such as Instagram, Facebook, and Snapchat may need help understanding certain acronyms.
Recently, many Instagram users have messaged us asking about 'What does NFS Mean on Instagram'. If you are very new to the photo-sharing site and have no clue what NFS means, this guide is for you.
This article will explore the acronym 'NFS' and where it's most commonly used. We will also tell you how to use the acronym in various social networking or instant messaging apps.
What Does NFS mean on Instagram?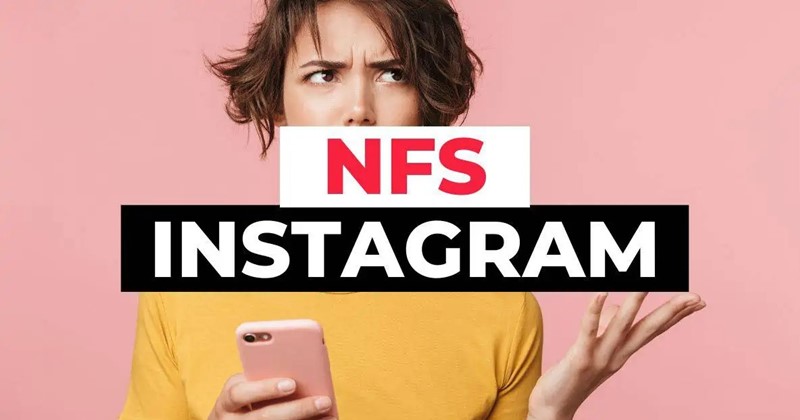 Before knowing what NFS means on Instagram, it's worth mentioning that the full form of the NFS may differ depending on the context of the conversation.
NFS has few meanings. The means vary depending on the subject you are conversing about. Since Instagram is a photo-sharing site, NFS on Instagram stands for 'Not for Sale'
NFS on Instagram – Not for Sale
Since Instagram is a photo-sharing platform, people may often post photos of attractive items. Such things often result in followers asking for the purchase link. But since the item is not for sale, the poster may reply 'NFS' in the comment.
The reply of 'NFS' on such posts usually means Not for Sale. This means that the poster lets the follower know that the item is Not for sale and is only shared for artistic purposes.
NFS Meaning – No Filter Squad
Instagram has a TikTok-type feature known as 'Reel'. On Instagram Reels, users post shorter videos by using filters. There are many different filters available on Instagram that can transform your video in no time.
NFS comment on Reels videos usually means #nofiltersquad. Reel creators can even use 'NFS' on their Reels videos to showcase that they are confident being themselves and don't prefer filters to make the videos look awesome.
NFS Meaning – No Filter Story
No Filter Story is mainly used by users who don't use filters or any editing effects to create their story posts on Instagram.
So, if the NFS appears on a Story, it could mean 'No Filter Story'. With this acronym in the Instagram Story, you can confirm that the poster has not used any filter to enhance the photo/video.
NFS Meaning – Not for Sharing
You could also engage in a conversation where a person may talk about a photo or video. If you ask them to share the media file and get 'NFS' as a response, it means they are not interested in sharing the file. NFS, in this context, stands for 'Not for Sharing'.
NFS – Not for Sure
NFS also stands for 'Not for Sure' on Instagram, especially if you are conversing on a very confusing topic. A person can reply to you 'NFS', if they need more confidence about something.
NFS – No Funny Stuff
If you're an active Instagram user, you may know that people often find a partner for dating or hooking up on the platform.
So, Instagram influencer often use 'NFS' on the platform to avoid jerks who desperately wants to date or hook up. In this context, the NFS stands for 'No funny stuff'.
NFS – Not Feeling Sober
On Instagram, people also use 'NFS' to tell someone they have too much drink and are not sober. So, if you notice 'NFS' on any such post, it simply means 'Not feeling sober'.
NFS – Not Feeling Social
If someone is tired and not in the mood to have a conversation, they can reply to 'NFS'. NFS means in such conversation is 'Not feeling social'. It indicates that the person is not in the mood to talk to friends or followers.
Other Meanings of NFS
Besides social networking sites and instant messaging apps, NFS has a few other meanings. For example, gamers often use 'NFS' to describe the popular car racing game 'Need for Speed'.
Other than that, NFS also stands for 'National Food & Safety', and in the computer world, it means 'Network File System'.
So, this guide is all about what does NFS mean on Instagram or any other platform. We have described all meanings of NFS in various platforms. Since it has different meanings, you need to consider what it could mean; of course, the meaning will depend on the context of the conversation. If you need more help understanding the meaning of NFS, let us know in the comments below.