Learn how to What is "WIndows Modules Installer Worker" exactly is and Why Is it Running on your windows PC. As this is the feature that you should know about. So have a look at complete guide discussed below to proceed.
[dropcap]T[/dropcap]here are Certainly numerous tasks that keep in running on the background of the computer devices with Windows installed. You just tend to see only the tasks that are actually running in front of you while to make your Windows work for real there are numerous functions and tasks that are always slicing the heavy tasks. These tasks are commonly called as Windows Modules Installer Worker and it is all that power which the computer requires which is consumed by these functions. You will see that you cannot stop these functions and hence try to consume the power, although you can trick these modules workers so as to maintain your PC very well. Here in this article, we will be discussing all the Windows Modules Installer Worker and we shall be trying to make it clear to all the readers about how it works and what are all the things that are carried on by it. If you are a keen developer or just going to become a developer of Windows then it is must for you to know about this part of the computer so that you can grasp the in-depth knowledge about that. Now as we have provided the whole stuff below in this article you will have to read the whole post til the end so that you can actually get out points. Just go and read the whole article now!
Also Read: How to Automatically Log-In to Windows 10 PC/Laptop
What is "WIndows Modules Installer Worker" and Why Is it Running on My PC
While you work on the PC running the Windows, you might be downloading various apps or any other system related software that requires the full modular access. Now while downloading and running all these tasks you would be curious to know that the PC works a lot more than the installing app itself, the Windows Modules Installer Worker have a lot of burden on it and at that time it works at its highest power levels. Although this is a system software still it is to be noted that the task is listed in the Task manager. The task manager is the panel in which you can see and either stop or exit mostly every task but the system tasks that are necessary are not shown there. Now to the contradiction the Windows Modules Installer being a system task is listed in the Task manager and therefore the users can remove it or stop it completely.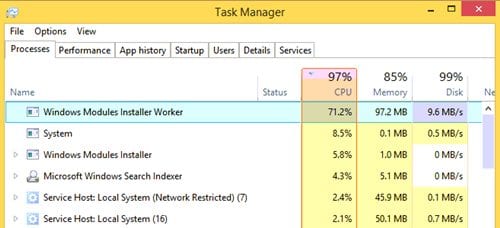 Inside the task manager, this process is named as TiWorker.exe and you can easily find it under Details tab. For the Windows 10, the developers make a new update every week most probably. The updates are configured to be installed automatically. If you now see your PC to be running slow or the CPU is getting more heat then it is possible that the Windows Modules Installer Worker is installing the new updates automatically. You know that the process is shown in the task bar so it can be stopped or forced to be blocked so that the performance and the power of the OS can be maintained for your worthy tasks.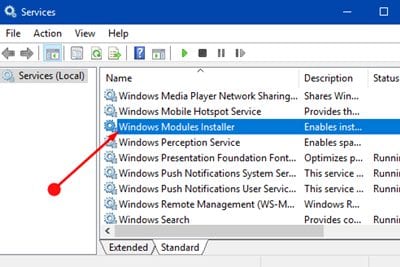 You can try to disable the Windows Updates but still, it will pierce into your commands and hence provide the updates. You cannot actually ban the updates as this will start to make your PC go in the wrong direction and show up the errors. Here you have only one way and that is to stop the Windows Modules Installer Worker through the task manager. There are numerous tools that can also provide you the help and you can forcefully prevent any further updates on your PC!
Also Read: How to Lock Specific Apps in Windows 10
After following the whole article above and reading every line of it you would have got the best possible knowledge regarding the Windows Modules Installer Worker. Make assure that you gain more knowledge regarding the Windows before you can actually start to work on these extremely sensible functions of the Windows. Making any changes to this could lead to the malfunctioning of the whole windows and even cause it to die, so be aware of that and carry forward your tradition to be a leader of Windows system knowledge. We now hope that you might have liked this article and the whole information provided under here, and if it is exactly what you read about this article then please try to take more time and share this article to most people you can possibly. Do tend to share the opinions and suggestions regarding the article through the comments section below, this data will be extremely valuable to us!