Windows 11 provides users several backup options, including File History, the main backup tool. The file history option of Windows allows you to restore previous versions of files.
Yes, Windows 11 also allows uploading files to cloud storage via OneDrive, but it's limited to only 5GB of storage free storage space.
Another option to backup Windows 11 files is third-party backup & restore apps. Compared to third-party backup apps, the File History of Windows 11 is easier to set up and use.
Once you configure Windows 11 File History, you need to connect your USB drive to your computer, and Windows 11 will automatically back up the file to that drive. You can even schedule a backup feature to run on a schedule.
How to Use Windows File History To Back Up Your Windows 11 Data
So, if you want to enable and use Windows' File History to backup your data, you are reading the right guide. This article will share a step-by-step guide on using Windows File History to back up your data.
1. First, click on the Windows 11 Start and type in Control Panel. Then, open the Control Panel from the list.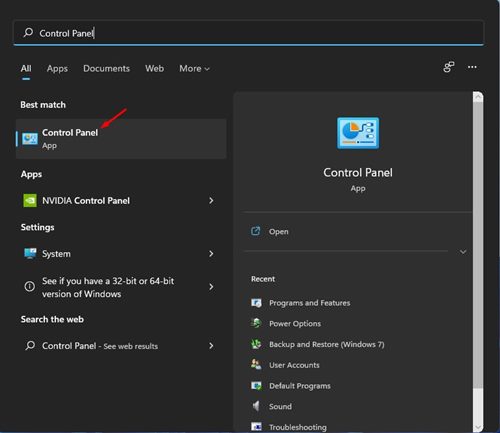 2. On the Control Panel, click on the System and Security option as shown below.
3. On the next page, select the File History option.
4. Now connect an external drive and refresh the Window. Next, click on the Advanced Settings on the left sidebar.
5. You must set a schedule to run the File History on the next screen. The default is Every Hour; you can change the time frame from the drop-down menu.
6. Next, select the dropdown for Keep saved versions and change it to your preference.
7. If you want to exclude any folder, click the Exclude folders option and add the folder you don't want to backup.
8. Now, you need to return to the main File History screen and click the Turn on Button to enable the feature.
9. To disable the File History, click on the Turn off button as shown below.
Important: The File History will only back up files from Libraries, Contacts, Desktop, and Favorites folders.
Windows 11 File History vs Backup
On Windows 11, you get two or more backup options. File History and Backup & Restore are different things and serve different purposes.
The file history feature of Windows 11 backs up your essential folders like documents, music, pictures, videos, and desktop folders. It's not a full-fledged backup tool, but it is excellent for backing up essential folders.
The other option is a System Restore point or Backup & Restore which creates a restore point when you install a new driver, app, or Windows Update. Once a restore point has been created, it can be used to revert the system state to resolve the problems.
The System Restore point won't affect the files but removes all Settings, Apps, Drivers, and Updates installed after the restore point was created.
Setting up File History on Windows 11 is pretty straightforward. You can rely on this feature to backup your Windows 11 to an external drive. I hope this article helped you! Please share it with your friends also. If you have any doubts, let us know in the comment box below.