Windows 11 introduces more clarity to its user's accounts because the company unveils a new Account setting page in the insider preview build for Windows 11 today.
Previously, Windows 11 revealed its testing for "Restore Apps," a prominent feature coming to the Microsoft Store app soon. This functionality will be available in the My Library section in the Store app.
Windows 11 Insider Preview Build 25126 also came up with new improvements and fixes to the Dev Channel, mainly the folder rename in Start fixes and Task Manager changes.
What's New in Windows 11 New Insider Preview Build 25126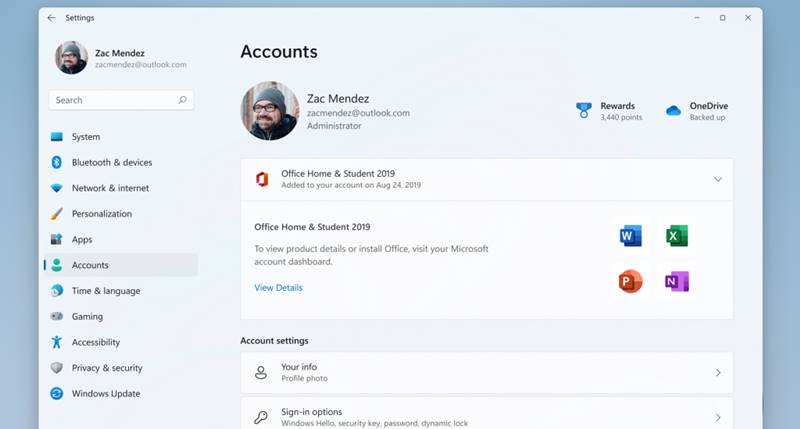 According to the official blog, The Account setting page now includes a new bar first for Microsoft 365 manage subscriptions. Insider Program users can find it at Settings > Accounts.
All licensed Microsoft 365 Office products' availability can be seen on your account page, and there will be details about every product. Besides, there is also a "View Details" button that allows installing Office by clicking it.
As you can see in the screenshot, there is a Rewards points function that might be related to any new program, and OneDrive is still placed in the same position. No other specific changes have been mentioned.
Start menu bug that docked touch keyboard, when a folder in Start menu got any name edit is fixed now in Windows 11 dev channel. Some crashes of Search are resolved.
The significant improvement in Task Manager's workability for Tooltip and Not Responding status is fitted to minor with some apps that were frequently closed out Task Manager while opening it is solved.
You check complete Task Manager fixes and improvement key details here.
Live Captions is fantastic, but before release, it needs to clear out every bug, and in the feedback, it is reported to be invisible, and some position errors that we talked about in this report are now resolved.