Microsoft Windows 11 is getting restore apps in the Microsoft Store. With this, it will be easy for the users to restore their apps to a new PC.
The company will start testing a new feature that lets users restore apps on a new Windows 11 PC. Currently, Microsoft Store doesn't offer any restore apps that automatically install apps from the library.
The tech giant announced this at the Microsoft Build 2022. Windows has never offered a way to restore apps automatically.
Restore Apps Feature Coming to Microsoft Store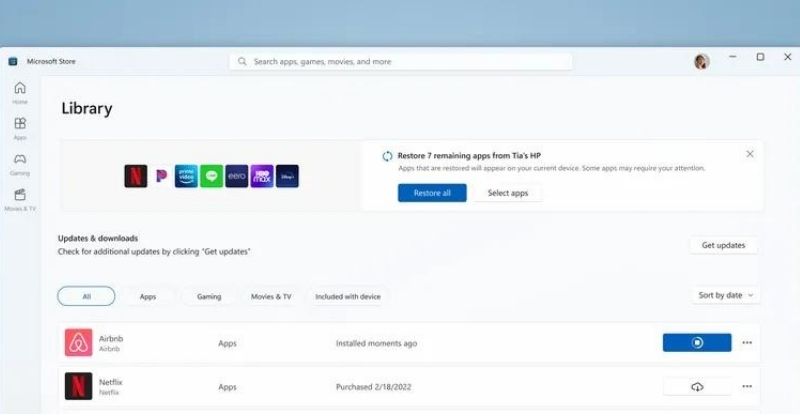 "Restore Apps" is a big feature coming soon to the Microsoft Store app. In the Store app, the feature will be available in the "My Library" section.
In a blog post, the general manager of Microsoft Store, Giorgio Sardo, says, "To make it easier for customers to transition to their new PCs quickly and seamlessly, we will soon test a new feature in the Windows Insider channel that helps customers automatically restore their apps, previously installed from the Microsoft Store, to their new Windows device. This will also help developers retain their customers without having to remind customers to re-download their app."
The Restore apps feature will be helpful for those who often switch PCs or the developers who use virtual machines and multiple devices. Most Windows users have used third-party packages to restore apps after changing PC.
The tech giant also announced about improving search works inside the Microsoft Store. After the update, when you search for an app, the results will show apps on priority, and the other results will be associated with the search term will be given less priority.
Also, the Start menu is getting a new app search feature that lets you type the app's name in the Start menu itself. So you can see whether the app is available in Microsoft Store or not; if yes, you can directly install it. This feature will soon be available to Windows Insiders, and later this year, it the stable version will roll out.