The government of India has banned 59 apps, including Xender. Xender used to be the best file sharing app for Android and iOS. Since it was banned in India, we have decided to share a list of the best Xender alternatives for Android in 2021.
If you have been reading tech news, you might know that recently the Government of India has banned 59 apps from Chinese Companies as potential threats to national security. Some of the popular apps that India has banned are TikTok, ShareiT, Xender, UC Browser, etc.
All these apps were popular and were regularly used by the users. So, a sudden ban might leave most of the users hanging. On techviral, we have already shared most of the banned apps like ShareIt Alternatives, TikTok alternatives, etc.
Today, we are going to share some of the best Alternative of Xender. Xender is one of the leading file-sharing app available on the Play Store. But, due to the ban, the app might stop working soon. So, it's wise to install its alternatives as soon as possible.
List of 10 Best Xender Alternatives for Android in 2021
All of these apps can be used to share files between devices. So, let's check out the best Xender alternatives.
If you are searching for an Android file transfer app that supports transfers across iOS, Android, and other platforms, then Zapya might be the best pick for you. Just like Xender, Zapya also includes creating groups and inviting others to join. Once joined, users can share files over WiFi.
If you are searching for the easiest, fastest, and most secure ways to share files between your device, then look no other than SuperBeam. It supports blazing-fast transfer speed using WiFi direct. Apart from that, the app also got an option to pair devices using NFC or QR code scanning.
Although it's a file manager app, Files By Google got a few file sharing features. With Files by Google, you can share your pictures, videos, documents, apps, etc., with nearby devices. Like every other app, Files by Google requires users to connect all devices with the same WiFi network.
Well, AirDroid is another best Xender alternatives on the list, which can be used to transfer all kinds of files across different platforms like Windows, Mac, Linux, Android, and iOS. The good thing is that AirDroid allows you to access and manage your Android from the PC platform. Once connected to a PC, you will receive calls, SMS, and app notifications right on the desktop.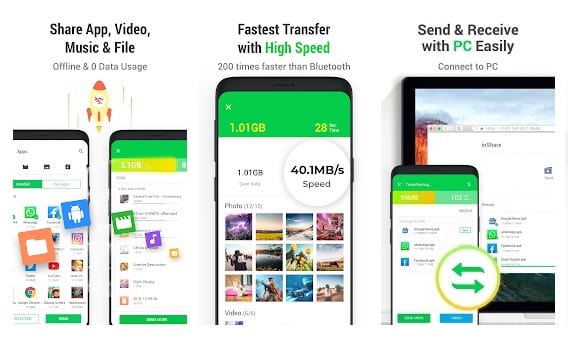 Compared to Xender, inShare has a much faster file sharing speed. With inShare, you can easily share photos, videos, music, Apk files across multiple Android devices. It also has a smart replication feature that can be used to transfer data from an old phone to a new one.
Well, EasyShare is one of the best and leading file transfer tool available on the Google Play Store. Unlike Xender, EasyShare also has cross-platform support. That means the app can transfer files across Android, iOS, Windows, and macOS. There's no limitation on file size, and it has a pretty simple user-interface.
If you are searching for an easy-to-use Android app that lets you exchange files easily with any computer, tablet, or smartphone, then Sweech might be the best pick for you. With Sweet, you can easily share files across WiFi. The app is compatible with PC, Mac, Android, iPhone, iPad, Windows, etc.
It's another best Xender alternative on the list, allowing users to send files of any size securely. Since it lets you transfer files via WiFi direct, the file transferring speed is much faster than Xender. It also lets you share files with multiple people at once via a link.
This one is much superior to Xender when it comes to the feature. It's basically a private social platform that lets you stay in touch with your close friends without compromising your privacy. Along with offline file sharing, Zapya Go also has encrypted chat features. On this app, you need to create/join groups to share or receive files.
This is another best Android file transfer app on the list which uses WiFi to transfer files within Android devices. As per the Play Store listing, XShare is almost 200 times faster than Bluetooth. With this app, you can share music, videos, photos, data files, etc.
So, these are the ten best Xender alternatives for Android in 2021. I hope this article helped you! Could you share it with your friends also?