Let's have a look at the guide by which you can now access all your passwords using the password managers by syncing them with all your browsers so that you can access that anytime. So have a look at complete guide discussed below to po0rceed.
[dropcap]F[/dropcap]orm long time I was using LastPass app that is a password manager app and whenever I want to log in any site those credentials are stored in my LastPass, I open the app and then access the website so that pass credentials can get autofill, but this method was little hectic as I have to access one app and then browsers to access that credentials. But today I was researching for the way by which I can access this app credentials anywhere on my iPhone and luckily I found one method that can actually do this. iPhone has the feature to access the app settings even in any browser that you are using. Like you are browsing Chrome browser and you want to access credentials of any particular website in that and actually, you can do that. And there is no need of any third party app to implement this as you can directly access that from your screen using some shortcuts that I was not aware of and I hope you must not be knowing that. And you must be happy after reading my guide t access that in your iPhone. So have a look at complete guide discussed below to proceed.
Also Read: 10+ Useful Apps To Shoot DSLR Like Videos On Your iPhone
How to Access Password Managers Anywhere in iPhone Browsers
The method is quite simple and straight and you just need to access some inbuilt shortcut settings of your iPhone so that you can enable LastPass or any other password managers on your screen. So follow the below step to proceed.
Also Read: How To Download Paid iPhone Apps For Free Without Jailbreak
Steps  to Access Password Managers Anywhere in iPhone Browsers:
#1 First of all in your browser you need to click on the above arrow sign option and you will see options will appear and there you need to select the option "more".
#2 Now you will see the list of options will appear and you will also see LastPass there if you are using the LastPass password manager, by default that will be inactive.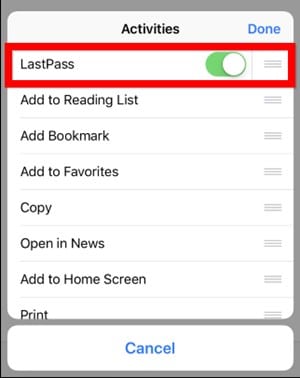 #3 Simply enable that taping to right and now you will see the Last pass will be working on your browser so that you can access all the LastPass credentials in your browsers.
#4 Now you can even access the LastPass stored websites also by simply tapping the same above arrow button and then click ing the last pass option that will appear there.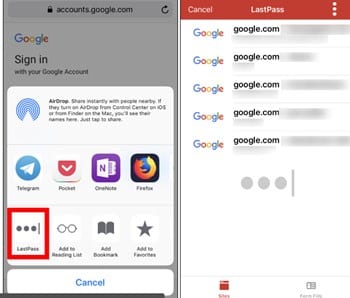 #5 Now you will see all the stored websites and credentials in it, you just need to click on the website that you want to explore and you will see by default credentials will be filled.
#6 THat's it you are done, now you have the last pass successfully configured with your browser and now you can access it anywhere in your browser.
So above guide was all about how you can access password managers of your iPhone anywhere in your iPhone browsers, Simply use the guide and access credentials and save your time and efforts that you put while filling these fields. Hope you like the guide, do share with others too and leave a comment below if you have any related queries with this as the Techviral team will be always there to assist you with your issues.