Action blocks can be configured to do anything the assistant does in just one tap. Here's how to set up and use Action blocks on Android.
Let's admit, smartphones were meant to make our lives easy, and they are standing up to the expectations. Just think about the last time you did something seemingly simple on your phone, like booking a car. To do that, you had to unlock your device, find the right app, and place an order.
The process might require you to read and write, remember your selections. To deal with such complexities, Google introduced Action Blocks. Action Blocks works with Google Assistant to make routine actions easier with customizable buttons.
How To Setup & Use Action Blocks on Android in 2020
Action blocks can be configured to do anything the Assistant does in just one tap. For instance, you can set Action blocks to call a friend, stream your favorite videos, control the lights, etc. So, in this article, we have decided to share a detailed guide on how to use Google Assistant's new add-on, Action blocks.
Step 1. First of all, download & install Action Blocks on your Android smartphone.
Step 2. Now you will see a pop-up message. There you need to tap on the 'Agree' button.
Step 3. On the main page, tap on the 'Create Action Blocks' button.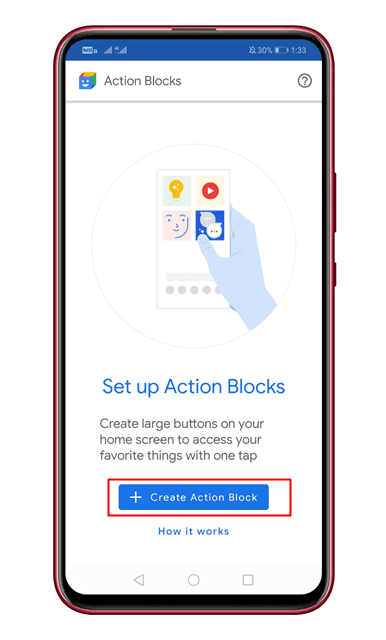 Step 4. The app has lots of pre-built actions, like making phone calls, playing videos, etc. You can choose any of them. To create a custom action, tap on the 'Create custom action' button.
Step 5. Now you need to fill in 'what should this action block do' section.
Step 6. You can also test the action before finalizing things. For that, tap on the 'Test Action' button.
Step 7. On the next page, you need to set an image and name the Action block.
Step 8. On the home screen, you will see the newly created action block.
That's it! You are done. Similarly, you can create a much complex action block with this app.
So, this article is all about how to use Google's Action block on Android. I hope this article helped you! Share it with your friends also.