Easily download the Instagram images and videos by having a download button right on your official app. Instagram is now the most trending picture-sharing app to share your beautiful pictures, follow people and get followers. And one thing that you can't do on Instagram is downloading the images you see in the app.
And that's is why users keep on trying lots of tricks for downloading Instagram images and videos. And all these tricks won't work on the official app, and you have to go for third-party methods. So can you get a download option on your Instagram ?.
Yes, it's possible, as the method we will discuss right here will help you download your favorites apps and videos in the official app. So have a look at the complete guide discussed below to proceed.
Also Read: How to Get Free Instagram Followers
Steps To Add Download Feature to the Official Instagram App
The method is quite simple, and you need a rooted android device that will allow the Xposed installer to run on the device.
After having the Xposed installer, you have to use the Xposed module to Add the download feature to your Instagram App. So have a look at the simple steps below.
Also Read: How To Run Multiple Instagram Account On Android
1. First of all, you need a rooted android as the Xposed installer can only be installed on a rooted android, so How to Root Any Android Device In Single Click.
2. After rooting your android device, you have to install the Xposed installer on your android, and that is quite a lengthy process; for that, you can proceed with our Guide to Install Xposed Installer Android.
3. Now, you need to get the module for the Xposed Installer that is Instagram Downloader in your android device.
4. Now enable this app from the Xposed installer, and then you may require to grant it superuser access.
5. Now, when the app will get activated, Open the official Instagram app and then log in with your accounts and start exploring images of your friends.
6. Now, long tap on any of the images or any video you want to download, and the popup will appear, and you will see a Download button. Tap on it.
7. That's it, and you are done; now the image or video will start downloading in your android and using this, you can easily get any of your favorite media on your device.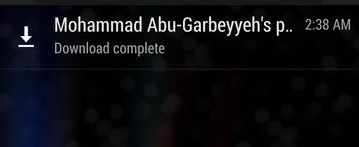 With this method, you can download any of your favorite images and videos directly from the official Instagram without wasting time on any third-party apps to download them.
So try this out today on your device. I hope you like this cool solution, do share it with others too. Leave a comment below if you have any related queries with this.