Well, it's no doubt that Adobe Flash Player is one of the best and most popular Flash Player Out there. However, in previous years Adobe Flash Player gave lots of security scares to the users. Users are now willing to move on from Flash due to security flaws. But, what are the other options?
Adobe Flash player is an important thing, and it's used to run videos, moving images, and other animations. Many online games support flash players, and you can't do live streaming without flash players installed. Many Adobe Flash Player alternatives are available on the web, and it entirely depends on what you want to do.
Also Read: 5 Best Flash Supported Web Browsers for Android
List of 3 Best Adobe Flash Player Alternatives
So, in this article, we will share some of the best Adobe Flash Player Alternatives that you can use right now. So, let's check out some of the best free Adobe Flash Player Alternatives.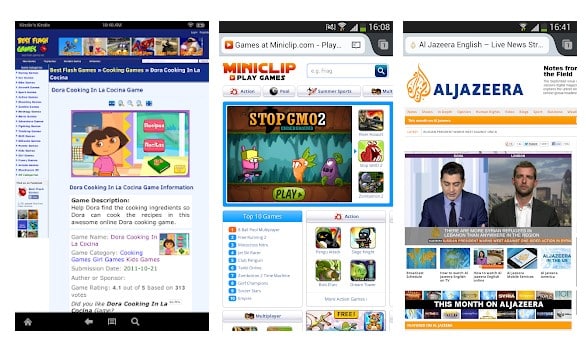 Well, this is another best Android web browser on the list. This is probably the fastest Adobe Flash Player-enabled browser available on the Google Play Store.
FlashFox – Flash Browser doesn't need to install any other flash player app because it has a built-in flash player. Apart from that, FlashFox – Flash Browser offers users other web browsing features like bookmarks, history, synced tabs, recent tabs, etc.
2. Lightspark
It is an open-source Adobe flash player alternative on the list written in C/C++, and it runs on Linux. You can find the code of Lightspark on Github. Lightspark is not updated for a while; that means it won't play some of the latest Flash-based content.
Another drawback of LightSpark is that it's only available for Linux computers. So, Lightspark is another best Adobe Flash Player alternative on the list you can use.
3. HTML5
In 2011, Adobe Flash gave a chance to the developers to create apps that work across the platform. However, at that time, HTML5 was not as good as it was today. HTML5 has slowly replaced Flash Player by delivering content on the web.
Adobe Animate CC Now provides the ability to publish simple Flash content to HTML5 canvas. The plug-ins that relied on Adobe Flash are going away and will completely vanish very soon because Adobe has officially pulled off the plug from Flash.
These are the best Adobe Flash Player alternatives you can use right now. If you know of any other Adobe Flash Player Alternatives, let us know in the comment box below. I hope this article helped you! Please share it with your friends also.