Things have changed over the past few years, especially on the tech front. These days, smartphones have become our constant companions; without them, we can't survive a single day. Although smartphones can do many things nowadays, they are mainly made for calling and texting.
New Android features might come and go, but the ability to make calls remained and will remain unreplaced for years. Android has a stock dialer that is good enough for everyday use but lacks essential features.
Also Read: Best Android Apps To Customize Notification Center & Status Bar
List of Best Dialer Apps for Android
To get the best dialing experience, one needs to use an Android dialer app. There are tons of Android dialer apps available on the Google Play Store. However, not all of them are worthy of being used. This article will share some of the best and carefully picked Android dialer apps.
Dialer by Simple is one of the most lightweight Android dialer apps you can use today. It's a call management app that offers a T9 dialer, call blocker, and caller identification features.
The smart dialer of the app also has features to help you quickly find the contacts you need. You can even mark contacts as a favorite, call your frequently used contacts, etc.
As the app's name says, Simple Dialer is a lightweight & easy to use dialer app for Android. Unlike other dialer apps for Android, Simple Dialer isn't bloated with unnecessary features. It provides you with a dial pad for dialing numbers and keeps a record of all incoming and outgoing calls.
Other than that, Simple Dialer also brings regular dialer features such as speed dialing, marking contacts as favorites, and more. Overall, Simple Dialer is an excellent dialer app that you can have on Android.
True Phone is one of the best and easy-to-use Android dialer apps on the Google Play Store. The dialer app is highly customizable and easy to use.
It provides a convenient way to quickly access your recent calls, contacts, favorites, and groups. Also, you can use the app to import/export contacts from one place to another.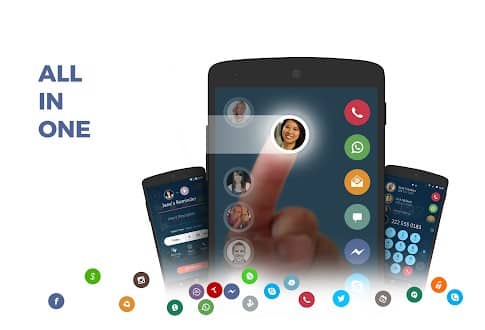 drupe is one of the unique contacts & dialer apps available for Android. The Android dialer app features a modern, beautiful interface and a smart dialer, call recorder, call blocker, and duplicate contact cleaner.
Contacts+ is a full-fledged contact management app available on the Google Play Store. It's available for free and offers you a wide range of features.
With Contacts+, you can quickly identify caller IDs, block spam calls, view call logs, etc. Apart from that, Contacts+ can also be used to find and merge duplicate contacts.
ZenUI Dialer & Contacts from ASUS computer Inc. is another top-rated contact and dialer app on the Google Play Store.
The great thing about ZenUI Dialer & Contacts is that it packs every feature you expect from a contact and dialer app. Apart from that, the ability to block calls from unknown callers makes the app different from its competitors.
Truecaller needs no introduction, as probably everyone knows about it. It is one of the most-used apps for communication needs.
Talking about the dialer, Truecaller has powerful dialers that can identify caller IDs and block spam and telemarketing calls. In addition, Truecaller dialer also offers users call recording features.
If you cannot open the stock dialer for any reason, you can consider Dialpad. Basically, Dialpad replicates the look of Android's stock dialer, and it works on Android 5.0 and Above. The app adds another shortcut to your phone that opens the stock dial pad directly.
Well, Google Dialer is Google's official phone calling app for Android. The app comes built-in on Pixel and many other Android devices. It includes a dialer and a caller ID feature that identifies spam and telemarketing calls.
Also, you get a call recording, visual voicemail, and emergency support with Phone by Google.
Clever Dialer is one of the best and top-rated Android dialer apps on the Google Play Store. Guess what? Clever Dialer can help you to block unknown and telemarketing calls.
The app is similar to the Truecaller app, which has been listed above. It can identify unknown callers in real time.
True Phone Dialer & Contacts is a stock dialer and contact app replacement app for your Android smartphone.
The highly customizable app provides convenient ways to quickly access your calls, contacts, favorites, and groups.
If we talk only about the dialer, you get a fast T9 dialer with this app. It also has smart recent call grouping, multi-language support, themes support, etc.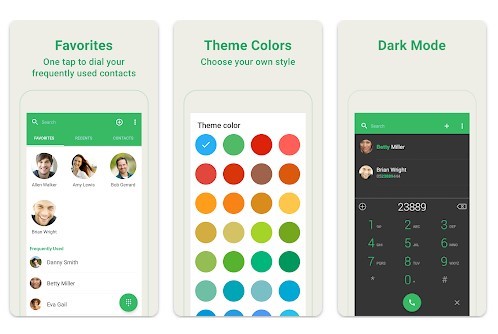 If you are searching for an Android app that can replace the stock phone app of your Android, then give Easy Phone a try.
Easy Phone is a free Android dialer & caller ID app that identifies and blocks spam calls. You also get a T9 dialer to search by name & numbers quickly.
The interface of Easy Phone is very beautiful and clean. Overall, Easy Phone is a great Android dialer app you can use today.
So, these are the best Android dialer app you can use now. If you are not satisfied with the stock dialer app of your Android, you can use any of these free apps. If you are using any other dialer app on your Android, tell us the name in the comments.