Even though Firefox is less popular than Chrome or Edge browser, it still offers you every feature to satisfy your web browsing needs. Some of the features of Firefox are better than Google Chrome, like Tracking prevention.
A few days ago, Mozilla released Firefox 102, which has a feature known as 'Query Parameter Stripping'. The feature automatically removes the tracking URL parameter when you click on a web address.
For example, Facebook adds its tracking ID to track clicks by adding 'fbclid' query at the end of the URL. Similarly, Twitter, Instagram, and every other social networking site you use adds its query parameter to outbound links to track clicks.
Also Read: How to Import Bookmarks from Chrome to Firefox
Steps Automatically Remove Trackers from URLs in Firefox
The latest version of Firefox browser for PC removes that query to prevent data tracking. The Query Parameter Stripping is already a part of the Strict tracking protection rule of Firefox, but you should enable it manually. Below, we have shared a step-by-step guide on automatically removing trackers from URLs in Firefox. Let's check out.
1. First of all, download & install the latest version of Firefox browser on your Windows 11. If it's already installed, make sure to update it.
2. After the update, relaunch the Firefox browser and tap on the hamburger menu at the top-right corner.
3. From the list of options, click on Settings.
4. On the Settings page, switch to the Privacy & Security tab on the left.
5. On the right side, enable the 'Strict' and click on the Reload All Tabs button.
That's it! This will force the Firefox browser to remove trackers from URLs.
2 How to Enable Strict Tracking Protection in Private Mode
You can also force Firefox to automatically remove trackers from web addresses on a Private Window. Here's how you can enable strict mode in Firefox's Private mode.
1. First of all, open the Firefox browser on your PC. On the address bar, type in about:config and hit the Enter button.
2. Now, you will see a warning screen. Click on the Accept the Risk and Continue button.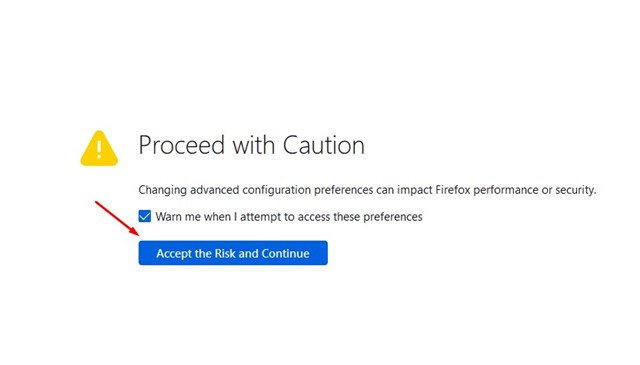 3. This will open the Advanced Preferences page of the Firefox browser.
4. Now type in privacy.query in the Search box.
5. On the search results, double click on the privacy.query_stripping.enabled.pbmode and set its value to True.
Once done, restart your Firefox web browser on Windows 11. After the restart, the Firefox browser will also automatically remove trackers in Private Mode.
Also read: How to Take Screenshots using Firefox Screenshot Tool On Windows 10 & 11
So, this guide is about enabling the Query Parameter Stripping on the Firefox browser for Windows 11. If you care for your privacy, you should immediately allow this feature. If you need more help related to Query Parameter Stripping, let us know in the comments below.