If we look around, we will find that virtually everyone worries about its data, including media, documents, and other credentials. So, we will present 10 must-have android apps that will surely help you secure your very precious data. You can create and restore data with the help of these apps.
Now 60-70% of mobile users use the Android platform as android is one of the platforms that present a huge list of features to its users. Today I am continuing to talk about the Best Android app to backup and restore your data. Virtually everyone worries about its data, including media, documents, and other credentials.
Also Read Best Calling Apps for Android You Must Have In Your Phone
So in this post, I will be contemplating how to backup and restore data to get it available whenever need. Underneath is the best app for this work. Just download and install this app from the Google Play Store to better manage the android data.
List of 10 Must-Have Android Apps To Backup or Restore Data in 2021
Today because of so many securities vulnerabilities it is beneficial to secure your android data as it can undoubtedly be corrupted even with a single virus, so it is better to keep all your data safe with the apps discussed below. I have selected these apps on the basis of their download rate, user reviews, and some of my personal experiences.
This is one of the best android apps to backup and restores data of android. This freeware app allows you to backup all your phone data, Apps, Contacts, Call logs, etc in your android device. This app allows scheduling all the backup of your data. Also, whenever you install a new app it will show a message to backup the app.
Features:
Backup apps to SD card
Backup all app download links of Google Play
Backup & restore app's data(need root)
Batch restore apps from SD card (need root)
Backup Contacts & SMS & Call logs & Bookmarks & Calendars to SD card
Restore Contacts & SMS & Call logs & Bookmarks & Calendars from SD card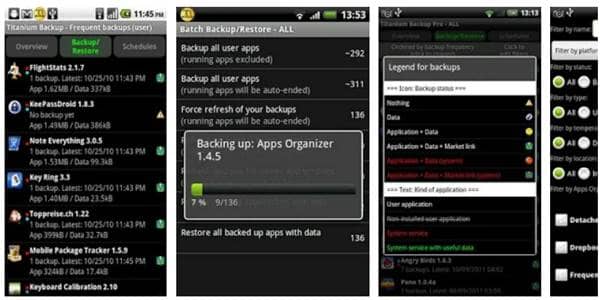 This is one of my favorite apps as it allows us to fully backup the android device. But this app needs root privilege to backup and restore all your android data. The paid version of this app is available at $5.91. Also, you can schedule Apps backup in a free version. This app allows you to backup all your back upn your SD card and also a feature foucloud backup featureSave a Filter and use it in Widgets/Schedules
Change the device's Android ID, restore it from a backup or after a factory reset
Protect backup against deletion
Send backup (to e-mail/cloud) and import it in 1 click
Backup→Verify→Un-install an app in one shot
Freeze/defrost/launch apps in a single click
This is one of the best data backup/restore app of android. This app allows you to backup your contacts, Apps, Call Logs, Bookmarks, etc for free on your android device. The paid version of this app is available at 4$ approx. Must try this cool app.
Features
Batch backup & restore data (Contacts, Call Logs, Bookmark, Calendar, etc.)
Batch backup & restore apps with two modes: apk+data OR apk only
Merge individual backups
Batch delete backups
Smart Merge duplicate contacts automatically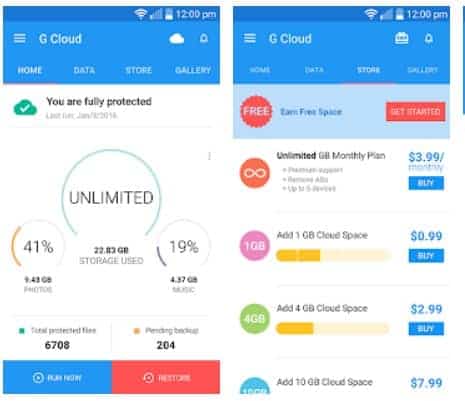 This is a very popular data backup app that provides for storing all your data on online storage. This app provides 1Gb cloud storage to backup your data and can save your space. This app provides 256 AES encryption data security to secure your android device data.
Features
Auto Backup Messages (SMS), contacts, call logs, documents, settings, photos (at full resolution), videos, music, and more
Backup Camera, Whatsapp, Viber photos, and videos
Start with 1 GB free and earn up to 10 GB easily
Automatic upload when WiFi is available and plugged in
Access your messages, call logs, download contacts, share music, videos and view photos on the web
This is one of the best android apps to backup/restore your data. Also, this app's computer and cloud backup allow a user to access information easily. This app does not need rooting access to your device. This app allows you to sync all your data to another android device too.
Features
Contacts – Backup call log and SMS
SMS – Backup call log and SMS
Accounts – Backup and restore from Drive
Phone State – Uniquely identify phone for Android to Android sync
Read Logs – Debugging and bug reports
Wifi – Make sure scheduled backups only happen on wifi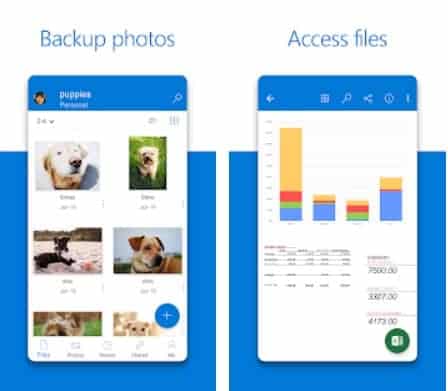 OneDrive is the one volume for all in your work and personal life. It provides you free online storage for all your personal files, so you can get to them from your Android device, computer (PC or Mac), and any separate devices you use. With OneDrive for Business, you also get storage for your work files so you can share and collaborate on them with other people at your work or school.
Features
Browse all your OneDrive files and files shared with you.
Automatically upload photos and videos to your personal OneDrive account using Camera backup.
Share your files.
Move, delete, and rename files, and create new folders.
Open your OneDrive files in other apps, including Office apps.
Quickly get to documents you've recently opened.
Search for your files and folders.
7. Dropbox
Dropbox is a safe place to store your essential photos, docs, videos, and much more. It is safely backed up, and guess what it is the most trusted backup app out there in the google play store. So this is the must-have one.
Features
Edit Microsoft Office files from your phone or tablet
Back up photos and videos automatically if you choose
Send large files without using email attachments
8. MCBackup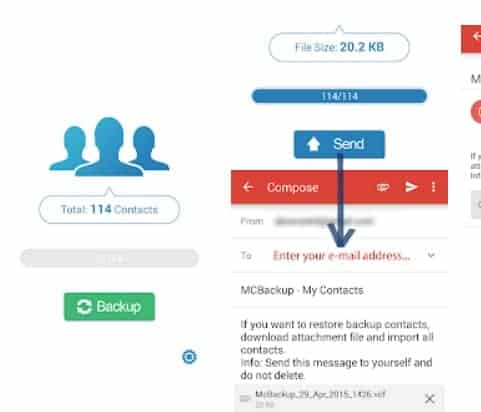 MC Backup is a safe, simple, and free cloud storage app that allows you to backup your precious data. The best part is that it's developed by Cheetah Mobile cloud, which is one of the trusted developer and popular too
Features
Intelligent file transfer: super-fast backup and restore speed!
Secure data transfer (SSL) and storage (256-AES) on Amazon S3 servers
Photo slimming: Compress your photos and move the original ones to the cloud, saving phone space.
Scheduled backup: automatically backup important items every day.
Tasklist view: Check the history of your activities.
9. App Backup Restore – Transfer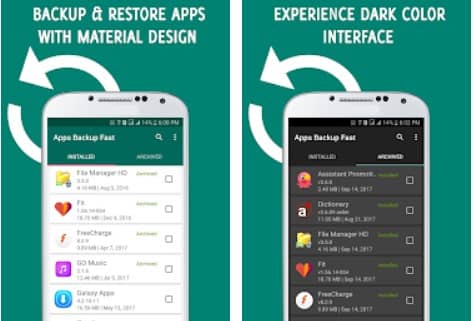 This is another simple Backup app with a few great features like the ability to backup and restores APKs, auto-backup, show a bunch of system stats, and much more. The app can also backup your contacts if you need them to.
Features:
Batch Backup & Restore to phone memory by default
Batch Backup & Restore to SD card or USB
Cloud backup to Google Drive, Dropbox, etc.
Backup & Send files to the third-party platforms
Backup & Restore apps, contacts, SMS, call
Extract & Retrieve APK files
Easy Backup & Restore can help you backup and restore apps, SMS, MMS, call log, calendar, bookmarks, dictionary, and contacts found on your Android phone. Create backups to SD Card or your Cloud storage. Create backup manually or schedule automatic backups.
Features:
Backup SMS, MMS, Call log, Calendar, Bookmarks, and Dictionary
Backup Contact
Backup Apps
Restore SMS, MMS, Call log, Calendar, and Dictionary
Restore Bookmarks (Lollipop and below)
Restore Contact
Using these apps, you can comfortably make the backup of all your Android data and restore all the data whenever demanded. This will also guard all your Android data. Don't forget to share this post and leave a comment below about your favorite app to backup/restore all your Android data.