Let's admit, on our Android smartphone. We store a huge amount of files. We keep applications, photos, videos, PDFs, etc. Sometimes, we want to share those files with another smartphone or computer. At that time, we need to use file transfer apps.
There are plenty of file transfer apps available for Android on the Google Play Store that can simplify the file transfer process. In this article, we will share some of the best and fastest Android apps to transfer files wirelessly.
Also Read: How to Share WiFi Password On Android
List of 10 Best Android Apps To Transfer Files Wirelessly in 2021
Most of these apps use WiFi to transfer files between devices, while others rely on Bluetooth. So, let's check out the best Android apps to transfer files wirelessly.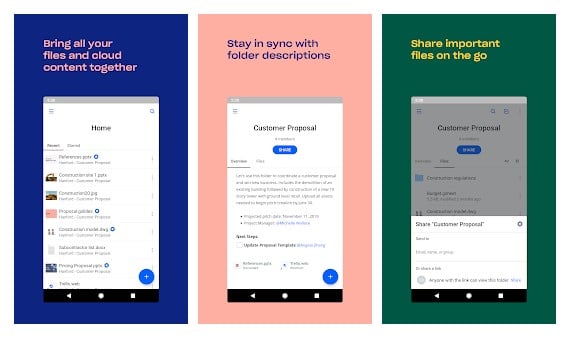 Dropbox is one of the most downloaded cloud storage apps in the Play Store after Google Drive, and it offers 2 GB of free space that can be expanded (paid). However, the fact is that the Dropbox app allows us to create shared folders that synchronize with the PC or iOS, through which we can send all kinds of files to anyone.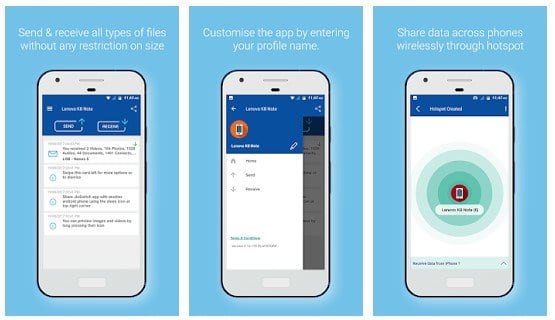 It's one of the best and easy to use data transfer app available for Android devices. JioSwitch supports a wide range of file types to transfer from one smartphone to another. Just like every other file transfer apps, JioSwitch is also cross-platform supported. It relies on a wireless hotspot to share files between devices.
We all know very well that the well-known Chinese smartphone manufacturer; of course, Xiaomi offers high-quality smartphones. Still, apart from all these things, it is also a company focused on the software segment. One of the best applications on this list is Mi Drop, which allows us to share files up to 200 times faster than Bluetooth using WiFi Direct technology without having internet.
In addition to allowing us to save space, it is also an awesome file manager that allows us to share our images with people nearby through Bluetooth. Moreover, this awesome application, of course, Files Go, also comes with other extraordinary features that make this app one of the best of its kind.
Airdroid is a powerful tool that allows us to capture screens, send files, synchronize notifications, remote control, or make backup copies. It is kept up-to-date, and the team behind it usually corrects any synchronization failure that appears very quickly than others. Apart from that, AirDroid also has an add-on known as AirMirror that can mirror your smartphone screen on a PC.
Sweech is a little bit different compared to all other apps listed in the article. The Android app allows you to exchange files with any computer, tablet, or smartphone. What's more interesting is that you don't need to install the Sweech app on each device to receive the files. Just use sweech on your device and send the URL to the other user. The URL opens the desktop interface of Sweech, which offers all features.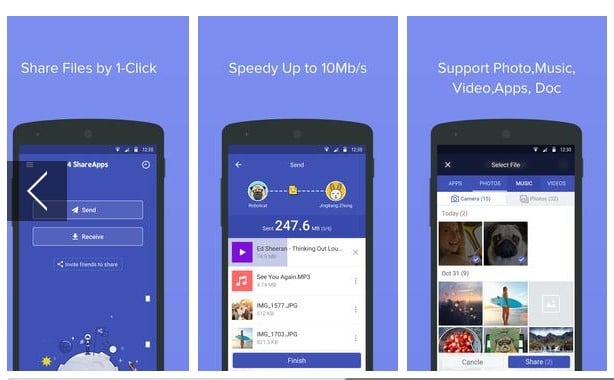 4 Share Apps – File Transfer offers a speed of up to 20 MB (megabytes) to share files from one mobile phone to another. Moreover, 4 Share Apps – File Transfer features a straightforward and clear UI with a Material Design aesthetic. And the most interesting thing is that this app has no limits on the size of the file we want to share.
This list is the application to share files with the best UI design, which is really well organized and without any bug. However, the fact is that all these alternatives are based on the same concept of WiFi Direct technology. Still, some of them offer a better-designed interface than others.
It is a classic application available for Android and has been readapted as an application that is more focused on messages. However, it is still one of the best apps to share data from one device to another, or smartphone to the computer. And not only that, but it also allows you to synchronize notifications, SMS, and clipboard content.
XShare is a new file transfer app available on the Google Play Store. The Android file transfer app relies on a WiFi network to exchange files. Interestingly, XShare also has a QR code fast matching option to simplify the file sharing process.
So, what do you think about this list? Share all your views and thoughts in the comment section below. And if you liked this article, simply do not forget to share this article with your friends.