Let's admit, on our Android smartphone. We store a huge amount of files. We keep applications, photos, videos, PDFs, etc. Sometimes, we want to share those files with another smartphone or computer. At that time, we need to use file transfer apps.
There are plenty of file transfer apps available for Android on the Google Play Store that can simplify the file transfer process. This article will share some of the best and fastest Android apps to transfer files wirelessly.
Also Read: How to Share WiFi Password On Android
List of 10 Best Android Apps To Transfer Files Wirelessly
Most of these apps use WiFi to transfer files between devices, while others rely on Bluetooth. So, let's check out the best Android apps to transfer files wirelessly.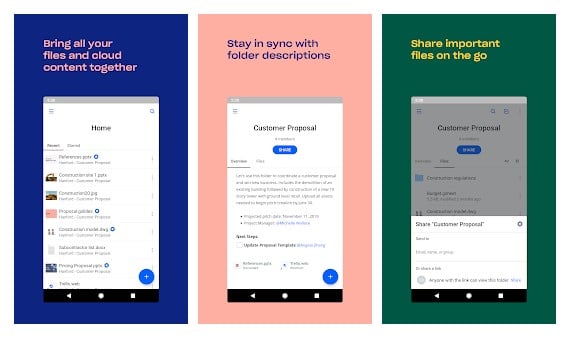 Dropbox is one of the most downloaded cloud storage apps in the Play Store after Google Drive, and it offers 2 GB of free space that can be expanded (paid).
The good thing is that the Dropbox app allows us to create shared folders that synchronize with the PC or iOS, through which we can send all kinds of files to anyone.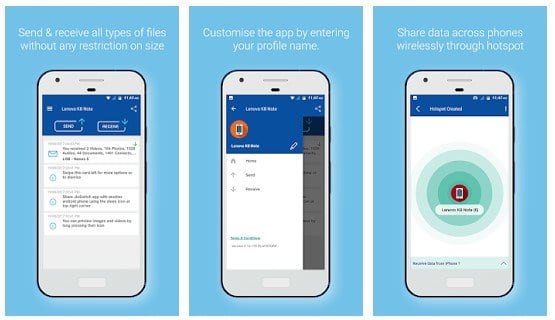 It's one of the best and easy-to-use data transfer apps available for Android devices. In addition, JioSwitch supports a wide range of file types to transfer from one smartphone to another.
Just like every other file transfer app, JioSwitch is also cross-platform supported. It relies on a wireless hotspot to share files between devices.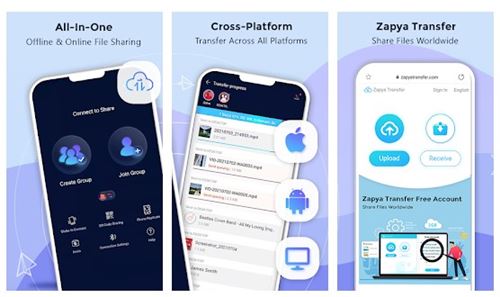 Zapya is one of the top-rated file-sharing app available for Android, iOS, and desktop. With Zapya, you can effortlessly transfer files from Android devices, iOS devices, and/to your PC.
To transfer files between devices, the app relies on WiFi connectivity. Therefore, both devices need to be connected to the same WiFi network to exchange files.
In addition to allowing us to save space, it is also an excellent file manager that allows us to share our images with people nearby through Bluetooth.
Moreover, Files Go also comes with other extraordinary features that make this app one of the best of its kind.
Airdroid is a powerful tool that allows us to capture screens, send files, synchronize notifications, remote control, or make backup copies.
It is kept up-to-date, and the team behind it usually corrects any synchronization failure that appears very quickly than others. Apart from that, AirDroid also has an add-on known as AirMirror that can mirror your smartphone screen on a PC.
ShareMi came into popularity after the ban of Xender and other file-sharing utilities in India. This one is similar to the other file-sharing apps; it relies on your WiFi to exchange files between devices.
With ShareMi, you can quickly transfer various file types at a better speed. You can transfer music, movie, video, app, film, docs, etc., at superfast speed.
It also has some useful features like resuming interrupted transfers, file transfer history, cross-platform support, and more.
Like every other file-sharing app, InShare also relies on WiFi connectivity to transfer files between devices. With InShare, you can easily share videos, photos, music, apps, PDF files, doc files, etc., at lightning-fast speed.
The app supports all Android devices and comes with a user-friendly design. Also, it offers a powerful file manager with a file sorting/searching feature.
This list is the application to share files with the best UI design, which is well organized and without any bug.
However, the fact is that all these alternatives are based on the same concept of WiFi Direct technology. Still, some of them offer a better-designed interface than others.
ShareMe is one of the best file-sharing utilities available for Android devices. The app is fully compatible with Xiaomi, Samsung, Oppo, OnePlus, Vivo, LG, RealMe, and other popular phone brands.
Like every other file transfer app, ShareMe relies on WiFi connectivity to exchange files faster. When it comes to the file types, ShareMe lets you share images, videos, music, apps, and other file types between mobile devices.
Since it's the official file-sharing app from Xiaomi, it comes pre-installed on Mi and Xiaomi devices.
XShare is a new file transfer app available on the Google Play Store. The Android file transfer app relies on a WiFi network to exchange files. Interestingly, XShare also has a QR code fast matching option to simplify the file sharing process.
XShare supports all files, including apps, music, video, PDFs, ZIP files, and more.
You can easily share files between devices with these Android apps. I hope this article helped you! Please share it with your friends also. If you have any doubts related to this, let us know in the comment box below.