It's no doubt that losing our smartphones is always an unpleasant experience. It doesn't matter what your stolen smartphone's size or price is; nobody wants to think about their phone getting stolen. However, it could happen to anyone. So, it's always an excellent choice to have proper anti-theft apps on Android.
The great thing is that Google offers a built-in option that allows users to track the lost phone known as 'Find My Device.' However, Google's Find My Device is not the only option to track lost Android smartphones because multiple choices are available on the Google Play Store.
Also Read: 10 Best Home Security Apps For Android
10 Best Anti-Theft Apps for Your Android Device
In this article, we have rounded up some of the best Anti-Theft Android Apps that would help you protect your device. So, let's check out.
Google's Find My Device comes built-in with most Android smartphones. So you don't even need to install any app on your smartphone to use Google's location tracking feature.
Once you connect your Google Account on your Android, it will update the location in a live interactive map. In addition, you can use the web interface of Google's Find My Device to locate your lost smartphone, lock your smartphone, ring at total volume, etc.
Lockwatch is not precisely an anti-theft app, but it takes a photo of anyone who tries to unlock your smartphone with the wrong code.
Whenever anyone attempts to unlock your device, it captures a photo via the front camera. Also, it emails you the image and your phone's current GPS location.
Third Eye is pretty much similar to the LockWatch app listed above. The app is designed to capture a photo when someone tries to access your mobile with the wrong PIN, Password, or Pattern. It automatically sends the email to the registered email if it captures photos. Also, the email contains the last unlock time and the GPS location of your phone.
As you might have guessed from the name, Anti-Theft alarm is an Android app meant to prevent your phone from getting stolen or lost. The Anti-Theft alarm offers more features than other anti-theft apps for Android.
Some of the features are useful, like setting the app to trigger a loud alarm whenever anyone disconnects your phone from the charging port. It also triggers an alarm when your phone is picked up from its resting position.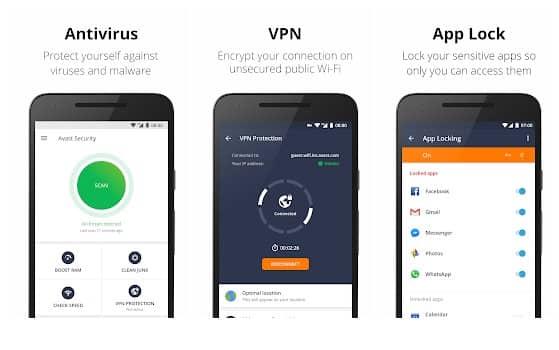 Well, it's one of the best security apps you can ever have on your Android smartphone. Avast Antivirus – Mobile Security & Virus Cleaner fills up all the security list checkmarks, providing users with many tools.
Avast Antivirus – Mobile Security & Virus Cleaner features include a virus scanner, call blocker, app locker, photo vault, VPN, etc. Regarding the Anti-Theft features, Avast Antivirus – Mobile Security & Virus Cleaner offers users an array of alarms, maps, and remote controls.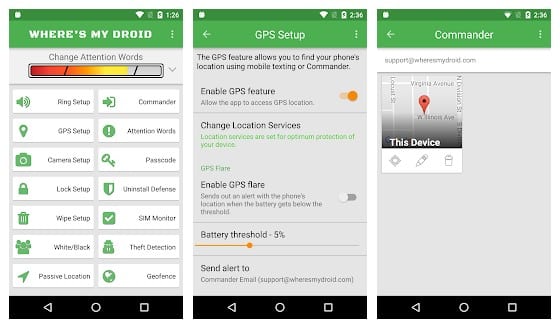 Where's My Droid perfectly replaces Google's Find My Device. Where's My Droid has more features than Find My Device.
Some of the critical features of Wheres My Droid include finding the phone by making it ring/vibrate, using GPS, GPS flare, Remotely locking the device, Remotely wiping data, etc. The premium version of Wheres My Droid can even take pictures with the device camera.
Mobile Security from McAfee LLC is another best Android apps on the list that can help you protect the device, and personal information and help keep your private data away from prying eyes.
With Mobile Security, you can expect anti-theft features like device locking, location tracking, remote wiping data, etc.
CrookCatcher is a little bit different than all others listed in the article. The app takes a photo when someone tries to unlock your phone with the wrong code or pattern.
Once clicked, it automatically sends an email with an image, GPS Coordinates, accuracy, street address, etc. The premium version of CrookCatcher also detects SIM card changes, break-ins, etc.
Prey Anti Theft is another app on the list which can help you find your lost, misplaced, or stolen Android device. Guess what? With Prey Anti Theft, you can get the GPS coordinates of the lost smartphone.
It automatically captures the picture through the front camera whenever anyone tries to unlock the phone with the wrong code.
With Pocket Sense, you no longer need to worry about pickpockets or mobile thieves as it provides a complete solution to secure your device.
The app notifies users through an alarm if anyone tries to take the mobile out of their pocket. Apart from that, Pocket Sense also includes Charge sense mode, motion sensor mode, etc.
Also read: 20 Best Android Hacking Apps
So, these are the ten best Android anti-theft apps you can consider. If you know of other such apps, let us know in the comment box below. I hope this article helped you! Please share it with your friends also.