Let's admit, CCTV Security cameras are one of the most innovative things that have been ever made by humans. These cameras can safeguard your home, business, etc., from some serious threats like robbery and theft.
Almost every business now uses CCTV cameras, and it's one of the essential things that everyone should consider. However, CCTV security cameras can be expensive, and not everyone can afford security cameras. So, if you don't have the budget to install CCTV cameras at home or business, you can use your Android device.
Also Read: 10 Best Camera Apps For Android
List of 10 Best Home Security Apps For Android in 2021
If you have an old Android device, you can turn it into a security camera. To turn your Android into a security camera, you need to use a few security camera apps listed below. So, let's check out the best home security apps.
AtHome Camera is indeed a great Android security app that every Android user would love to have. The great thing about AtHome Camera is that it's available on almost all major platforms like Android, iOS, Mac, Windows, Linux, etc. The Android apps need two devices to work – one for the recording and the other one to view the live stream. Not just that, but with the AtHome Camera desktop client, you can watch up to 4 cameras at once.
Presence is an Android app that claims to turn your old smartphone into a security camera. With Presence, you can set up your old Android device to act as a security camera system for your home in less than 5-minutes. The app supports both live audio/video recording and on-demand video recording.
IP Webcam is a little bit different compared to all other apps listed in the article. The app basically turns your Android device into a network camera and provides you with multiple viewing options. You can view the camera feeds on any platform via a web browser or VLC media player.
Just like every other home security apps, Salient Eye turns your Android device into a surveillance camera. After setting up the Salient Eye, simply place your Android device anywhere, and it will record everything. What's interesting about Salient Eye is that it can also capture images and sound an alarm to scare off intruders.
WardenCam works perfectly on 3G, 4G, and WiFi networks. The features of WardenCam include multi-camera setups, Cloud Storage support, motion detection, and alerts, etc. However, it's not a free app, and users need to purchase a monthly subscription plan.
Compared to other home security apps for Android, TrackView offers more features. It's more of a family locator than a home security app. Apart from turning your old smartphone into a connected IP camera, it also offers features such as GPS locator, event detection, etc. The Android app also works in the background & sleep mode to save battery life.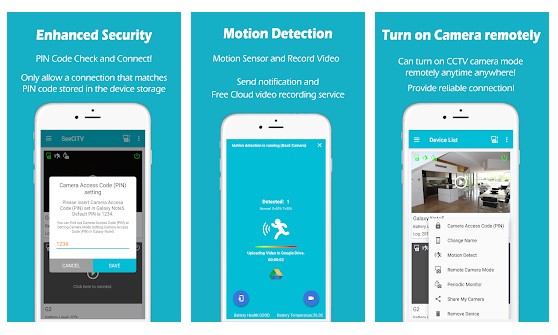 Well, if you have an old Android smartphone and want to turn it into a remote camera, then Security Camera from Geny Studio might be the best pick for you. However, unlike all other home security apps, Security Camera from Geny Studio doesn't have PC support. That means you can only view the camera stream from another Android device.
Unlike other apps, Security Camera CZ is exclusively designed for parental monitoring and enterprise management. It records the detected motions as a series of photos and allows you to browse those images quickly. Yes, it also supports Live HD video recording. The Android app works with all sorts of internet connections, including WiFi and Mobile data.
Camy is another Android app that turns your phone into a live stream video surveillance system. It basically turns your phone's camera into video surveillance streaming. The app lets you set your phone as a camera or viewing device. You can use your PC's web browser to view the streams.
Well, it's an app that lets you reuse old phones as a Home Security camera. The app is easy to set up, and it allows you to watch live camera streams from anywhere. For home security, the app has lots of useful features like Smart intruder alert, Night vision, Walkie-talkie, 360 camera, etc.
So, these are the best Android home security apps that you can use right now. If you know any other apps like these, then let us know in the comment box below. I hope this article helped you! Please share it with your friends also.