In our everyday life, we all deal with stress, anxiety, and every other thing that makes our life difficult. Out of all those, Anxiety is the most common one and its often the major reason behind sleepless nights, missed opportunities, feeling sick, etc.
To deal with Anxiety, one needs to change their lifestyle including diets, workout plans, etc. If that doesn't help, then one can always choose to meditate. What's more important is that your smartphone can now help you in meditation.
There are plenty of Android meditation apps available on the Google Play Store that could help you to maintain a mindfulness regimen. So, if you are also interested in such kind of apps, then you are in the right place.
20 Best Anxiety Apps or Stress Relief Apps For Android in 2020
In this article, we are going to share some of the best Anxiety apps or Stress Relief apps in 2020 that you can use right now. So, let's explore the list of best Android Anxiety apps.
This is the app which is designed and made by the professor of psychology and the neuroscience, he has made this app with the key point of relieving the stress and helping the users get rid of anxiety. All methods shared in the apps to beat anxiety and stress are clinically proven. So, Personal Zen is definitely the best Android Stress relief app that you can use today.
As the name of this app is focused on, you will be able to use this app for the main function of relaxing your mind and hence get relief from the stress or anxiety. This app has the documents and the instructions related to the ways of breathing in such a way that your mind gets relaxed the most. The detailed information for the effect of breathing on mind is also scripted inside this app and is conveyed in an easy to read manner.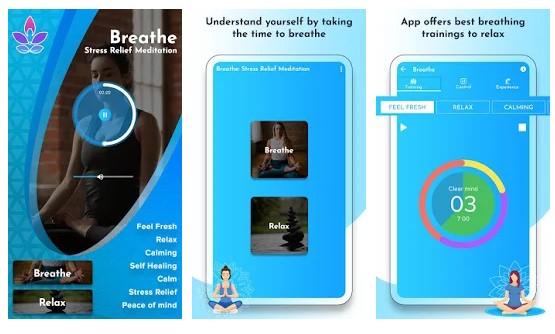 Well, Breathe is a relatively new anti-stress app available on the Google Play Store. The app can greatly help you to reduce stress, stay calm, stay healthy, reduce anxiety, and understand yourself. The app offers the best exercises to feel fresh and calm your mind.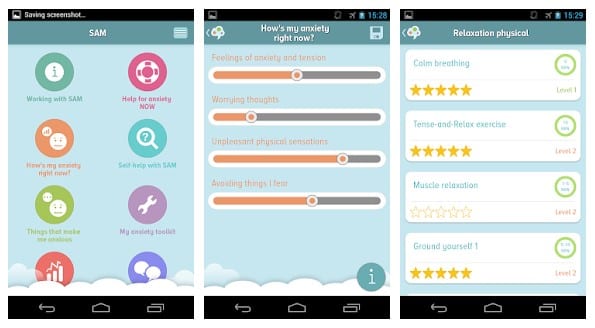 This is another app which is actually made by the psychologists and the expert computer scientists. They have managed to induce excellent information for every stress and the anxiety in which the person could indulge. The user has to figure out the things causing the stress and this app would provide the best-related information to get rid of it. This is the app that is available for both Android as well as iOS platforms.
Well, The Worry Box is one of the useful apps that you can have on your Android smartphone. The app asks you to write down all of the issues that are creating havoc in your daily life, leading to anxiety. The app offers audio guidelines on how to deal with anxiety and depression.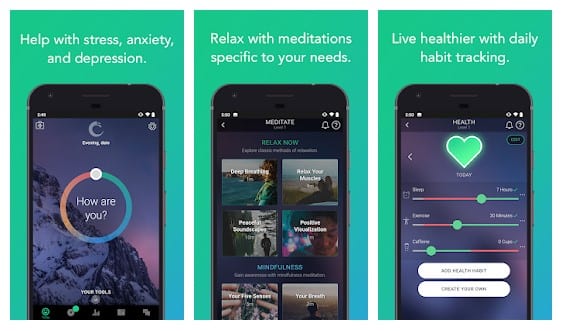 It's another best Anxiety and stress relief app available on the Google Play Store. The app gives you psychologist-designed tools to address anxiety and stress. The app has lots of detailed guides on meditation, relaxation, stress management, etc. So, its another best stress relief app that you can use today.
How you feel matters. Whether you're feeling stressed, anxious, depressed, or you're dealing with constant negative thoughts, Happify brings you effective tools and programs to take control of your emotional well-being.
Well, this is a full app which is very helpful to check out the stress level. Well, many online users found this app working and some are not. Stress Check is the most innovative tool available for quantifying your level of psychological or physical stress. By measuring your heart rate through the camera and light features on your Android, Stress Check can estimate your level of stress in real-time.
The Headspace app teaches you how to meditate and live mindfully. You can use it at work, at home, or anywhere else. There are exercises on everything from managing anxiety and stress to breathing, sleep, happiness, calm, and focus.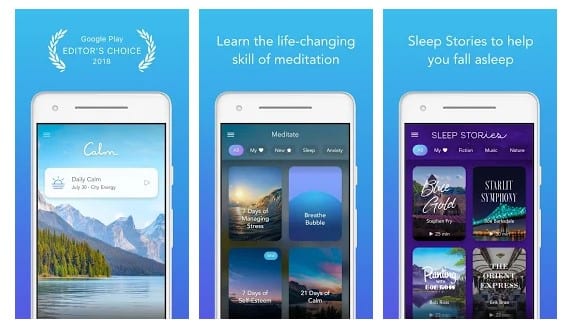 Well, Calm is one of the best apps for mindfulness and meditation to bring more clarity, joy, and peace to your daily life. Start your journey with a calmer mind with the app that's trusted by millions. Calm is the perfect meditation app for beginners, but also includes hundreds of programs for intermediate and advanced meditators and gurus.
It is one of the best Android apps that can help you to cope with Depression, Anxiety, Anger, and Stress. The app comes with a great interface, and it features 12 common negative thinking patterns and simple methods to overcome them. So, it's an interesting app which you can use to improve your mental health.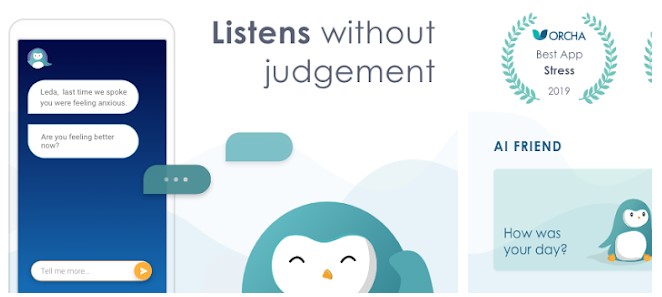 Well, Wysa is a little bit different compared to all others listed in the article. It's your AI friend that will support you through every big and small anxieties of life. To help you deal with anxieties, the app uses science as a foundation to strengthen your mental health. The app has lots of research-backed, widely used techniques of CBT, DBT, Yoga, and meditation to support you with mental health and wellness needs.
Struggling with anxiety? Tired of missing out? There are things you can do to stop anxiety and fear from controlling your life. MindShift is an app designed to help teens and young adults cope with stress. It can help you change how you think about anxiety. Rather than trying to avoid anxiety, you can make an important shift and face it.
The centerpiece of cognitive-behavioral therapy is changing your emotions by identifying negative and distorted thinking patterns. With this app, you can write down your negative feelings to analyze the flaws in your thinking and reevaluate your thoughts.
Well, iMoodJournal is another exciting lifestyle app which allows users to write down their ups and downs they face in daily life. The app helps users to keep notes of their overall well-being with editable mood labels. So, its one of the best Android app which you can use for overall mental health.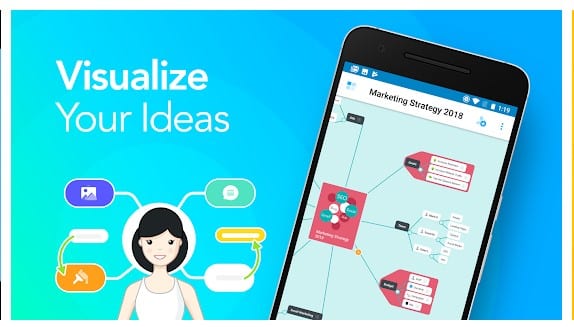 It is one of the best Android apps that you can use to give your ideas and thoughts a particular order or structure. It's indeed a great mind mapping app which you can use to organize, prioritize, and generate new thoughts. So, its indeed one of the best mind mapping app that everyone would love to have.
As we all know, while we sleep, we go through different sleep phases. Normally, we miss the deep sleep that is much needed for everyday life. The person who doesn't get deep sleep or completes through all different sleep phases feels dull all day. So, the Sleep Cycle alarm clock recognizes your sleep pattern by using some special sound technology and wakes you up at the right time.
As we all know, in a few studies coloring has shown some great signs of relaxing and calming effects. Colorfy features over a thousand different pictures that you can color. The great thing is that Colorfy works offline and it can help you to beat insomnia. Basically, it's a color therapy app that you should use.
Well, Relax Lite is one of the great and unique stress relief apps that every Android users would love to have. The great thing about Relax Lite is that it has plenty of guided breathing and meditation exercises that use calming music to promote relaxation. The app claims that the deep breathing guides provided in the app can reduce stress and other stress-related illness.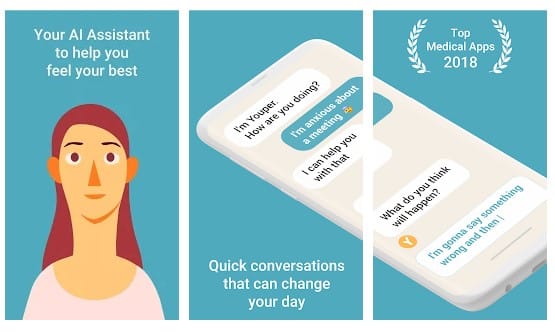 It is an AI assistant that is based on therapy and meditation. The great thing about Youper's AI Assistant is that it can open up an insightful conversation that can help you master life's ups and downs. The app helps users to detect and monitor emotional health symptoms, including anxiety, depression, panic, etc. So, Youper is another best Anxiety apps for Android that you can use today.
So, these are the 20 best Android apps in 2020 that could help you to beat anxiety and stress. If you know any other apps like these, let us know in the comment box below.