There's no doubt that Android is the most used mobile operating system right now. Android provides users with more customization options and features than all other mobile operating systems.
Among all Android features, screen mirroring is the most prominent one. The Screen Mirroring feature allows users to remotely share/mirror one device screen to another, like Android to PC, PC to Android, etc.
Also Read: How To Mirror Your Android Phone's Screen On Your PC
12 Best Apps To Mirror Android Screen To PC
However, users must use screen mirroring apps to remotely share Android screen to a PC or other Android device.
Hundreds of screen mirroring apps on the Google Play Store can cast your Android to your PC or other Android devices. This article will share some of the best Android screen mirroring apps.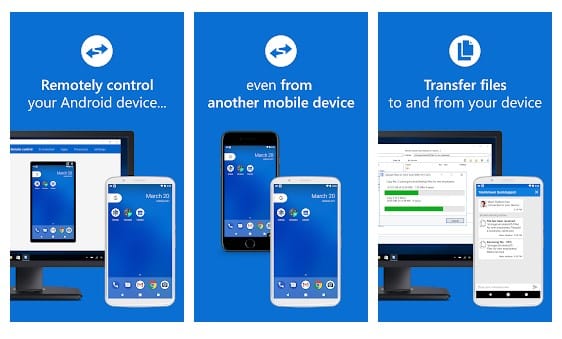 It is one of the best and top-rated Android apps to mirror your Android screen to a PC. The great thing about Teamviewer Quick Support is that it works on rooted and non-rooted devices.
Teamviewer Quick Support can mirror and transfer files and push and pull WiFi settings between devices. So, Teamviewer Quick Support is one of the best Android apps to mirror your Android screen to a PC.
If you are searching for an easy method to mirror your Android screen on your PC, you need to use Vysor. The screen mirroring app is straightforward to use, and once mirrored, you can play games, use apps, take a screenshot, record screen, etc., with Vysor.
To use Vysor for screen mirroring, users need to download the Vysor mirroring client on Windows and the Vysor app on Android.
Once done, connect Android to PC via USB cable and allow USB Debugging prompt. The PC software will detect the device shortly and cast your phone's screen to the PC.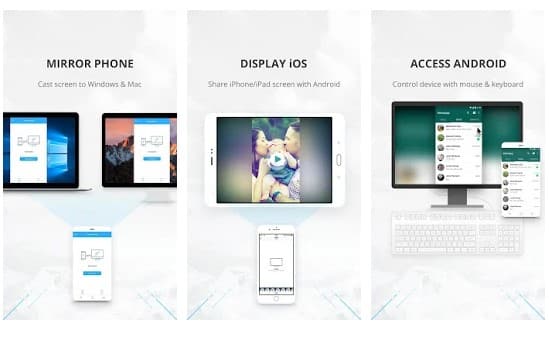 ApowerMirror is a top-rated screen mirroring app on the Google Play Store. This app can mirror your smartphone to a PC, Mac, TV, and other mobile devices.
Apart from screen mirroring, ApowerMirror offers other valuable features like controlling smartphones from a PC using a mouse and keyboard. To mirror your phone's display to a PC, you need to install the desktop client of ApowerMirror.
On the downside, most of the useful features of ApowerMirror are limited to premium accounts only.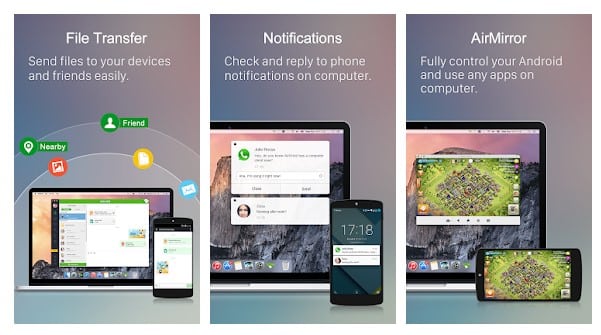 If you have been using Android for a while, you might know about the AirDroid app. AirDroid is a file transfer app that also has a screen mirroring feature.
The screen mirroring feature is only available in the desktop client and mirrors the calls and message notifications. Users can also remotely open the camera on the pro version, turn on/off the built-in features, etc.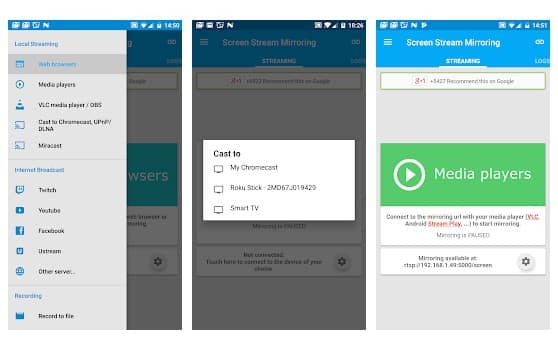 If you are searching for the best way to mirror and broadcast your Android screen to a PC in real time, try Screen Stream Mirroring. With Screen Stream Mirroring, you can easily share your screen live like a dual-screen.
The best thing about Screen Stream Mirroring is that it relies on WiFi rather than USB to cast the screen. Besides that, mirroring through the screen stream also welcomes additional features like broadcasting everything directly to YouTube, Facebook, UStream, Twitch, etc.
ScreenPlay is a very simple and lightweight Android app that allows you to cast your phone's screen to any Smart TV or Miracast enabled devices.
The app is 100% free to download & use and free from any ads. However, the app is not supported on all Android phones; it only runs on phones where screen mirroring or screen cast is enabled.
Screen Mirroring – Cast to TV from Zipo App is a useful app to mirror your Android phone's display to your TV.
The app is very helpful for viewing photos, videos, movies, etc on your smart Television.
Screen Mirroring – Cast to TV can be used to screen share your Android to any other compatible devices on the local network or via mirror screen functionality.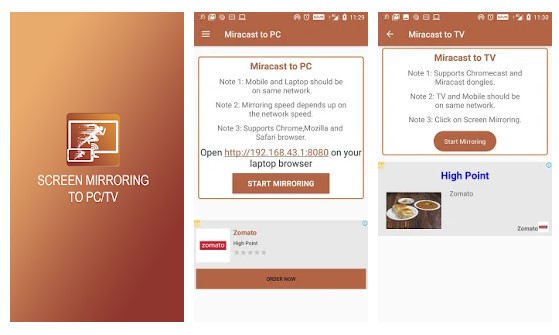 The app helps you share your mobile screen with compatible Miracast/Wireless display devices such as smart TVs, Laptops, PCs, etc.
It displays all the content from mobile phones to systems like Windows and MAC PCs, Smart TVs, etc. It is more valuable because it streams HD and 4K Ultra HD pictures, supporting most video and audio file formats.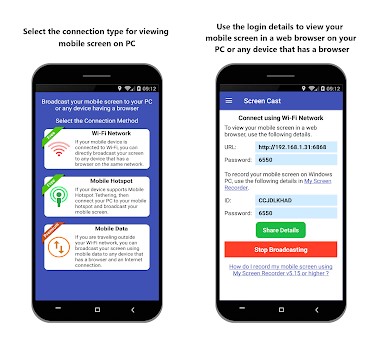 It's another best Android apps on the list, which allows you to share screens between devices. The good thing is that Screen Cast supports multiple device connections.
You can choose WiFi, Mobile Hotspot, or Mobile Data to connect with your PC. Apart from that, Screen Cast also has the ability to record your mobile screen.
If you want to experience your favorite mobile game on a bigger screen, try MirrorGo. MirrorGo is a convenient way to mirror Android to bigger screens, control your phone from a PC, and transfer files wirelessly.
Once mirrored, you can manage your Android device with a keyboard and mouse from the desktop. Also, you can manage other things like SMS, WhatsApp Messages, and more.
Castto is another best screen share apps for Android. Like every other app, this also requires connecting Android and other viewing devices with the same WiFi network.
After connecting both devices to the same WiFi, you need to enable Micracast Display on your TV, and then enable the wireless display option on your Phone. Castto will cast your mobile screen to your smart television within seconds.
If you are searching for a lightweight Android app to effortlessly share Android screen to PC, look no other than Screen Mirroring-MirrorTo Cast.
Like every other app, Screen Mirroring-MirrorTo Cast allows you to cast a phone screen to smart television.
After mirroring the screen, you will not only be able to view your Android screen on a big screen like a PC, but you will also be able to control it remotely from a PC with your mouse & keyboard.
You can use these free apps to mirror your Android screen on a PC. If you know of other such apps, let us know in the comment box below. I hope this article helped you! Please share it with your friends also.