Let's have a look at the 5 of the Best Docking Stations for Your MacBook Pro that you need to try right now as they are of an amazing design and competitive prices that will solve lots of problems by providing the multiple connectivities to your device. I have selected some of the best stations that is used by my team and our regular visitors. So have a look at the complete guide discussed below to proceed
[dropcap]D[/dropcap]ocking stations are the hardware that is equipped with a number of ports and hence the hectics of handling so many connections to the laptop device get faded. There is no requirement left so as to maintain the wires for the connections, therefore, you can easily work on your device. There are now numerous docking stations available on the internet for the MacBook Pro. Out of those all available docking stations on the Internet, the user could likely get confused for which one to choose. But there is no need to worry as we are here with the information for the best docking stations and we have created the list after a lot of research. Here in this article, we have written about the 5 best-docking stations for your MacBook Pro. If you are interested in reading about this information or find it helpful for your usage then please read it down. All of the proper information is provided in the main section of this post as is given below, remember to read till the end of the page so that you get the whole knowledge regarding the topic. So, let's get started with these devices that you must try for some amazing experience.
Also Read: Top 10 Best MAC OS Mojave Features You Should Know
5 of the Best Docking Stations for Your MacBook Pro
My friend got this MacBook Pro and was worried about using is multiple hacking hardware and he needed at least 3 extra USB ports so we searched over the internet for the best Docking stations that we can use. So I found some of the best that we ordered and was amazing as comparative to other. So I thought of sharing the same with you so that you can also use this in your device and will not need to do lots of research for this.  So have a look at this hardware below with the image so that you can find the same device online while ordering.
Also Read: How to Use an Android device as Second Monitor for your PC or MAC
#1 LandingZone USB-C Dock
Out of all the docking stations available for the MacBook Pro, this one stated on the first position of the list is excellent for numerous kinds of usage. There are so many different ports that fulfilling the connections is not at all difficult. The build quality of the station is exemplary and the ports are the highest quality hardware you can expect.
#2 OWC Thunderbolt 3 Dock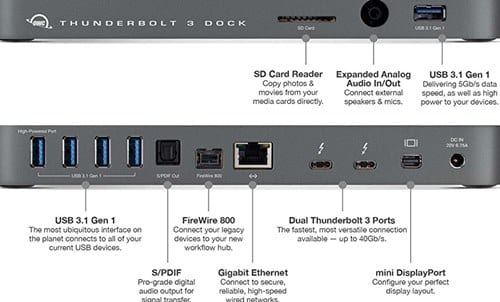 This fantastic docking station consists of five USB-A 3.1 ports, one FireWire 800 port, gigabit Ethernet, two TB3 ports, one miniDisplay Port, one SD card reader and one audio out port. It is by far more than enough for the heavy usage or several connections.
#3 Kensington SD5200T Thunderbolt 3 Docking Station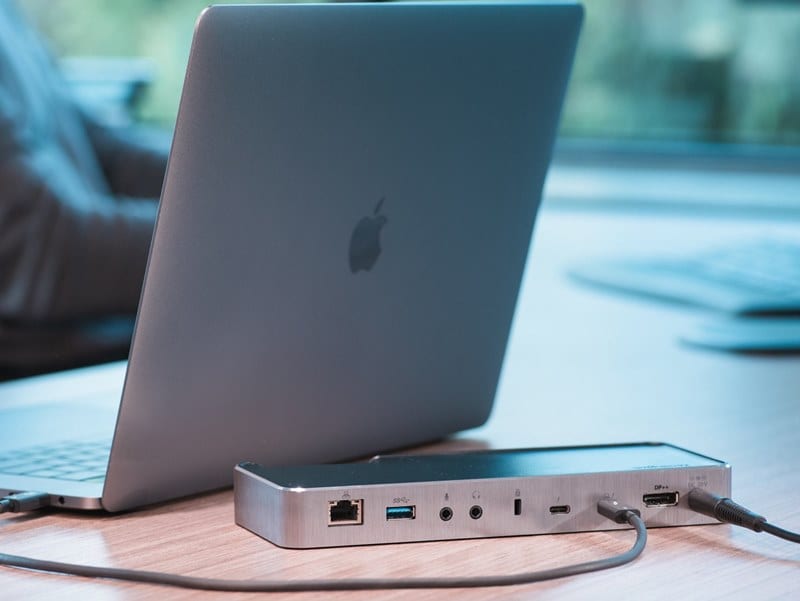 Like all of the other docking stations stated on this page, this one is also consisting of many different ports including the audio ports. The build quality of the device is good and the material of the dock is plastic brushed metal. Just make use of this dock for your benefits and convenience.
#4 StarTech.com Mini Thunderbolt 3 Dock
Display ports, USB ports and several other ports for the connections. This Docking system looks like dongle attached to the MacBook Pro. The build quality is fantastic although the material used is plastic. If you are looking for the portable and easy to maintain docking station then this one must be your choice.
#5 WAVLINK USB 3.0 & USB C Ultra HD/5K Universal Docking Station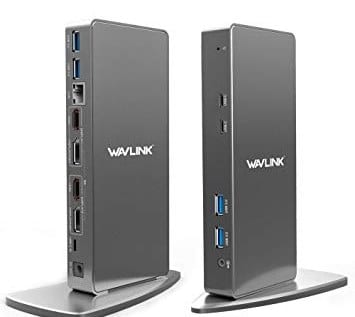 Best ever docking station for the users seeking the moderate number of connections. It is really easy to connect it with the MacBook Pro and hence utilize it for the purpose. The number of connections is enough to get the work done but if you are looking to connect many more things then this one is surely not for you. Yet the normal usage of the docking station will amaze you with the quality.
Also Read: How To Install & Login Snapchat On Computer (Windows/MAC)
Finally, after reading this article, you have got to know about the 5 best-docking stations for your MacBook Pro. All of the information given here is written in such a way that anyone can get about the important aspects easily. Hope that you might be liking the information given in this article if it is so then please try to share it with others too. Also, share your suggestions and opinions regarding this content by using the comments section below. Your indulgence in our work is really grateful to us, keep supporting us and we would be always coming up with all new amazing information. At last but nevertheless, thanks for reading this post! And if you have any topic in the mind that you want us to write then please share with us so that we can work on it for you and you can explore the things better with us.