If you are active on social networking and image-sharing sites, you might know the craze of the FaceApp App. FaceApp is an Artificial intelligence-based photo editing app that has been trending for a while.
The Android app uses AI to predict how one would look while getting older or younger. Then it automatically adds beards, mustache styles, and saggy skins to give an older look. The results are excellent and look realistic.
If you are reading this article, then there are chances that you might be already using the app. It's working well for most users; still, a few users are not getting authentic results. So, if you are amongst those users, you need to consider an alternative.
10 Best Face-Aging Apps for Android & iOS
There are many FaceApp alternatives available for Android & iOS which provide similar features. So, in this article, we will share a list of the best FaceApp alternatives.
1. What Will I Look Like, Old Face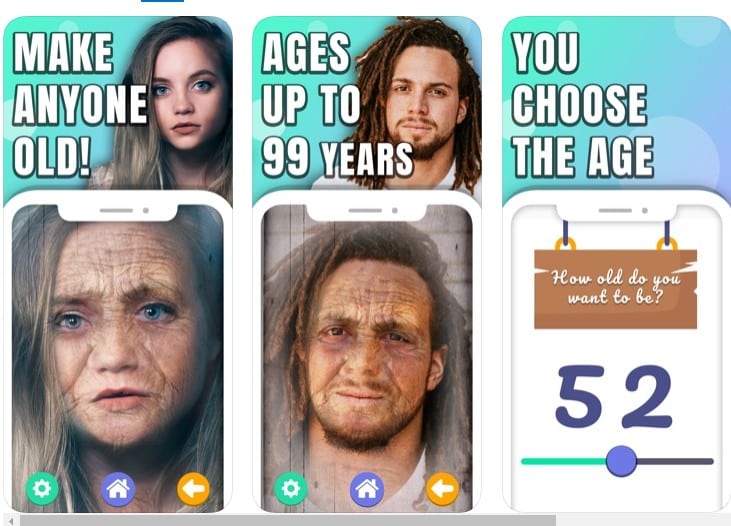 What Will I Look Like Old Face is one of the best and top-rated face aging apps available on the iOS app store. The app would allow you to look into the future and age yourself up to 99 years. You need to upload or take a new picture on this app to generate the aged photos within a few seconds.
However, if we compare What Will I Look Like Old Face with FaceApp, the results of What Will I Look Like Old Face look unrealistic. Still, What Will I Look Like Old Face is another best face-aging app you can use on your iPhone.
Download For iPhone.
2. Face Changer Photo Gender Editor
Have you ever wanted to know how you would look when you became older, woman, child, or ugly? Then, you need to give Face Changer Photo Gender Editor a try. It's one of the best and most unique apps for Android available on the Google Play Store.
It uses Artificial Intelligence to transform your face. Not only that, but the app also lets you add ears, eyelashes, eyes, glasses, hairstyles, etc.
Download For Android.
3. Old Face
If you are searching for a free app to create old-age images on Android, you need to try Old Face. The app uses advanced techniques to give an older touch to your photos.
Apart from that, it lets you capture an image from the camera or choose an image from the gallery. So, it's another best Android face-aging app that you can use today.
Download For Android.
4. Face Story
It's an iOS app on the list which shows you your realistic aging face in just a few seconds. The app works with photos taken with your device camera or from your photo gallery.
To convert the photos, the app uses both AI face scanning and the latest algorithm to give an aging look to your face.
Download For iOS.
5. Facee
Facee is a relatively new Face changer app available on the Google Play Store. Although the app is not very popular, it still gets its job done.
The Facee Android app applies old and young skin tones in no time. The app offers 20+ old-age masks, skin tone effects, and more. Also, it offers you lots of photo-sharing options.
Download for Android
6. Reface
Well, Reface is basically a face swap app for Android & iOS that lets you swap your face with celebrities or movie characters. You can swap your face with older people to know how your face will look at their age.
Apart from that, Reface offers a few more exciting features, like the ability to put a face on GIFs, swap heads on movie scenes, and more.
7. AgingBooth
AgingBooth is one of the best and top-rated FaceApp alternative apps for iOS that you can use right now. It's easy to use and a fantastic face aging machine app for your iPhone, iPod touch & iPad.
On AgingBooth, users need to capture a picture with their phone's camera or use a photo stored on the smartphone.
Once done, the app will instantly age the photos. With the premium version of AgingBooth, you can also access other apps from developers like BaldBooth, MixBooth, UglyBooth, BoothStache, etc.
Download AgingBooth for iPhone & Android.
8. Oldify
If you are searching for an iOS app that will let you see the older version of yourself, you need to give Oldify a try. Guess what? Oldify allows users to set the age frame beforehand.
In every age group, the app provides different results. If we compare Oldify with FaceApp, Oldify doesn't have any extra features like a different hairstyle, color hairstyles, etc. It just focuses on making you old and nothing else.
Download Oldify for iOS
9. Make Me Old
Make Me Old is another best face-aging app available for Android smartphones. This app doesn't allow you to capture pictures, but you can easily add photos from the gallery. Once added, the app asks users to select the age – 20, 40, 60, 80, 99, and then change the photo.
However, if we compare the app with FaceApp, the app lacks many features like creating a younger version, changing genders, appearance changes, etc. Still, the app fulfills all needs of a face-aging app.
Download For Android
10. Fantastic Face
Fantastic Face is another great FaceApp alternative on the list that unlocks many secrets behind your face. The app scans your face and shows you how your face will change after 20 or 30 years.
It also has other features like emotion analysis, palmistry predictor, celebrity match, and more.
Download for Android.
You can use this app to know what your face would be like while getting older. I hope this article helped you! Please share it with your friends also. Also, if you know of any other such apps, let us know in the comment box below.