Well, our Android smartphone has already replaced lots of useful things. Now it looks like it can even eliminate the need for paper and colored pencils and paintbrushes for drawing, sketching, and painting.
There are quite a few Android apps available on the Google Play Store that can fulfill your need for drawing, sketching, or painting. You can use these to create amazing art right from your Android smartphone.
10 Free Android Apps for Drawing, Sketching, and Painting
So, if you are looking for the best apps for drawing, sketching, and painting for Android, you're reading the right guide. Below, we have shared a few best free apps for drawing, sketching, and painting on Android. Let's get started.
Sketchbook is one of the best and award-winning sketching, painting, and drawing app available for Android smartphones.
You could zoom into your screen up to 2500% and create the finest possible sketchings, paintings, drawings, etc.
The best part of this app is that it provides lots of workspaces which is a big deal for portable devices with small screens where working becomes too difficult.
If you are looking for an app to help you create pro-quality paintings, sketchings, or drawings on your Android device, then this app would be the best option.
Adobe Illustrator Draw is a great app for creating vector artwork with images and drawing layers.
You get many of the working tools of Adobe Illustrator in this mobile version, and hence you can easily learn about its capabilities! Amazing tools with much better quality; you could use them all to produce great results.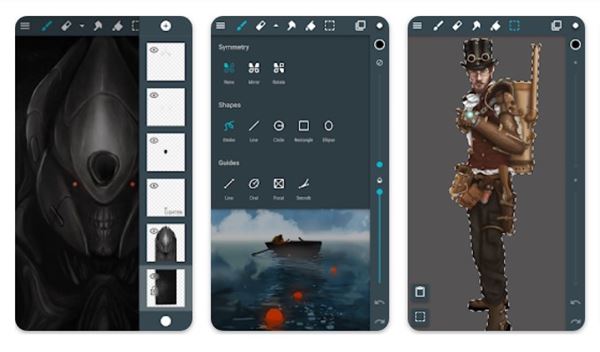 ArtFlow app integrates with the tools like various brushes, color palettes, pencils, etc. You get access to about 70 different brushes in this app, a usable smudge tool, etc.
This app provides access to various other functions that could be utilized to make superb artwork, even on a mobile device. The app has a layer style of working that also makes the work much more advanced.
The simple but very useful interface provides lots of options and sketching tools. This app is made for those who are looking straight to the app to perform their task of making simple drawings, sketches, or paintings.
Although a bit easier, this app lacks many required functions and could only be suitable for very moderate tasks.
Dotpict is one of the most interesting apps on your Android smartphone. With Dotpict, you can do pixel art. The app offers a grid, and you can zoom in and move around to create pictures of little scenes by filling up the boxes.
Rough Animator is a fully featured hand-drawn animation application for the Android operating system.
The app is powerful enough for professional animators and simple enough for beginners. Everything you need to create traditional hand-drawn animation anywhere you go!
If you want to draw something but don't have paper, this app comes to the rescue. With the help of this app, you need to pick a color and draw. You can save or share the drawing directly through email or social networks.
The another best thing about the app is it contains no ads or unnecessary permissions. It is fully open-source and provides customizable colors.
Sketch brings a fun drawing and photo editing experience to anyone who wants to be creative, regardless of skill level. If you need inspiration, the Sketch community is an endless source of digital art for you to explore and enjoy.
With the help of Adobe Photoshop Sketch, you can draw with pencils, pens, markers, erasers, thick acrylic, ink brush, soft pastel, and watercolor paint brushes to create artwork that can be sent as layered files to Adobe Photoshop CC or Adobe Illustrator CC.
This is one of the best Android apps for advanced painting. Guess what? This app features over 80+ natural brush presets.
Moreover, you can also create new brushes and easily change brush settings. You can create lines with guides & can draw 3D cityscapes with five different perspective guides.
So, these are some of the best Android apps for drawing, sketching, and painting. All the apps listed in the article were free on the Google Play Store. If you want to suggest any more similar apps, let us know in the comments below.