Let's admit, we all have one friend in our circle who always loves to get afraid. They love watching movies and TV Series based on horrors. Not only that, but they apply the same thing while picking up games. Yes, we are talking about horror games for Android.
The horror game genre was never popular on mobile devices, but there are few good ones that you can play to get a great thrill. We frequently receive messages from our users regarding Android's best horror games.
Also Read: 10 Best PC Horror Games Of All Time
10 Best Horror Games For Your Android Smartphone in 2021
In this article, we have decided to share a list of the best horror games that everyone would love to play. These are the top-rated horror games, and most of them are available for free on the Google Play Store.
Well, Dead Effect 2 is actually a Sci-Fi FPS game that will send chills down your spine. In Dead Effect 2, the player's ultimate goal is to survive while killing the zombies. The great thing about Dead Effect 2 is that it offers an epic single-player campaign that provides more than 5 hours of story gameplay. The game is highly addictive, and it's one of the best horror games that you can play today.
If you are looking for an ultimate psychological horror adventure game, then the Murder Room might be the best pick for you. The game traps you in a room with a serial killer. The player's ultimate goal is to escape while solving different types of puzzles. In this game, you need to tap on various objects to examine them or use them on other objects to solve the mystery. So, it's definitely one of the scariest games you can play today.
Well, Eyes – The Horror Game is another scariest game you can play today. The gameplay is simple; in this game, the player needs to break into a haunted mansion, collect money and get out. However, it's not as easy as it sounds. There's an evil lurking in the haunted mansion, which is scarier than imagined.
Well, if you are looking for a psychological horror game that comes with an anime theme, then HideAndSeek might be the best pick for you. The game is slightly different from other horror games, and I will not reveal the twist of the game. However, this is one of the oldest horror game which is still played today.
Well, Into the Dead is one of the most popular action-adventure games, a horror theme. It's basically an infinite runner game, and the ultimate goal is to survive for as long as possible. Into the Dead's great thing is that the story mode offers two endings.
In this game, you will be trapped in a school, and you need to find the exit gate. It's basically a hide and seeks game where you need to hide from the Evil Nun, and at the same time, you need to escape. So, it's basically an adventure escape and survival game full of fun. Apart from that, the graphics and the gaming environment are creepy.
The Last Door is one of the best and most awesome psychological horror games you can play today. The Last Door: Collector's Edition contains four terrifying episodes of occult and otherworldly horror, inviting you to investigate Victorian England's deepest, darkest secret.
Twisted Lands: Shadow Town is a story of a husband-wife duo named Mark and Angel who were set out to explore the world. However, their boat crashed on an island, and something has dragged Angel into the darkness. So, the player's ultimate goal is to play as Mark while searching for his wife. However, as he looks for his wife, he uncovers secrets and shocking truth. This is a hidden-object game in which you need to solve puzzles to reach the next level. The gaming environment and sound effects make the game scarier.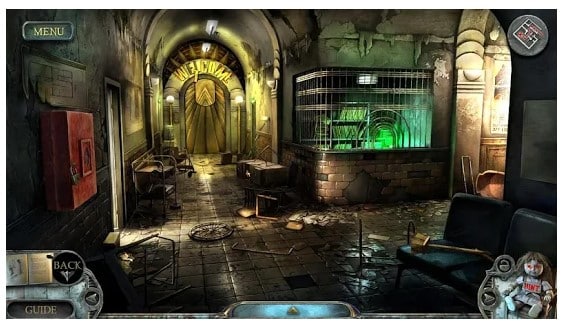 If you are amongst those who love to play horror adventure games on Android, especially at night, then True Fear might be the game to play. In this game, the player needs to find his sister, unravel many secrets, and escape the stalking darkness—basically, it's a free game with in-app purchases. What's more interesting is that the game offers more than 20 puzzles to solve.
On Horror Hospital 2, the player finds himself trapped inside a hospital corridor where fear and horrors are nested. The player will go through numerous paranormal activities. The ultimate goal of the game is to survive until the very end. However, as the game progress, the levels become much harder and darker. So, if you are looking for a horror adventure game that has amazing graphics and a gripping storyline, then Horror Hospital 2 might be the game to play.
So, these are the best horror games that you can play on your Android smartphone. If you want to add your own horror game to the list, drop the name in the comment box below. I hope this article helped you! Please share it with your friends also.