For those who don't know, iMessage is an instant messaging app that allows users to exchange messages with anyone with an iOS or macOS device. What's more interesting is that iMessage also works as an SMS app. Android users have been waiting for Google's take on iMessage for a while now, and some users have already given up hope.
It's not that feature-rich messaging apps don't exist for Android, but most of them fail to provide the same security level. Moreover, most of the so-called messaging apps for Android don't work as seamlessly as Apple's iMessage. However, Android is all about possibilities, and there are some messaging apps available on the Google Play Store that can be a top-contender of iMessage.
Also Read: 10 Best Whatsapp Alternatives that Actually Respect Your Privacy
List of 10 Best iMessage Alternatives For Android
This article will share a list of the best iMessage alternatives for Android. All of these messaging apps are manually tested by us, and it runs on every Android version. So, let's explore the list of best iMessage alternatives.
Facebook Messenger is one of the best and popular messaging apps available for Android and iOS devices. We have listed Facebook Messenger in the list of best iMessage alternatives because it shares many similarities with iMessage.
The user interface of Facebook Messenger is pretty identical to the iMessage. It does have its own app store for stickers. Apart from that, Facebook Messenger can also be used as an SMS app to receive and send text messages.
WhatsApp Messenger doesn't have any SMS feature, but it's the best and most popular instant messaging app available on the Google Play Store. Although WhatsApp Messenger is available on every platform, including iOS, Windows, macOS, etc., it was popular among Android users.
If we talk about WhatsApp Messenger's features, the app specializes in video calls, voice calls, stickers, instant messaging, etc. Not only that but there's GIF support as well.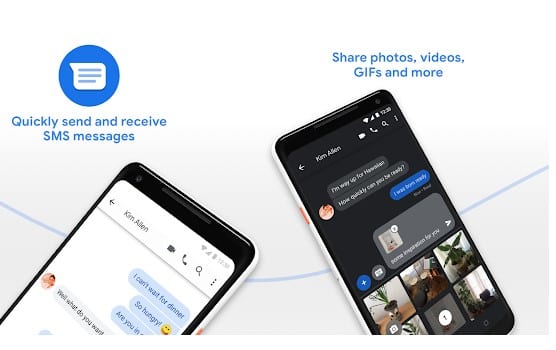 Although it's a regular texting app from Google, the chat platform is also live now. The chat feature enables the phone with a wireless carrier supporting RCS (Rich Communications Services).
If you have a phone and wireless carrier with Rich communication services, you can use Google Messages exclusive features like reading receipts, group chats, messaging over WiFi, etc.
Telegram Messenger is available on all major platforms, including Windows, Android, iOS, etc. The messages exchanged on Telegram Messenger were generally synced over the cloud.
That means the messages can be accessed from other devices as well. What's more interesting is that Telegram Messenger also allows users to share up to 1.5GB of files.
With Kik Messenger, you can easily connect with your friends, stay in the loop, and explore. To connect with friends & family, Kik Messenger provides users with chat features, video calling, etc.
What's more interesting is that Kik Messenger doesn't need a phone number to work, unlike WhatsApp. Instead, it allows users to search for people by their usernames.
Hangouts from Google is another best iMessage alternative that you can use on your Android device right now. With Hangouts, you can message contacts, start free video or voice calls, and hop on a conversation with one person.
What's more interesting is that it connects your Google voice account for phone calling, SMS texting, and voicemail integration.
Viber provides to be another best iMessage alternative for Android users. It has an excellent user interface, but it specializes in video and audio chat.
Although the chat option is there, it's limited to group chats. On Viber, you can share videos, pictures, files, contacts, locations with others.
If you are searching for an iMessage alternative for Android, which will allow you to enjoy messaging and voice and video calls, then LINE: Free Calls & Messages might be the best pick for you. It has many convenient chat options to share messages, photos, videos, stickers, voice notes, etc.
It's another best iMessage alternative on the list for Android users. The app is now used by over 150 million users worldwide, and it offers users plenty of features.
You can send messages, photos, videos, voice notes, and your location via KakaoTalk for free. Apart from that, it's compatible with every connectivity option like 3D, Edge, WiFi, etc.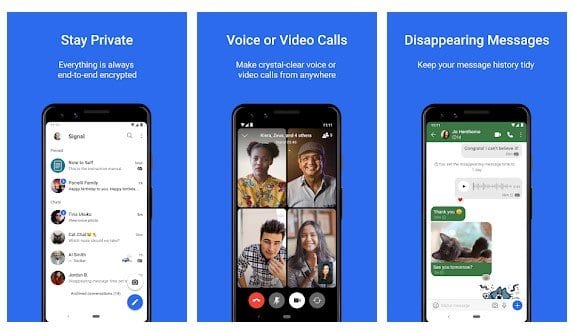 Signal Privacy Messenger could be the best instant messaging app for privacy-focused people. It is much better than iMessage when it comes to privacy.
This is because Signal uses an advanced end-to-end encryption protocol to provide privacy for every message every time. Almost everything shared on Signal is protected with end-to-end encryption.
These are probably the best iMessage alternatives available for Android. If you know of any other such apps, let us know in the comment box below. I hope this article helped you! Please share it with your friends also.