If you have been reading tech news for a while, you might know that WhatsApp recently updated its terms and privacy policy. According to the revised policy, WhatsApp now demands to share your data with Facebook and other third-party services.
If you are unhappy with the changes, it's best to start using WhatsApp alternatives. As of now, there are plenty of WhatsApp alternatives available on the Play Store that takes security and privacy seriously.
WhatsApp vs Signal vs Telegram: Security & Features
10 Best Whatsapp Alternatives in 2022 that Respect Your Privacy
This article will share a list of the best WhatsApp alternatives for Android. With these apps, you can exchange text messages, make voice & video calls, etc. Let's check out.
Telegram is the best instant messaging app when it comes to WhatsApp alternatives. The reason why we have listed Telegram on the top is that it offers better features than WhatsApp.
With Telegram, you can exchange files up to 1.5 GB in size. Also, Telegram allows users to create groups with up to 200,000 members. Telegram is focused more on groups rather than individual chats.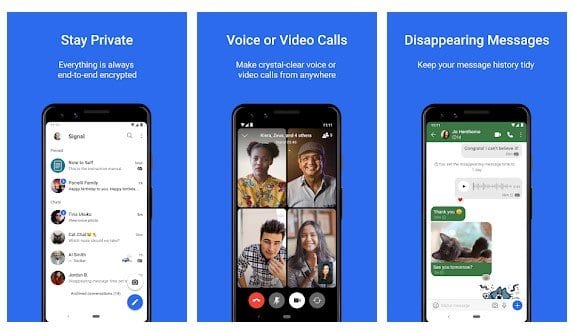 Signal Private Messenger is an instant messaging app that takes security and privacy very seriously. If we talk about Signal Private Messenger's features, it allows you to exchange text messages, make voice & video calls, etc.
Also, there are other privacy & security features like app lock, block screen capture, etc.
Over the years, Discord has been known as the best platform for chatting with your fellow gamers. However, Discord is much more capable than that.
With Discord's message feature, you can send text messages, emojis, emotes, GIFs, Images, etc. Also, it allows you to make voice/video calls. It also allows users to create groups with up to 10 members.
LINE is another best WhatsApp alternative on the list that can exchange text messages. You can also make free voice and video calls with your friends via the LINE app and text messages.
Like WhatsApp, LINE also features end-to-end encryption for voice and video calls. It also has a Line Pay service meant for sending/receiving payments.
Although not popular, Kiki Chat Messenger is still one of the best & secure private messaging app that you can use today. Like WhatsApp, you can use Kiki Chat Messenger to exchange text messages, make private phone calls, share media files in private, etc.
Kiki Chat Messenger also has a self-destructing messaging feature that automatically deletes chats from both ends after the set time.
Wickr Me is an instant messaging app meant for privacy and security-conscious people. Everything on Wickr I is fully encrypted. from voice calling to file sharing
According to the Google Play Store listing, Wickr Me encrypts your messages with a new key using advanced vetted end-to-end encryption. Thanks to such encryption, even Wickr Me can't access your messages or contact list.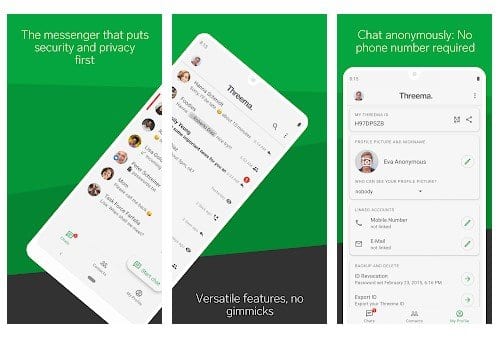 Threema is one of Android's best and most secure instant messaging apps. The good thing about Threema is that it encrypts all content that you share on the platform, including the media files, documents, etc.
Along with that, the app also offers several encrypted backup options to back up the chats safely.
Well, Viber is a little bit different than WhatsApp. This is because this messaging app packs in multi-device support, which WhatsApp lacks. Other than that, Viber is pretty much similar to WhatsApp.
It's one of the most secure messaging and calling apps that allows you to make free international calls, send text messages, open a group chat, and more.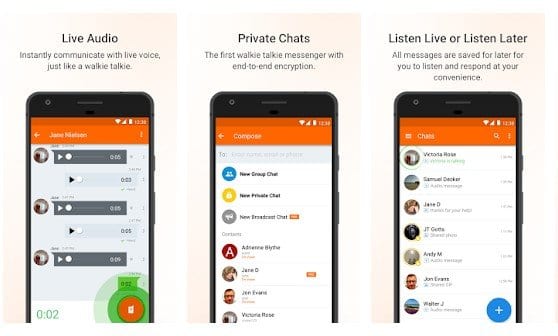 Voxer is another best instant messaging app on the list that allows you to send end-to-end encrypted messages. However, unlike WhatsApp, Voxer doesn't have a video calling feature. That means that the messages you have exchanged on Voxer can't be read or modified by any third parties.
Keybase is a messaging app, but it's quite different from all others listed in the article. With Keybase, you can write securely to Twitter, Reddit, Facebook, and Github users.
That means that Keybase doesn't require any email address or phone number. All messages exchanged via the app are secure and are end-to-end encrypted.
I hope this article helped you! Please share it with your friends also. You should use these instant messaging apps to care for your privacy. If you know of any other such apps, let us know in the comment box below.