As we all know, internet users are increasing day by day and that's why internet bandwidths are getting slower and also expensive. However, you can use some apps to free up your reserved bandwidth from your iOS. We have stated the 5+ best iPhone apps that will help you increase your internet speed. Go through the post to know about it.
For iPhone users, we are here with Best Apps to Increase Internet Speed on iPhone. As Internet users are growing day by day, Internet bandwidths get divided and result in slow down of internet speed. However, some bandwidth always remain reserved in the iOS device, this bandwidth is for iOS system use which is allocated to a system by default. And this reserved bandwidth can be freed up with the apps that have discussed in this post. So proceed with the complete discussion below.
Also Read: Top 10 Best iPhone Apps For Developers or Programmers
Top 5+ Best iPhone Apps To Increase Internet Speed
Now it's time to boost up your internet speed in your iPhone. Let's know the apps that will stop extra usage of internet and you can use it on more speed at a particular place. So have a look on these apps below.
This is freeware app that will let you boost up your downloading speed in your ios device. Get the first download accelerator app for the iPhone now and increase your download speed up to 200%. So must give a try to this app on your iPhone.
Features Of Download Accelerator:
DOWNLOAD MANAGER
Advanced download manager with acceleration support.
Download multiple files simultaneously.
Shows detailed progress for downloads.
Resume broken downloads.
Also Read: Best iPhone Apps to Help you Wake Up in the Morning
Give VPN in Touch a try on your iPhone, iPad or iPod Touch, and discover for yourself that it's the fastest and the most secure mobile VPN service around. Actually, this app doesn't come up with an internet boost feature but it will block ads from web pages for you and that will eventually boost your internet speed. Moreover, it also provides Data savings features.
Features of VPN in Touch
You can conceal your digital identity when you're connected to a VPN, keeping your activity anonymous and difficult to follow.
VPN in Touch will be turned on as soon as you connect to WiFi or a 3G network. Your internet usage is always secure and protected.
With the help of Data Saving feature your 3G/4G data usage on your iPhone will be decreased noticeably
Simply block all advertisements on the web, even Facebook, and Youtube, by enabling Ad Blocking feature
This app is best one to get your network reports to manage them best to boost up your iPhone internet speed. With this, you can find out which devices are connected to your Wi-Fi network, in just a few seconds.Fast and accurate, Fing is a professional App for network analysis. A simple and intuitive interface helps you evaluate security levels, detect intruders and resolve network issues.
Also Read: Top 10 Best iPhone Apps To Train your Brain
Features of Fing:
Discovers all devices connected to a Wi-Fi network. Unlimited devices and unlimited networks, for free!
Displays MAC Address and device manufacturer.
#4 Antenna Booster
As internet speed directly depends on the signal quality and this app works on same. Using this app on your iPhone you can locate cell tower, test signal strength, then active antenna booster. Enjoy a stronger signal now!
Features of Antenna Booster:
Supports iPhone, iPod Touch, and iPad
Locate cell tower, test signal strength, then active antenna booster
Easy interface
This app gives you Wi-Fi where you want it, combined with high-efficiency, dimmable LED light. End Internet dead zones for good, as each bulb you connect, increases the range of your Wi-Fi. Enjoy your shows, movies and music from almost anywhere in your home — along with an iOS app for Wi-Fi setup and lighting control to keep your spaces bright.
Also Read: Best iPhone Apps For Identifying Music Playing Around You
Features Of Sengled Boost:
With each bulb you connect, the range of your Wi-Fi is increased.
More bulbs mean more places to enjoy your content without worrying about slower speeds.
An App that accelerates wireless speeds for other Apps on your device. Boosts Internet speeds on Wi-Fi & Wireless (2G, 3G, 4G). It is the ONLY app that actually makes your Mobile Internet Faster using cutting edge WAN Acceleration technology.
Features of Neumob
Full security and encryption for privacy and freedom from monitoring, snooping and surveillance
Speeds up web browsing for blazing fast apps and browsing
Works with Wifi, LTE, 4G, 3G, 2G and all mobile data carriers
Change your IP to browse the web privately and anonymously
Prevent hackers from stealing your private information
Also Read: Top 8 Best iPhone Apps That Pay You For Using Them
OpenSignal is the ultimate signal toolkit that shows you how to get a better network connection instantly, find nearby free Wifi hotspots worldwide, view signal maps so that you can compare the performance of networks in your area and test the speed of your mobile or Wifi connection.
Features:
Signal compass points you in the direction your signal is coming from
Speed test for download, upload, and latency
Map of cell towers and Wifi hotspots
Coverage maps allow you see the best/worst places for 2G, 3G, and 4G
Network Analyzer Lite can help you diagnose various problems in your wifi network setup and Internet connectivity thanks to the tools it provides. It will help you to find out problems in your network which ensures to fix any existing issue that causing the slow down in your network
Features:
Fast and reliable detection of all network devices
IP address of discovered devices
NetBIOS, mDNS, LLMNR or DNS name where available
Pingability test of discovered devices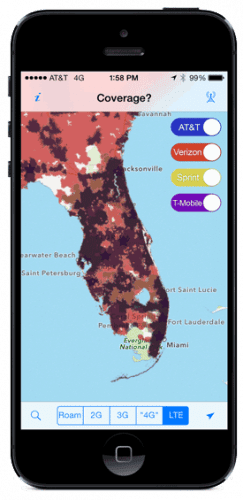 Coverage? focuses on helping mobile bandwidth junkies find cell signal as they roam. If your smartphone is not receiving enough signal to get the desired internet speed then you can follow the maps to know which direction to head when you need to improve the signal quality.
Also Read: Top 15 Amazing Apps To Enhance Music Experience on iPhone
So above are the Best Apps to Increase Internet Speed in iPhone. With these apps boost up your iPhone internet speed and stop extra usage of bandwidths. Hope you like these apps, do share with others too. Leave a comment below if you have any related queries with this.
AUTHOR