These days Editing photos have become a regular thing. Everyone edits pictures and then shares them on social media. Those days are gone when we used to go to photographers to take better photos. As technology is increasing, we are getting the best cameras in our smartphones only. And we will hardly find someone who is not using a smartphone.
There are so many photo editing apps available, which makes our pictures look beautiful. But, if you want, you can only add effects or add a background image or anything. And some apps turn your photos into cartoons. Have you tried any of the apps? If not, then don't worry; here we have brought a list of iPhone apps that turn your photos into Cartoons.
Also Read: Best Android Apps to Turn Your Photos into Cartoons
List of 10 Best Photo to Cartoon or Sketch Making Apps for iPhone
All these apps for converting your photos to cartoons will let you customize all the parameters, have cheerful colors, and do basic photo editing.
The ToonCamera app has a wide range of cartoons, stipple, ink, and pencil effects. With this app, you can record videos and convert pictures into cartoons. In addition, you can do a real-time preview of your photos and videos, so you can first look at how they are looking. This app also allows you to share your edited picture on social media apps.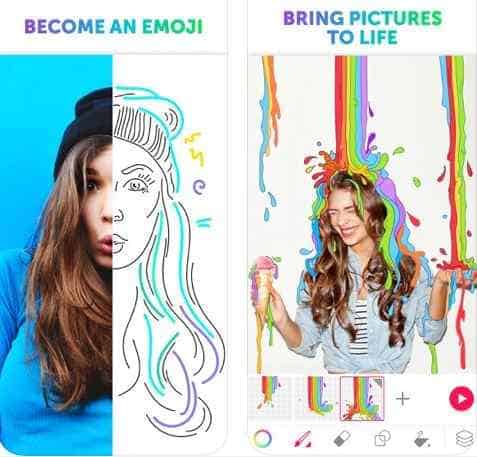 It is a professional app used by many professionals. Cartoon Video app has impressive features like frame magnets and frame duplication. For professionals, it has complex animation and multilayers. You can also make animated selfies with this app, which is a great feature. It also has the option of adding music to your cartoon.
Clip2Comic app can edit your existing photos and videos, or else it also allows you to take pictures and then edit them. Once your photos and videos are ready, you can preview them and see how they will look. There are different options available, like eight comics, toon, and sketch art filters.
Photo to Cartoon Yourself app is free to download, but there are in-app purchases. Within no time, you can quickly transfer your photos into beautiful and funny cartoons. There are different effects, text, and stickers available, which you can add to the pictures. However, while editing photos, you can't stretch the photo. This app does not have the option of sharing images on social media. You can either save the images to the phone or email them.
It is not such an attractive app as it has limited cartoon effects, and it also lacks photo editing options. But you can use the app to turn yourself into cartoons with limited features. Another worse thing is ads in between in the free version, which is quite annoying. But you can get a premium version of it for $1.99 for the ad-free version. It has a suitable sharing option as you can share the pictures on all your social media accounts.
The Artisto app is straightforward to use to edit your pictures to cartoons. You can take a photo or record a video, select the filter, and then save it. However, it is a free app with limited features, so if you want to use all the features, buy a premium version. If you want to have fun with your selfies and videos, you must use the Artisto app.
With this app, you will create an excellent picture of yourself. It has a vast collection of emotions, so you can edit your picture as if you are unfortunate or can be flirty also. You must select an image or take a new picture and then add a smile to your face. Cartoon Yourself app allows you to share your pictures on Instagram, Facebook, and Twitter.
Cartoon Camera Free app does not have much except Cartoon and Pencil Sketch effects. Use your existing photos on the phone or take a new one and transform them into cartoons. One can save these edited pictures in your camera roll and can also share them on social media.
Sketch Me app is one of the best apps to convert your photos into cartoons. It has incredible effects like Cartoon, Strokes, or Pastel, which allows you to edit the best picture. If you want, you can adjust the effect and change settings like Edge strength and Opacity to highlight a specific area.
MomentCam app is straightforward to use and is a popular app among many users. You will have a great experience while editing the picture. It allows you to use the in-app camera or select the existing image. To make your pictures funnier, you can add stickers to them. It also has an option to add beards, hats, glasses, and you can change the facial expressions also. It is a free app, but all pictures will have a watermark.
Choosing the best app to edit your pictures in cartoon form might be difficult. As there are so many apps available on the internet, you get confused about which one to use. But don't worry, as you can choose any one app from the above-given list. We hope this article was helpful to you.