Although plenty of Android vault apps are available on the Google Play Store, KeepSafe seems to be the best. The app allows users to protect their photos and videos with a password. Not only that, but Keepsafe also enables users to lock down the entire app through fingerprint protection.
However, KeepSafe is not the only Android app with those features. There are plenty of vault app available on the Google Play Store that offers the same features. If you want to discover apps like KeepSafe, you are reading the right article.
Also Read: How to Password Protect Photos On Android
12 Best KeepSafe Alternatives For Android
This article will share some of the best KeepSafe alternative apps for Android. You can easily hide or lock your photos and videos with these apps. So, let's check out the best Keepsafe alternatives for Android smartphones.
You can encrypt your sensitive photos and videos with military-grade AES encryption with LockMyPix, one of the top Android photo and video vault apps on the Google Play Store.
LockMyPix allows users to create a fake vault with a separate PIN code. However, it's now a premium app on the Google Play Store.
Hide it Pro is another best Vault app that you can use on your Android smartphone. The app is a little better than KeepSafe because it can hide your phone's apps, messages, and calls.
Some of the great features of this app include free cloud backup, multiple lock screen options, fingerprint unlock support, etc.
Vaulty is among the best and top-rated Android vault apps on the Google Play Store. Guess what? With Vaulty, you can lock up any image and videos with PIN or text passwords.
Not only that, but Vaulty also allows users to create multiple vaults to show different people. Apart from that, Vaulty also has another unique security feature known as 'Mugshot.' The feature clicks a pic of anyone who enters the wrong password.
Easy Vault is an Android app that gained lots of popularity in a short time. With this app, you can lock and hide pictures, videos, galleries, and any other file types that you can think of.
Apart from that, it can even lock your document files. Some other features of Easy Vault include a private web browser, hiding the easy vault icon, etc.
1Gallery is a stock gallery replacement app for Android, which is great for managing photos. The photo gallery app for Android also has a hidden vault for securing your photos and videos via encryption.
1Gallery provides three different means of vault protection – PIN, Pattern, Fingerprint. Apart from hiding photos & videos, 1Gallery also gives you a full-fledged photo & video editor, photo widget, themes, etc.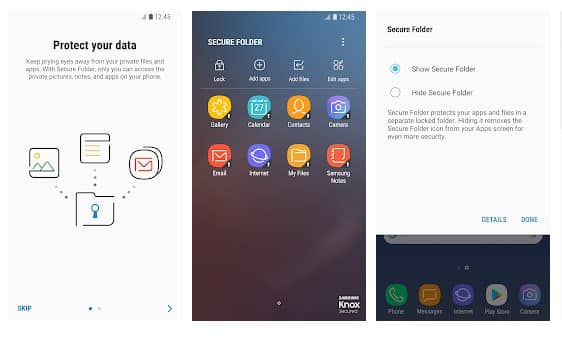 Secure Folder from Samsung Electronics works only on Samsung smartphones. The Android app leverages the defense-grade Samsung Knox security platform to create an encrypted space on your device.
You can use that encrypted space to store apps, data, pictures, videos, etc. So, if you are holding a Samsung smartphone and searching for the best KeepSafe alternatives, you must try Secure Folder.
Safe Photo Vault App or PinBox is very similar to the KeepSafe app for Android. It's basically a photo vault app that allows you to hide private images from your phone's stock gallery app.
You can use the Safe Photo Vault App to hide your private pictures in a photo vault, PIN protect your photo gallery, or even lock photos & videos directly from your gallery.
The app also has a premium version that unlocks the cloud option for storing photos & videos. Overall, the Safe Photo Vault App is an excellent KeepSafe alternative that you can use on Android.
Piktures is a full-fledged gallery app for Android available on the Google Play Store, which provides users with a secure drive to store private images and videos. Apart from that, Piktures also offers a video player, photo editor, cloud support, etc.
It also supports various cloud services like Google Drive, One Drive, and DropBox, and it can sync content stored on these services to your phone.
PhotoGuard Photo Vault is another top-rated Keepsafe alternative that secures your photos & videos by locking them with a password, Pattern, and PIN. The app uses military-grade encryption of the AES-256 bit to encrypt the files.
Apart from that, PhotoGuard Photo Vault also provides a private cloud to auto backup & sync your encrypted vault contents.
With Secure Gallery, you can easily lock pictures and videos to keep your privacy safe. Apart from that, Secure Gallery can also be used as a gallery app. Secure Gallery's features include managing pictures and videos, sorting files, moving files, renaming, etc.
Hide Something is a top-rated KeepSafe alternative on the list. This app is already been downloaded over 5 million times on the Google Play Store.
Like Keepsafe, Hide Something allows you to hide photos & videos on your device and password-protect media files with a PIN, Password, or fingerprint.
What we liked the most is that Hide Something doesn't appear in the recent app list once installed. This makes it difficult for intruders to figure out you're using a photo vault app to hide your photos/videos.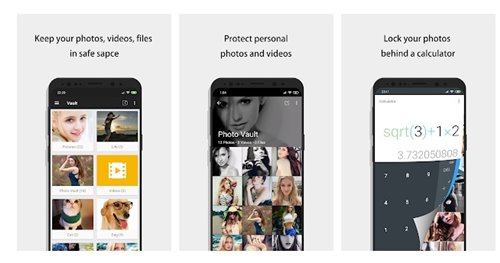 Sgallery is another top-rated photo/video vault app on the list that you should check out. Like every other KeepSafe alternative on the list, Sgallery uses the AES encryption algorithm to encrypt your files.
You can protect the vault with PIN and Fingerprint protection. Another interesting feature of Sgallery is that you can disguise the app as a calculator or converter to avoid detection.
Besides the photo/video vault, Sgallery offers private browsing, colorful themes, etc.
So, these are the few best Keepsafe alternatives for Android. You can use these free KeepSafe alternatives to lock your photos & videos on Android. If you know of other such apps, let us know in the comment box below.