If we look around, we will discover that almost everyone now holds an Android smartphone. One of the most notable things about the Android operating system is its endless customization options.
The Android operating system allows users to use app launchers, icon packs, widgets, and more to customize the look. Until now, we have shared lots of articles on Android customization, and today we will share a complete list of the best Android live wallpaper apps.
Also Read: How to Share WiFi Password On Android
List of 10 Best Live Wallpaper Apps For Android
It's worth noting that plenty of Android live wallpaper apps is available on the Google Play Store. So, we have only listed the ones which we have manually checked. You can download high-quality live wallpapers for your Android smartphone with these live wallpaper apps.
If you are searching for a live wallpaper app that has lots of high-quality live wallpaper, then Muzei Live Wallpaper might be the best pick for you.
Guess what? Muzei Live Wallpaper app can automatically change the live wallpaper every day. Not just that, but Muzei Live Wallpaper also supports multiple sources to grab live wallpapers.
Device Info Live WallPaper is one of the unique live wallpaper apps you can ever have on your Android. The great thing about Device Info Live WallPaper is that it displays various device information in a cool way.
The live wallpaper shows lots of important information on your home screen like RAM usage, Internal Memory usage, Date/Time, Network connection State, etc.
Aquarium Live Wallpaper app will make your Android home screen look like the most beautiful aquarium in the world.
Guess what? With Aquarium Live Wallpaper, you can enjoy the fascinating world of the sea on your home screen. The live wallpaper app can make your day beautiful and calm you down if you feel tense.
Well, if you are searching for a live wallpaper app that uses parallax effects to change your Android's home screen look, then 3D Parallax Background might be the best pick for you.
3D Parallax Background offers users more than 70 parallax effect themes to download. All of those themes look good and will undoubtedly transform the look of your Android home screen.
If you are a huge fan of Material Design, you should give Forest Live Wallpaper a try. The live wallpaper app for Android features a forest scene that sways in the breeze.
The good thing about Forest Live Wallpaper is that it lets you customize the color to suit according to your theme.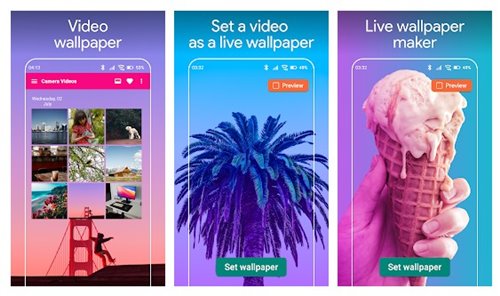 Video Live Wallpaper Maker is very different from all other apps listed in the article. The app lets you set video as wallpaper. That means you can use Video Live Wallpaper Maker to convert any video into a live wallpaper and apply it on your home screen.
The Video Live Wallpaper Maker app is available for free, and you can create unlimited live wallpapers.
Chrooma Live Wallpaper sets abstract shapes as wallpaper on Android. The most interesting thing about Chrooma Live wallpaper is that it automatically changes the background every time you press the home button. The app offers 12 different shapes, unlimited colors, and Parallax effects.
If you are using an Android smartphone that has an AMOLED screen, then AMOLED LiveWallpaper might be the best pick for you. As the app's name says, AMOLED LiveWallpaper is one of the best live wallpaper apps for AMOLED displays.
The live wallpapers are mostly black, and it's well suited for devices that have an AMOLED screen.
Well, if you are searching for dynamic 3D animated Live wallpaper apps for your Android smartphone or tablet, then Motion might be the best pick for you. Guess what? The 3D animated live wallpapers of Motion have parallax 3D effects.
Not just that, but the app offers plenty of categories to choose live wallpapers like superheroes, abstract, animals, space, etc.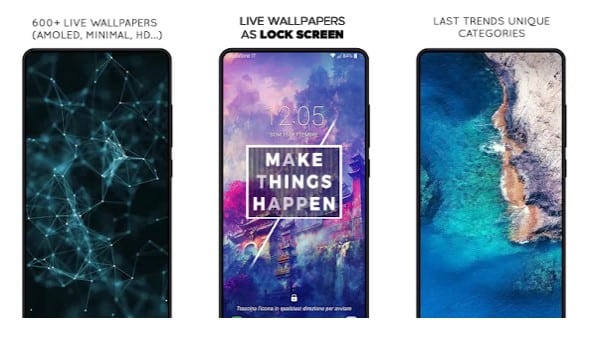 Walloop is a multi-purpose Android customization app that offers users both HD wallpapers and Live Wallpapers. The app offers users huge collections of HD Live backgrounds with 3D parallax effects and 4K wallpapers.
Not just that, but Walloop also allows users to browse various categories, including AMOLED, nature, anime, abstract, and much more.
So, these are the best Android live wallpaper apps that can be used to change the look and feel of your Android device. If you know of any other apps like these, let us know in the comment box below.